Friday
Community Articles
Getting Back to Roots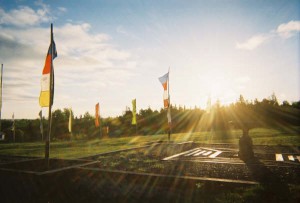 COLUMN: Kitchen Wisdom
Dorje Denma Ling's Root Cellar
by Lisa Harris, Column Co-Host
Planning a root cellar is a big project. It's a sign of a strong commitment to working with local produce, and taking a big step toward food security. Dorje Denma Ling recently constructed a root cellar in Tatamagouche, Nova Scotia. That, to me, is an exciting venture – so I spoke with Taylor Smith, their new Kitchen Manager, to find out more about it.
Lisa: How long have you worked at DDL, and when did you become the kitchen manager?
Taylor: I volunteered here 2 1/2 months last summer, then moved back to be on staff in January of this year.
L: What is your background in cooking?
T: I worked in Yosemite for five summers at one of the High Sierra camps where people hike in and stay in tent cabins. We served dinner and breakfast. I helped out in the kitchen there, then was the assistant manager then manager the last couple summers I was there.
L: So you also source food from other farms? It sounds like the root cellar was a way to support the local agriculture, Center and relationships.
T: That's the part I'm most excited about – the local food networks, what role we can play in the community. There was a farm associated with DDL the last couple of years that is not going to be growing this summer. That was sort of a bit of a setback, but it has encouraged us to branch out more into the community. There is a really amazing farm near here with an intentional community called Waldegrave Farm. They'll be doing all of our salad greens and will be our main supplier of produce for the summer.
L: What kinds of things are you planning for the root cellar?
T:
I just talked to another couple of farmers nearby who are going to grow some stuff for the root cellar. Carrots, apples, beets, potatoes, parsnips, cabbage. They really appreciate being able to sell stuff to us because it's a sure thing – they know they are going to have a market for their produce. They don't have the uncertainty of selling to the farmers market, so I feel like that's one of the biggest pieces to me – we have so many people coming through here that we have a lot of weight to contribute to creating demand for local food.
L: Is this a necessity for you, or are you just trying to have good relationships with the food and the community?
T: No – I don't feel like we have to do this. There is a produce supplier not that far away. I think they actually try to source locally as much as possible, but they're a wholesale distributor and that's where I've been getting most of the produce this past winter. In terms of the availability of good food, the local food community around here is very active. There's a really amazing farmers market. It's a real community that's dedicated to that.
L: Are you hoping to carry things all the way through the winter? How long is your winter there?
T: I think this winter was unusual, but normally it starts snowing late November or something, and then will go until May. What I'm thinking for this winter is not trying to fully stock it through the winter, but just having a good size but not huge test batch of root vegetables, to just kind of practice with it. If it doesn't work for some reason, we won't waste a bunch of food.
L: Tell me something about the kitchen, the Shambhala Principle, and Kitchen Wisdom.
T:
The kitchen and food are so earthy. I guess that it's such a big way that we interact with the community that it seems like it's a big part of that too. I've really been inspired by and motivated by the back to the land idea. There's a lot of that influence here like homesteading and having such practical skills about like how to provide food for ourselves, and to make that whole community self-sustaining. So I think right now I see that tying in, that connection to the earth and the community.
L: It sounds like the relationships that you're creating or strengthening through deciding to utilize local farmers are huge. I think that's great you guys are doing that and taking that leap because if nobody does, nobody's even going to think about it or think it's going to work.
T: I think this is really a good situation for that, because I think some of what you were getting at – the ruralness of it – I think really contributes to that because I can see how in more populated areas where there are more suppliers and things like that – the sense of community becomes more diffused. And so it's a little more abstract about getting things locally. But there's already a sense of community here, so it's not as abstract to think about getting things locally. I think, oh, these are our neighbors. Our emphasis is on local foods and local food networks.
The Dorje Denma Ling Root Cellar is a 308 square foot space with cold and dry storage for a variety of winter crops. It will allow for expanded cool space for the storage of root vegetables over the winter, salad greens and vegetables in the summer, flowers for programs, etc. It will make it possible for DDL to spend their kitchen budget more sustainably by inviting local farmers to grow specifically for their winter vegetable needs, giving them a reliable income stream.
Waldegrave Farm is a small-scale, certified organic vegetable farm located in Tatamagouche, Nova Scotia, Canada. They are committed to helping rebuild local food systems by providing high quality, fresh, seasonal produce to the Tatamagouche, Truro, and Halifax communities. They grow a diversity of over 40 types of vegetables in both field and greenhouse. See more at: www.waldegravefarm.com
~~

Lisa Harris is a writer and free-range chef living in Northern Indiana where she supports Local Food Systems, Sustainability, Healthy Wild Habitats & Ecosystems. Contact her at [email protected].
Post Tags:
Dorje Denma Ling
,
interview
,
Kitchen Wisdom