Monday
Community Articles
Interview with Sergeant Paul Kendel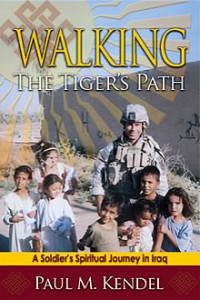 Interview with Paul M. Kendel (SSG Ret.), M.A.
~ author of Walking the Tiger's Path: A Soldier's Spiritual Journey in Iraq, the book chronicling a military deployment in Iraq, experiences of doubt and disillusionment, and eventual introduction to and connection with the Shambhala Buddhist teachings
by Shambhala Times Regional Correspondent and Director of Practice and Education at the St. Petersburg, Florida Shambhala Center Travis May
Hello Paul, thank you for speaking with me today. The impetus behind our getting together for this interview was that your book, Waking the Tiger's Path: A Soldier's Spiritual Journey in Iraq, has won the 2012 Nautilus Silver Award in Religion/Spirituality- Eastern Traditions. (A complete list of awards and recognitions for Paul's book appears at the end of this piece.) Congratulations on your latest award!

Thank you. I won the USA Books News award a few months ago; this one is more prestigious. It's great promotion for the veterans' work I am involved with, so I am happy about that. The book is also up for a couple more awards.
I have also recently found out that a publisher that translates the work of Chogyam Trungpa will be translating my book into German.
I have also heard that you are beginning a second book. What can you tell us about that project?
It's a spiritual journey of sorts. My best friend died of cystic fibrosis after finding out too late that he had been misdiagnosed. The book is about our friendship and journey together. We went to Southeast Asia and the Middle East together. I try to look at his situation and views through a more traditional Buddhist perspective. He found his niche after discovering his terminal disease; he finally found out about himself. He began to appreciate life after he found out about his illness. We were friends for twenty years. I am 80% done with the book now. It's in the editing phase.
In January you stayed to give a talk about your book at the Open House in St. Petersburg, Florida after you participated in Level I all weekend. I'm also aware that you've been traveling to many cities and centers to talk about your work and experience. Can you tell us about that?
I was in Baltimore a month ago, New York before that, Boulder, Denver, Los Angeles, and Boston, as well. For the last several months I've been traveling and giving talks about the book and my experience. I think I am getting better as I go along. I will continue doing the tour, and I am planning to go back out to Colorado this summer. I also have talks scheduled in San Antonio and Austin.
I've also learned that another of your major projects is putting together a retreat for veterans at Shambhala Mountain Center this fall. Can you tell us about that?
Yes, we are putting a veterans' retreat together for early September at Shambhala Mountain Center, entitled, Outer War, Inner Peace. This is the first of what we hope turns into an annual event for veterans and their families in the future. This first year we will be planting the seed. I will be working with Margot Neuman, the Executive Director of Veteran's Peace of Mind Project; Lloyd Burton, Ph.D., a former Navy Hospital Corpsman who served in Vietnam and co-founder of the Spirit Rock Meditation Center; Gary Allen, who leads meditation groups for the Veterans Peace of Mind Project and is a teacher of Shambhala Training meditation programs around the United States; Bayard Cobb, MA, who joined the Fearless Victory project in 2010, she has practiced and taught meditation and mindfulness for over 30 years.
We will also be working with the Medicine Horse Program, which uses equine-assisted psychotherapy for veterans suffering from PTSD. The horses will be incorporated into the program.
The retreat will occur over three days and will involve talks, walks into the Great Stupa of Dharmakaya, and individual meetings. This program will be mindfulness based, rather than based on Shambhala Training. We've rented the land at Shambhala Mountain Center. Sakyong Mipham Rinpoche wanted us to create a program for ourselves.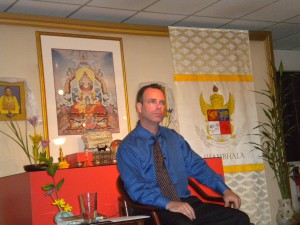 What has been the response to the book from current and former military personnel?
There were more veterans in attendance during the Denver and Baltimore talks. There were also one or two in Los Angeles, Boston, and Boulder. I start by giving a talk based on my book. It ends up turning into a dharma talk about 'victory over war' (the Dorje Kasung motto), and how we react to violence using discernment. The Q&A sessions have been the most fruitful. The questions are always really good. I enjoy giving the talks, and hope to keep doing it more and more.
At the last talk I gave, in Baltimore, there were a lot of Vietnam Veterans in attendance. The book resonated with them. It was an affirmation in a sense – something they felt, but weren't able to articulate. We discussed compassion, human nature, and how life after war can be overwhelming. We talked about how it is important to not let that feeling take over. That resonated along with certain stories from the book. They've seen these things themselves and like hearing it explained in detail from a Shambhala perspective. In Denver there were vets too. I didn't go into the blood and guts aspect, instead I went deeper into the emotional levels. It's a war book, but not an action story; it delves deeper into the heart and soul. I attempted to have an objective view of both sides.
What has the response been from those you served with?
Some of the people in the book read it and appreciated it, checked it for accuracy. My open-minded friends appreciated it. Others, that were portrayed critically, didn't care for it. Some people had their eyes opened by the book. They didn't know what was going on over there. So, it was effective in this way too.
Everyone says the honesty was the best part. That's the biggest praise the book has received.
It was moving to read of your experience in Iraq, and after you returned home, as it related to your burgeoning connection with Shambhala, and how you were able to attempt to apply the teachings and practices in such an extreme situation. How would your life be different had you never encountered the Shambhala teachings?
I hate to think what it would have been like without that support, especially getting no support from my family. My correspondence with Margot kept me grounded. It's scary to think where the anger and aggression would have led. I may have lost my mind after coming home to deal with my mother's death, my wife's affair, and being completely alone. Talking with Margot, meeting the Sakyong, and finding the sangha – it was like a rope, a lifeline, being dropped down to me. I was depressed, confused, and I realized I could always look back and have that support, and that kept me going. It helped me to finish the book, in meeting new people, and delving further into the teachings. It's frightening to think how life would have turned out if I didn't have that support.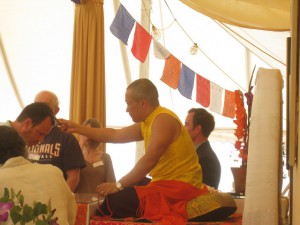 How has it been since you've returned and began to enter the traditional path of the Way of Shambhala after hitting the ground running, so to speak, while in Iraq?
It's been difficult in some sense. Living in Jacksonville, I am somewhat cut off from the greater Shambhala community. I completed Shambhala Training Level I in St. Petersburg earlier this year. It is a four hour drive just to get there though. I've participated in three weekthuns (week long meditation retreats), seen His Holiness the Dalai Lama, traveled to Halifax for the Being Brave Sangha Retreat with Sakyong Mipham Rinpoche and Pema Chodron, served as President Richard Reoch's assistant when His Holiness the Karmapa was in the U.S., and served as kasung during Pema Chodron's Peace in Times of War program. I've been very fortunate to have received correspondence from the Sakyong while in Iraq, and to have met him, and to be able to walk in the inner circle and immerse myself into it without doing some of the beginning programs on the Way of Shambhala path. Now it's time to go back to the beginning and do some more of the groundwork.
After reading of your experience in the military from your book, it seems that you had the ultimate training to be a Dorje Kasung. Have you been involved in an official capacity with the Kasung?
I took the vows years ago, studied kasung writings, and went to encampment. I served as kasung for the Practicing Peace in Times of War program. I appreciate the kasung's role and methods- creating and protecting the container for the teachings to take place. I would like to give a talk to members of the kasung alone.
Do you have a daily sitting practice?
Yes, I do. I have also read extensively in these past years. I feel that I received a crash course of meditation in action while in Iraq and this has helped me travel the path more quickly.
We have recently scheduled another Shambhala Training Level II in St. Petersburg on June 15-17. Will you be able to come over for that?
I'll actually have two weeks off during that time frame. I can do that one then!
Great! We'll be looking forward to seeing you again!
~~
If you are interested in purchasing a copy of Walking the Tiger's Path, please do so from walkingthetigerspath.com. This is the author's website. Purchasing the book from this site offers the most support to the author. If you buy the book through this site, the author will also sign it for you and mail it himself.
Book awards for Walking the Tiger's Path: A Soldier's Spiritual Journey in Iraq
2011 Hollywood Book Festival — Biography/Autobiography — Honorable Mention
2011 USA Book News — Religion: Buddhism- Winner, Autobiography/Memoir- Finalist
2012 Nautilus Silver Award Winner in Religion/Spirituality – Eastern Traditions
2012 International Book Awards in Religion: Buddhist- Winner, History: Military- Finalist
2012 Foreword Book Awards in Autobiography/Memoir- Finalist (Winners to be selected in June
2012)
Post Tags:
books
,
interview
,
Sergeant Paul Kendel
,
Walking the Tiger's Path