Wednesday
Community Articles
Gracefully Growing Older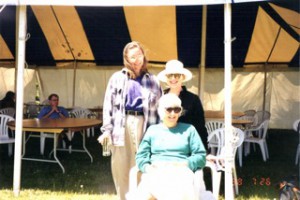 COLUMN: Aging in Enlightened Society
An Interview with Lennart Krogoll, Executive Director of Dorje Denma Ling, a rural contemplative center in Canada in the Shambhala Buddhist lineage.
by Andrea Sherman
Andrea Sherman: What did you specifically do at Dorje Denma Ling (DDL) to welcome older sangha members, and how did this all start?
Lennart Krogoll: We all grow older, and the number of older practioners is growing, especially the percentage of those over 60 years old and seventy, and their needs are important. This goes beyond the Scorpion Seal programs.
Here are some of the things that we instituted this summer at DDL:
– We asked people if they needed a chair for their practice, so that there were enough chairs (even extra chairs) for everyone.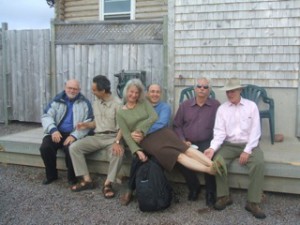 – We created a place to rest during the work periods for those not living on the land. We originally had a tent, which blew away, and then improvised a rest area in one of our shrine rooms. The room was used at break times, there were mattresses and zabutons; it was a multipurpose room that was also used by staff for morning practice, and Acharyas. Ideally a separate space in a shady tent with cots would be excellent in the future.
– For the ROTA we sent an email to all Scorpion Seal participants, offering those who are 70 years or older to be off rota or voluntarily chose a light rota. We asked everyone to pitch in for a ROTA fund so that we could hire more people for the heavier activities. We did end up hiring a sangha person for four hours a day to help relieve the heavier rota load. Dish rota is the most difficult challenge and this year we used compostable plates for some meals, which are then burned and dug into the ground, so they are environmentally okay. This eliminated enough rota, however, and the proposed rota fund only brought about 30% of our increased expenses.
– We had an infirmary, which was a very cool room with a doctor and physical therapist on staff as part of the program. They were busy; there were lines when they were open, but it provided ease of mind for our participants to have a doctor and physical therapist onsite.
– This year there were two participants who were physically quite challenged at one program. They had to be close to the shrine room, so Acharyas had to forgo a room to accommodate them. In order for them to be able to participate in the program, we also made arrangements for a rotation of people to help care and look after them, and the participants were very touched and pleased!
AS: What was the feedback from everyone?
LK: People were very appreciative, and noticed the age awareness. They felt looked after and taken care of and were very happy throughout the program; it worked out well! I feel like we can tweak things and create a better place for rest and naps, improve the rota situation, lower expenses for older sangha members, and make all of this financially sustainable by creating a general rota fund for elders.
AS: Is there an older sangha at DDL?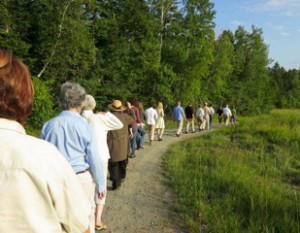 LK: We have a lot of older members in the Tatamagouche meditation group living around DDL. There is more and more "white hair" in the room, especially with certain programs such as fire pujas, Mahamudra programs, and Scorpion Seal. There are many members who live in Nova Scotia and near Dorje Denma Ling, and we have started to form a small steering group to research an elder living community at DDL.
AS: What would you recommend to other land centers?
LK: It makes a big difference to focus on older persons. I would recommend a general approach of welcome to those over 70 years old that focuses on general healthcare issues, housing, rest, rota, physical needs and general willingness to accommodate older persons.
AS: Did you find that attending evening sessions was a challenge for older members?
LK: For the most part, it did not appear to be an issue during Scorpion Seal, as sessions ended by 9 or 9:30, but a few people found the early morning sessions difficult. Being intelligent about one's own need for rest was important and encouraged, so if you had to miss an early morning or late evening, that was workable in terms of the overall program. All transmissions and key talks happened in the later morning and mid afternoons.
AS: Were there financial issues involved?
LK: The percentage of those who ask for scholarships is quite high. DDL gives about $100,000 in program discounts yearly, in order to make it possible for everyone to attend. This ends up being roughly the same amount as our yearly operational shortfall. We do offer payment plans for everyone which can help a lot, however some people cannot afford that either, so in order for them to attend, we have to fundraise from the general sangha, to make monthly donations into our scholarship fund.
AS: Is programming shifting at DDL in any way?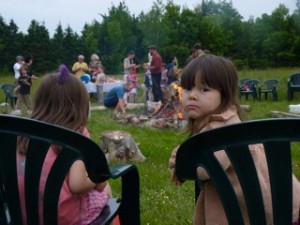 LK: We try to create a good balanced programming at DDL, including the needs of all facets of the larger community. We offer the Shambhala curriculum, traditional Buddhist practices, Scorpion Seal practice retreats, and many kinds of more public programs, such as Andrew Holecek on Old Age and Dying. Our family camp is very popular and offered in the spring, summer and during the winter holiday season. This allows parents to join a practice program happening in parallel, as well as spending meaningful time with their children, who also enjoy educational and fun activities with their age group. It is an intergenerational/multigenerational experience where older children assist teachers, learning to ring the shrine room drum and gong.
AS: You are truly paving the way!
LK: We have a good team, support from many local people and families, and a fantastic staff, willing to explore and experiment how to better meet the needs of our changing society. It is delightful to see all ages learn from each other!
To read more articles in this Column, please click here.
~~
Andrea Sherman is Chair of the Working Group on Aging for Shambhala, Co-Leads the Conversations on Aging Group at New York Shambhala, is a graduate of NY Buddhist Contemplative Care Program, and has been a Gerontologist for more than 30 years.
Post Tags:
again
,
Aging in Enlightened Society
,
Dorje Denma Ling
,
interview