Friday
Sakyong and Family
Celebration of the Birth of Jetsun Yudra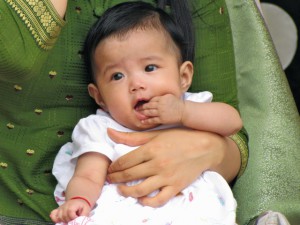 article and photos by Terry Rudderham
Shambhala Times Regional Correspondent
On Saturday, July 6th leaders of Shambhala were invited to Kalapa Potrang, the Kalapa Court, for a garden party to celebrate the birth of Jetsun Yudra. This was scheduled so that His Eminence Jigme Rinpoche, who had just given a public talk on generosity in Halifax, was able to attend.
It was a delightful mingling of guests sampling delicious offerings of hors d'eoeuvres and punch. The Sakyong, the Sakyong Wangmo carrying Jetsun Yudra and Jigme Rinpoche presided on the front lawn of the Court. The beautiful young princess sat quietly on her mother's lap watching the people and activity with her penetrating gaze.

The formal celebrations opened with a welcome by Wendy Friedman and President Reoch, and the reading of a Song of Praise to Jetsun Yudra. These were followed by a kyudo blessing by Mr. Sam West. Everyone was invited to come forward and offer a khata to Jetsun Yudra and a brief hello to the Sakyong Wangmo, the Sakyong and Jigme Rinpoche. Acharya Noel McLellan offered a toast to the lineage, which was followed by Jigme Rinpoche offering a gift to Jetsun Yudra from her grandmother Chime Dolkar: a rupa of Padmasambhava.
The Shambhala Ripa Tibetan community offered two dances, the first a group dance that was so inspiring that some of the younger children joined them. The second dance was a wonderful solo performance by 10 year Kelsang.
The Halifax community's "Definitely Not the Choir" marked the end of the formal celebration with an offering of two lovely songs. Guests were then invited to mingle with members of the family. Jetsun Drukmo chose to spend most of the gathering in the Court play area with many children in attendance.
The joyful afternoon finished with the Shambhala Anthem.
Click on photo to view as a slideshow.

Post Tags:
Halifax
,
Jetsun Drukmo
,
Jetsun Yudra
,
Jigme Rinpoche
,
Kalapa Court
,
Sakyong Mipham
,
Sakyong Wangmo