Wednesday
Video, Audio, Photos
The Power of Compassion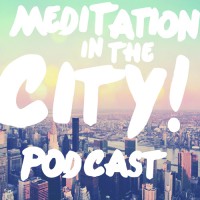 Power of Compassion
"The extraordinary, upside down logic of Shambhala is that compassion is actually the natural activity of a mind that is settled. It is the activity stemming from being completely present, feeling and seeing other. It is the most natural activity because it is based on being present and accessing what is inherently our nature."
In this episode of the Meditation In The City podcast, Laura Simms discusses the power of compassion, at a talk recorded live at our Weekly Dharma Gathering in New York City.

Meditation In The City is the Shambhala Meditation Center of New York's very own podcast. Feel the love and help spread the word by sharing with your friends!
Laura Simms has been practicing meditation since 1973, and has formed a deep connection with social action and the Shambhala Arts. She is a professional storyteller and author, as well as the director of the international organization, The Lion's Roar, which creates initiatives in community and compassion.
If you enjoy Meditation in the City, don't hesitate to throw us a buck or two (or five, or fifty!). Any amount will help support this podcast. It's easy, just click this link!
Post Tags:
Meditation in the City
,
New York City
,
Podcast