Saturday
Shambhala News Service
Prayers for His Eminence Namkha Drimed Rinpoche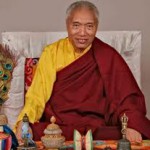 Dear Shambhala Sangha,
His Eminence Namkha Drimed Rinpoche fell ill recently while leading an intensive program of practice and initiations in Kalmykia, Russia.
His Eminence has been traveling and teaching extensively this year, and in the past few weeks his blood pressure has been unusually high. Yesterday he had to be hospitalized to ensure the best possible treatment.
He is now much improved and his blood pressure is under control. His doctors have advised him that he should rest to ensure a complete recovery. He will remain in the hospital for a few more days for observation.
The Russian students in the area are being extremely helpful, seeing to his needs and care.
If you are inspired to practice for His Eminence, the Sakyong has suggested that the Shambhala community do the Seven-Line Supplication to Padmakara chant.
On behalf of the Mukpo and Ripa families, I would like to thank you for your prayers and wishes for a speedy recovery for His Eminence.
Lamen Kyi Khyap, Acharya Mitchell Levy
Post Tags:
Shambhala News Service