Saturday
Community Articles
A Garden Where Questions Grow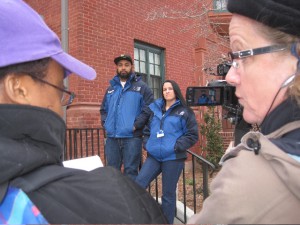 COLUMN: In Everyday Life
In which we visit with Shambhala practitioners from all walks of life to hear stories about their life, livelihood and how their meditation practice permeates their everyday experience.
Media and Civic Engagement in Providence, Rhode Island
Empowering community through media making by creating identity based in basic goodness
by Michelle Le Brun
Lately, I have found it easy to feel powerless and depressed when I look at how people treat each other around the world. I must turn then to making a positive impact on the world. My path has been about making media, and teaching this practice to others.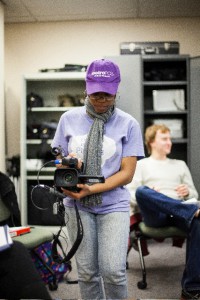 Making media can be a very powerful way to find our own voice, as well as helping spread social good in our communities. Traditionally, media making has been for the few who have the training and money to afford the expensive equipment. Today's more affordable high-end equipment is making this discipline far more accessible, particularly for young people hungry for ways to have a voice in the world they are growing into. What's often lacking in some media making is a sense of responsibility and strong storytelling. It's often these very qualities young people are most inspired by and relate with. So often, youth are not taken seriously and feel they are unable to positively affect the violence and dehumanization they see in the world around them.
The work I do here in Providence, RI centers on media and civic engagement. I work with youth media, producing videos for local nonprofits, and teaching documentary filmmaking at the University of Rhode Island. What is always of interest to me is empowering people to critically engage with their world and make media that furthers important social issues in our communities. An activist, actress, and educational scholar I admire, Anna Deavere Smith, once said, "think of education as a garden where questions grow." Like Paolo Frieri, and other educational philosophers, in this one image Smith points to what I believe should be an essential purpose of all education: teaching students to question and to think for themselves.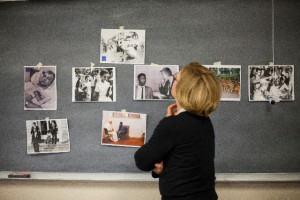 For many years now, this approach to education has taken a back seat to the more popular, government driven "teaching to the test". When students approach filmmaking and media making from the perspective of "a garden where questions grow," values and civic engagement grow alongside knowledge. Through the media literacy approach students take on a given topic and look at what it means to our lives, our community and the broader world. Together we find ways to share, inform, educate, and create identity based on basic goodness. Given the proper tools to engage with their world, students discover their innate ability to respond and have impact on their world.
Our production company, Harken Productions, also runs HARKEN! Youth Media, training high school youth in all aspects of documentary filmmaking and critical questioning to produce civically engaged media. Some of the past short films produced by youth have centered on racial profiling, family members being deported, violence and racism.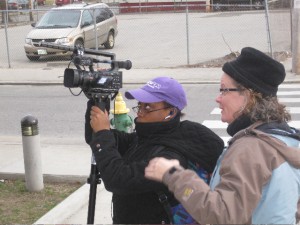 Most recently, we looked at local and national violence and then made short web videos for the Institute for the Study and Practice of Nonviolence, here in Providence. Students studied Martin Luther King's six principles of nonviolence and chose one of the principles to make a short film about. In addition, drawing on interviews they conducted with staff at the Institute, they produced seven short videos about nonviolence. The students engaged deeply with issues of violence, both personal and global, and in turn produced videos to further the mission of a local nonprofit working to eradicate violence in our community.
Another vital organization in our community that we recently made a short film for is Prison Mindfulness Institute. Acharya Fleet Maull and longtime Shambhala member and PMI Executive Director Kate Crisp moved PMI to Providence about three years ago, bringing their incredible curriculum for mindfulness and emotional intelligence work for the world of corrections. I have also been a volunteer in the program.
I love engaging with others in the process of looking, seeing, and questioning. I love telling the stories of people inspiring social change and bringing possibility to otherwise stagnant realities. I love empowering a community through media making, and I encourage you to investigate this too.
Here are a few videos to check out:
Prison Mindfulness Institute:

Death: A Love Story
HARKEN! Youth Media
Shambhala Lineage Festival
~~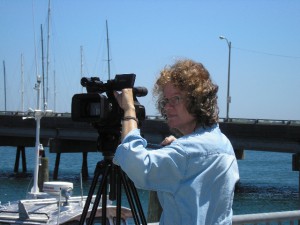 Michelle Le Brun's passion for filmmaking and social justice started with her film Death: A Love Story which was nominated for the Grand Jury Prize at Sundance Film Festival and is used in over 400 universities and colleges in contemplative studies and a variety of other disciplines nationally and in Canada. Her production company Harken Productions produces films for a wide variety of businesses focusing on strengthening their missions and visions. Her HARKEN! Youth Media program works with inner city youth producing critically engaged short documentaries that give voice to their concerns about their communities and lives. Michelle also teaches in the Communications and Film departments of the University of Rhode Island and is a member of the Providence Shambhala Center.
Post Tags:
film
,
In Everyday Life
,
Providence