Wednesday
Shambhala News Service
Practice for Venerable Akong Rinpoche and Samye Ling Community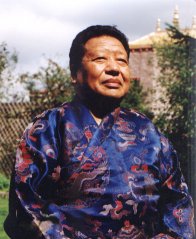 The Venerable Akong Rinpoche, who led Tibetan refugees out of Tibet with the Vidyadhara, Venerable Chogyam Trungpa Rinpoche, and with him was instrumental in establishing the Samye Ling Tibetan Meditation Centre in Scotland, has died in an incident in South West China.
Please click here for the full BBC news report.
The Sakyong, Jamgon Mipham Rinpoche, was immediately informed and President Reoch sent a message to the Samye Ling leadership and community.
Please include the Venerable Akong Rinpoche, his brother Lama Yeshe Rinpoche and other family members as well as all students, practitioners and friends associated with Akong Rinpoche and Samye Ling in your hearts and practice at this difficult time.
Those wishing to engage in formal practice at such moments of shock and loss are advised to chant The Heart Sutra, holding the deceased and all who are affected by these events, in their hearts. If you wish, you may recite the mantra 108 times before concluding the recitation of the sutra.
Choje Akong Rinpoche was born in 1940 in the Chamdo area of Kham, Eastern Tibet. At an early age he was recognized as a Kagyu tulku and enthroned by the 16th Gyalwa Karmapa as the Abbot of Dolma Lhakang monastery near Chamdo.
Akong Rinpoche received transmissions at Sechen monastery from Sechen Kongtrul Rinpoche, received instruction from the 16th Karmapa, and teachings from several other masters including Dilgo Khyentse Rinpoche, Shechen Khenpo Gangshar and Chogyam Trungpa Rinpoche.
In 1959 at age 20 he fled to India with Trungpa Rinpoche in the aftermath of the 1959 Tibetan Rebellion. Of the 300 in the party who made the ten-month journey only 13 arrived in India. After spending time in refugee camps he and Trungpa Rinpoche taught at the Young Lamas Home School in Dalhousie, India. In 1963 they were sponsored to go to Oxford. Akong Rinpoche worked as a hospital orderly in order to support himself, Trungpa and Tulku Chime Rinpoche, who had joined them at Oxford.
In 1967, he co-founded Samye Ling in Scotland with Trungpa Rinpoche and went on to establish Kagyu Samye Dzong centres in other countries. In 1977 the 16th Karmapa appointed Akong Rinpoche as his representative in Europe. Akong Rinpoche later led the search party that led to the enthronement of His Holiness Ogyen Trinley Dorje as the 17th Karmapa.
Akong Rinpoche helped found ROKPA International, an international humanitarian organization that works principally in Tibet and Nepal. His increasing charity work abroad led him to appoint his brother,Venerable Lama Yeshe Losal Rinpoche as Abbot of Samye Ling
For a complete biography of the Venerable Akong Rinpoche, please click here.
Post Tags:
Shambhala News Service