Saturday
Video, Audio, Photos
Snapshots of Basic Goodness: Children's Hands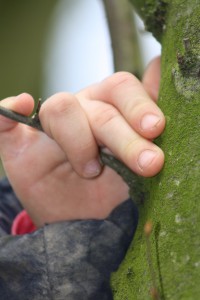 COLUMN: Snapshots of Basic Goodness
Exploring the Basic Goodness of Children through Photos
by Ute Schneider, Cologne, Germany
"Difficult children don´t exist," proclaimed an inspiring book I read recently. In this book, Henning Koehler asserts that we need to provide "working places" for children to engage with the elements and the natural world. We can teach them to use tools such as knives, brushes or musical instruments for this engagement. Children like to work together with us adults doing the same things we do. They love to copy and imitate our actions. Their natural inquisitiveness is inspiring and needs to be gently encouraged and nurtured. Our job as teachers is to provide a safe container, help if necessary, encourage, appreciate, accompany and just love them.
We must trust the children. An atmosphere of trust is so good, allowing them to grow and discover the world for themselves. An atmosphere of doubt and anxiety jumps over and kills their inherent creativity. Therefore building a safe container is important and allows us to get to know each child well. This means gently listening and watching our children, getting to know them like a most precious drawing. It becomes a constant exploration of always appreciating this very moment.
For more than 10 years, I have had the honor and pleasure to work with children as a kindergarten teacher. I love to take photos, particularly portraits of children. The most important aspect for me is that children become friends with the camera and behave naturally.
I decided to put this theory to the test with my kindergarten students, and asked permission to take photos of them. The pictures that resulted touch me deeply because they express the intensity, love and effort in the activities of the children. Watching the children working with such intensity is so inspiring, and I find there is also a meditative quality to the experience. Seeing the contentment, joy and courage they express is a daily gift.
If I'm honest, I stole the idea of taking photos of children's hands from my youngest daughter. She was studying photography at school and needed a main theme for her thesis. Her professor suggested she focus on portraits of people, animals and hands. I immediately knew this was what I wanted to work with as well. She agreed that I could take photos of children's hands, and I enthusiastically started to do so. This video is a compilation of my work.
~~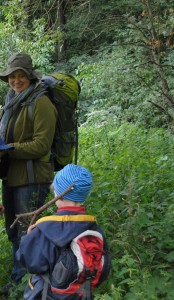 Ute Schneider was born in Marburg, Germany. At the age of 30, over twenty years ago, she attended her first Shambhala weekend. Since then she has been in love with the Shambhala community. For some years she was engaged at Dechen Choling teaching a weekly Rites of Passage program. She is a proud mother of three daughters. Her dream is to travel through the world taking photos of children in all different cultures, giving children a voice. Ute currently lives with her family in Alfter, Germany, a village near Cologne. The Cologne center is her home Shambhala center.
Post Tags:
Cologne
,
photos
,
Snapshots of BG
,
Video