Thursday
Featured Stories
Warrior Tribute to Onyumishi Kanjuro Shibata XX
The Shambhala Times offers this Warrior Tribute to the great Kyudo Master Onyumishi Kanjuro Shibata XX who passed away peacefully on October 21st at the age of 92 in Boulder. His wife Carolyn was with him at their home. Please take this opportunity to post your remembrances and tributes as comments below the article.
Born in Kyoto, Japan in 1921, Shibata began his Kyudo training at the age of eight. At a young age he also began training in bowmaking with his grandfather, Kanjuro Shibata XIX, in the family workshop. In 1959, upon the death of Kanjuro XIX, he officially became Kanjuro Shibata XX and assumed the duties of Imperial Bowmaker to the Emperor of Japan.
Perhaps you are thinking that neutrality is some sort of spiritual goal. This is not the case. Looking deeply at our hearts is the aim of spiritual practice. Kyudo practice is not neutral. Kyudo practice is about balance. Balance is not the same as neutrality. Neutrality only seeks the middle. In kyudo practice we are equally aware of the left, the right, the middle, all of it. How long have you been practicing? Once more again, practice. This is my hope.
~ Kanjuro Shibata Sensei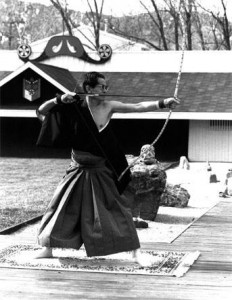 Shibata Sensei was the master of Taiyusha Kyudojo practice hall in Kyoto (founded in 1883) until its closure in 1991. In addition to making bows for warriors and nobility, the Shibatas also made hama-yumi (sacred bows) used in Shinto and Buddhist rituals. They were also heads of Kyoto Bowmaker's Guild for many generations. During the Meiji Restoration, the Shibata lineage was appointed the Bowmaker to the Emperor of Japan, whose most important duty is producing the Goshimpo-yumi which are enshrined at the Grand Imperial Shrine at Ise and replaced every twenty years.
In Japan, Shibata Sensei became concerned that his students were too fixated on merely hitting the target, and were treating kyudo as a sport rather than a meditative art. He felt they were becoming too competitive. Shibata thus represents a view of kyudo different from the All Japanese Kyudo Federation (ZNKR) and Japanese Budo Association. Rather than as a meditative art, ZNKR promotes kyudo as a traditional budo art combining equally both physical and mental development. These differences led Shibata Sensei to exclude his tradition from the official Japanese budo associations.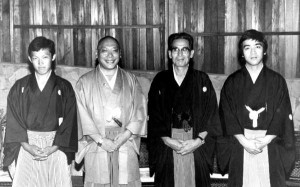 In 1980 Shibata Sensei came to the United States to teach kyudo to the Shambhala community, at the invitation of Vidyadhara the Venerable Chogyam Trungpa Rinpoche. Together they founded Ryuko Kyudojo (Dragon-Tiger Kyudo Practice Hall) in Boulder, where he established permanent residence in 1985. The Sakyong, Jamgon Mipham Rinpoche, studied for many years with Shibata Sensei and became president of Ryuko Kyudojo.
One is not polishing one's shooting style or technique, but the mind. The dignity of shooting is the important point. This is how Kyudo differs from the common approach to archery. In Kyudo there is no hope. Hope is not the point. The point is that through long and genuine practice your natural dignity as a human being comes out. This natural dignity is already in you, but it is covered up by a lot of obstacles. When they are cleared away, your natural dignity is allowed to shine forth.
~ Kanjuro Shibata
Shibata Sensei traveled and taught extensively, and founded Zenko International, with over 25 Kyudo practice groups in the United States, Canada and Europe. Sensei officially retired from his duties as Imperial Bowmaker in 1994 in favor of his son, but with the support of his wife Carolyn, was active in teaching until his death. He performed purification ceremonies at the Sakyong's Enthronement and Wedding. The Amaterasu-mikami shrine at Shambhala Mountain Center was constructed at his request and under his guidance.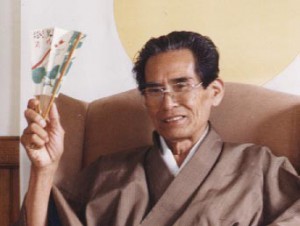 "Shibata Sensei was an exemplar of warriorship," writes Shambhala Mountain Center Director Michael Gaynor. "In the last year of his life, he visited Shambhala Mountain Center on a number of occasions in response to a request from the staff to teach warriorship and revitalize the practice of Kyudo at the mountain center. Despite his obvious frailty and need for oxygen at the higher elevation, he came and shared his profound teachings with us. He also invited the staff to his dojo in Boulder, to take first shot with him. This was a warrior for whom there was never a moment of holding back."

Please take a moment and share your comments and tributes below.
Post Tags:
death
,
Shibata Sensei
,
Warrior Tribute