Friday
Featured Stories
Diving into Diversity
COLUMN: Enlightened Society Celebrates Diversity
Announcing a new series of online talks by Acharya Judith Simmer-Brown

article by Amanda Hester, Shambhala Times Regional Correspondent
For a long while now the Diversity Awareness Working Group has been active within Shambhala. This is a group of committed, experienced and informed community members and teachers who are working to bring about a change in the attitudes, policies, and atmospheres within Shambhala, to facilitate greater inclusiveness, tolerance, awareness, and diversity, in our centers, groups, and programs. A short while ago this group approached Acharya Judith Simmer-Brown to do a brief online talk on the subject of diversity.
Acharya Simmer-Brown has been part of Naropa University's decades' long commitment to diversity, participating in trainings and conversations over the years on how to develop an inclusive, diverse community. She has particularly been contemplating how important this work is to the long-range goal of creating enlightened society. She was delighted to be approached. After doing the first talk she was so moved, she describes a "yearning to do something about privilege that was so strong" that she went back to the group and asked if she could do another accompanying talk on that issue. These two talks are now available through groups and centers, to be viewed and discussed in a series of small or large gatherings. They are accompanied by study questions, and include various exercises, to bring forth meaningful thought, discussion, and reflection. The working group has put together an excellent manual on how to lead these events, and all of this is currently available across the mandala. A third talk, completing the series, is planned.
This is a first step in terms of getting a greater contemplation and discussion going around the issues of discrimination and privilege that are pervasive in our culture, in the world, and in our centers, groups, and communities within Shambhala. Acharya Simmer-Brown says, "We are so ripe and ready for this conversation in Shambhala. It is something we've needed to talk about for a long time."
This series of talks and discussion groups should be viewed as a pebble being tossed into the lake of our community, empowering us all to add our own ripples and offerings. Feeling empowered and courageous enough to offer our own inspirations around this, in our own ways, is already opening up a little space in our community for greater inclusivity. This is not something that we can wait to have done for us, it is work that we ourselves, each of us, needs to do individually and collectively.
The intention behind this series of talks is to start bringing about a change that is organic and from within. If the personal contemplation isn't there, then whatever else we might do, it all just becomes advertising and tokenism. Finding the elements of practice within the whole thing is imperative, and as these issues are not only personal, but also very much societal, practicing and engaging in these contemplations and discussions within a group setting is also very important.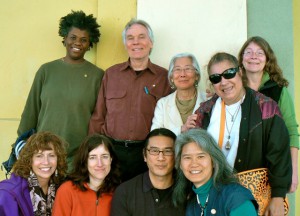 Now is the time for us to really dive into this within Shambhala. Acharya Simmer-Brown describes how discrimination and privilege lead to internalized oppression, which is rampant in society today. This is "a very special sort of doubting ones basic goodness." It is essential that we start exploring these issues now. Because as we increasingly proclaim and teach on basic worthiness, if there is any unconscious subtext, if we are inadvertently creating and sending out mixed messages within our culture and communities, if joining Shambhala means in any way becoming "just like us," that will become extremely Orwellian and problematic.
This series of talks begins an initial inquiry. Most often discrimination comes from doubt and insecurity. We might feel like we don't have a diverse enough group of friends or acquaintances, that we don't know how to behave, how to even the scales, or that we're just so white and privileged as a community, or that we are all getting so old, or whatever the narrative is, when diversity of any sort enters into this mind-set, it can get pounced upon, overly embraced and adulated. Objectification comes in many different forms.
Engaging with issues of discrimination and privilege challenges us to not only relate to ourselves as human beings, but to also relate to everyone else as human beings. It challenges us to see and relate to people beyond their various categories, to become genuinely curious and open to others and their experiences. It is extremely important that this is something we actively try to do with equanimity, so that it doesn't just become some practice that we remember and then put on when we come across a perceived 'other' or minority.
Relating to diversity can begin just by relating to our own community's cocoon around its homogeneity, or our excessive caution with how we let Shambhala out into the world, or how we manifest within it. Acharya Simmer-Brown offers, "A lot of people are looking for safe cocooned communities. There are gated communities, and then there are cocooned communities, and Shambhala can be like this. Over time we can begin to over identify and cocoon ourselves with so many things. There are the Shambhala levels, all the various forms, we can become cocooned by the programs we've done, and the practices we've done. I am curious to see what happens when we drop all of that and step out into the larger world."
She continues, saying, "We have to be willing to bring some kind of vitality and freshness to the whole situation, and we have to be willing to work together on it. Diversity is one of the key issues. A lot of people have begun working on, and talking about, the environment, but no one really wants to do that same work with diversity. It is hard work. It is extremely painful work, challenging work. There is always more to learn. And you can work on it for a long time and only make the slightest amount of progress. It is not going to be easy in Shambhala," she says. "But this is work that we really need to do, because of the harm that's caused by not doing it."
Acharya Judith Simmer Brown wants to invite conversation partners, "not just to join me but also to join others in their centers, and even work with the diversity groups in their centers, and with their Shastris, and begin to relate to societal dukha (suffering). If we could begin to discuss and contemplate these things together, I think that will be very beneficial."
The Shastris have been asked to lead these discussions at their centers, but anyone who feels inspired should go to their center and make a request. Any seasoned practitioner or teacher is able and encouraged to lead a discussion around these talks, so please encourage your group or center to put on such an event. The inspiration can come from anywhere.

~~
For more information, or if you have any questions about the Diversity Awareness Working Group, please contact the Group chair, Shastri Charlene Leung: [email protected]
Post Tags:
Acharya Judith Simmer-Brown
,
diversity
,
Enlightened Society Celebrates Diversity
,
Shambhala Online