Monday
Community Articles
Moving Forward…
…with the Shambhala Adult Rites of Passage
COLUMN: Aging in Enlightened Society
by David Whitehorn
"Every ten to twenty years, we can participate in a ceremony that awakens us to the fact that we are progressing through life. These rites of passage act as a reminder. If we are not occasionally reminded to stop and look around, it is difficult to tell what direction we have taken in life. Therefore, the rites of passage are not only a public ceremony marking our journey through life, but also a time of self-reflection and orientation."
~ Sakyong Mipham Rinpoche

While on retreat in Nepal in 2011, Sakyong Mipham wrote two texts that provide a profound view of aging in the context of the Shambhala teachings, and describe a Rite of Passage ceremony that adult Shambhala Warriors can experience at major transition points throughout their lives.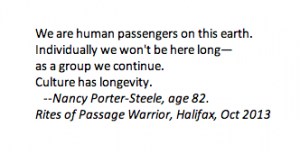 A step forward in the process of making this new cultural form available to all Shambhalians occurred this autumn with weekend group retreat programs, including a formal Rites of Passage Ceremony, taking place in Boulder (Oct 18-20) and Halifax (Oct 25-27).
The weekend programs, entitled "Adult Rites of Passage: Awakening to the Stages of Life", engaged the participating warriors in the study of the Sakyong's texts, and a deep transformative process of reflection and re-engagement culminating in a public ceremony witnessed by family, friends and other interested Shambhalians.
The development and roll-out of the weekend retreat program has been led by Acharya Mitchell Levy and a steering committee consisting of Heidi Mecklenburg, the Executive Officer of the Dorje Kasung, Andrea Sherman and David Whitehorn, the current and past chairs of the Shambhala Working Group on Aging, and Sangyum Wendy Friedman, Director of the Shambhala Office of Culture and Decorum. Acharya Levy and Heidi Mecklenburg led the program in Boulder, while Andrea Sherman and David Whitehorn led the one in Halifax with Wendy Friedman as an advisor/participant.
Eighteen Warriors completed the Rites of Passage in Boulder and fourteen did so in Halifax. In both programs participants ranged in age from 30 to over 80 years old. (Eleven warriors had previously completed the Rites of Passage during a pilot program at Karme Choling in October 2012). Participants in the Halifax and Boulder programs described their experience as "transformative" and "powerful".
With success of the programs in Boulder and Halifax, the steering committee plans to work with other Shambhala Centers over the coming year to begin making the Rites of Passage weekend retreat program more widely available.
Previous articles on the Adult Rites of Passage in the Shambhala Times:
Shambhala Rites of Passage for Adults
Historic Rites of Passage
Post Tags:
Aging in Enlightened Society
,
Rites of Passage