Monday
Community Articles
Dream Soup
COLUMN: Kitchen Wisdom

Interview with Machen Shari Vogler
by Judy Sachs-Sullivan
I often wonder what Shambhala will look like 100 years from now.
What form will it take? How will Shambhala Buddhism influence western culture? Will future Shambhalians look back at their roots to study its origins, and the pioneer "warriors" who helped the Vidyadhara create an environment for Shambhala Buddhism to take root?
Part of my interest in writing this column is to honor those pioneers, and to record their remembrances to help preserve a little piece of the history. I hope to convey a "taste" of what it was like in those early days.
I interviewed Ms. Shari Vogler, who served as the head cook to the Vidyadhara, Chogyam Trungpa Rinpoche and his family from 1977 until his death in 1987.
Shari: The person who got me into cooking for the Vidyadhara was Jeanine (Weider) Greenleaf. She and I would do things together (cook) for the visiting teachers. I remember that Ugyen Shenpen had arrived from India to work with the Nalanda translation committee. When he first arrived, Ugyen asked the Vidyadhara what to do and he told him to teach me to make momos. This was much to his surprise because he did not think of himself as a good cook. His momos were great! He taught me very well. Later on he taught me a few other things like shapale and thukpa (soup). Shapale are more like a baked meat with dough on the outside, and I used to cook them at encampment because you could cook them in a wood fire.
Judy: Tell us what it was like when you first became head cook for the Vidyadhara and lived and served at the Mapleton House court.
Shari: When Rinpoche came back from retreat it happened to be Passover, so I decided to make a Jewish type of meal. I cooked a brisket and that kind of thing. There were also matzas, and the Vidyadhara kept asking for more of that "Jewish bread." Something clicked that night when he came home from retreat, so that was the beginning of my cooking for him.
Judy: What was it like to cook at the court in those days?
Shari: At that point we had the Vidyadhara and he would be on his own schedule, and then Lady Diana who had her own schedule, and the kids would sometimes be on a different schedule. Then we would have Lila (Rich) on a different schedule, and then Regent Osel Tendzin as well. Sometimes I would cook 5 different meals a night. The Vidyadhara's meal was the last, and the dinner hour could stretch out to 2 or 3 in the morning. There were occasions when dinner would start at 7 in the morning and night and day would be completely reversed! We would be tired and wait for hours, but in a strange way it created a very strong community because we would be there together for hours. There must have been 100 different volunteers at the court each week. People became very tight waiting to serve dinner.
Judy: When was the word Machen first used?
Shari:
I think it was my Lady Ceremony, where I took an oath and was made Machen Wangmo – Empowered Lady Cook. I think this was the first time, and he said there would be only one Machen Wangmo. He was right, because he later died.
Judy: What is the meaning of the word Machen?
Shari: It translates as cook-tea maker, and great mother.
Judy: How would you describe your service as cook as part of your practice?
Shari: I think it would be familiar to people as being a student of a great teacher. You are really trying to listen closely to him and the environment, and serve your best. It was really similar to kasung service.
Judy: What foods did Rinpoche enjoy eating?
Shari: His personal tastes from day to day were very simple. He liked lamb chops boiled in marmite and water, served with maybe boiled potatoes and a cooked vegetable. Also, tripe in a white sauce and noodles, cauliflower. He liked a white meal every once and a while.
He liked spaghetti Bolognese without garlic. He did not really like garlic or onion. I asked him about this, and at that point when Gampo Abbey was just getting going, he instructed them not to eat ginger, onions and garlic, which is stimulating food. I asked him if that was the reason and he said, "No, I just don't like them." I think he didn't want a big deal made out of it. He would also eat leg of lamb, or roast beef. He liked offal, tripe, heart, and lung. I think they ate every part of the animal in Kham.
He liked Bandit Soup for breakfast sometimes. Bandit Soup is frozen shaved meat with boiled tea or water poured over it. This came from Eastern Tibet or Kham. Bandits would have to eat very quickly so they would have a piece of frozen meat hanging from their horse, set up camp, boil some water, shave off some meat, eat quickly and be ready to move on. Momos were party food. Generally he would eat the same thing week in and week out.
Judy: Tell me about Dream Soup.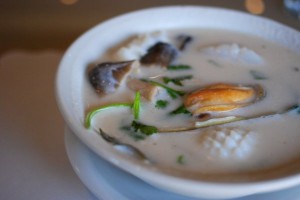 Shari: Dream Soup was something he had dreamt about one night. This was when Max King was his cook, so he told Max directly how to cook it. (see recipe below) Basically it had cellophane noodles, spinach, and brussels sprouts boiled into the soup, along with buttermilk. We used to make pots of it for board meetings at the Court. The soup became a tradition.
While his day-to-day requirements were simple, he also enjoyed a full ratna feast, like on Shambhala Day, or when we had dignitaries come and visit, like the Chinese Ambassador. He really loved it when we went all out with pomp and circumstance.
Judy: Is there anything else you would like to comment on about your time serving the Vidyadhara?
Shari: I could say, I never felt more alive in my whole life than when I was in service to him. There was always something that woke you up, either it was that the time of day was unconventional, or the guests were unconventional. At the same time there was a lot of decorum and the food helped create whatever atmosphere he wanted to create at that time. I would go up every morning and we would discuss the menu, and he would want to know what his schedule was for the day. Then he would build his meal around the guests he wanted to invite. So it was really essential to creating environment.
The Vidyadhara only really cared about teaching and creating Shambhala, so whatever that took. And, of course, people had to eat!
~~
Dream Soup was printed in the Halifax Shambhala Banner in the 1990's.
Serves 4
½ – ¾ lb. ground beef
1 quart chicken stock
10 oz. fresh spinach, washed and shredded
1 small pkg. cellophane noodles (soaked in cold water 15 mins. & cut into 6" lengths)
1 T. soy sauce (to taste)
1 C. buttermilk (or yoghurt)
Break up ground beef into cold stock with hands. Bring to boil, stir occasionally so meat does not clump. Simmer 20 minutes. Add cellophane noodles. Cook 3 minutes. Remove from heat. Add spinach, soy sauce, buttermilk and stir.
Optional: Add ½ C. of Brussels sprouts (cut in half) after first 15 mins. of cooking. Continue with 5 more mins. of simmering. You can add ½ t. of fermented bean curd/and or sliced green onions after removing from heat. Cilantro can also be added.
Post Tags:
Chögyam Trungpa Rinpoche
,
Kitchen Wisdom
,
Machen