Wednesday
Featured Stories
New Year, Fresh Start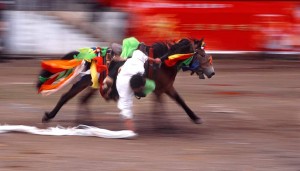 Coming Soon: The Year of the Wood Horse!
Shambhala Day this year will be celebrated on March 2, 2014
article by Sangyum Wendy Friedman, Director of the Office of Culture and Decorum
I can't help thinking of the Trojan Horse every time I write "Wood Horse." Our Shambhala Day, however, is unlikely to have surprise subterfuge since the Greek warriors would be most welcome at our celebration and need not hide inside a giant horse made of lumber.
This year, for Shambhala New Year, we're all encouraged to include three key components, which includes practice, an international broadcast, which will include the Sakyong's address, and finally -celebration. Practice can, of course, include recitation of the mamo chants during the don season before the new year. Practice could also include joining in a Birthday Sadhana, the Sadhana of Mahamudra, the Werma Sadhana or Shambhala Sadhana at your Shambhala Center. The Sakyong's Shambhala Day Address will take place on Sunday, March 2nd, in Boulder where the Sakyong and Sakyong Wangmo are currently in residence with their daughters. Many centers are planning special social events, but you could also organize a dinner party, tea or at-home reception if you are inspired. Another powerful New Year's practice could be to cast the I-Ching for the coming year as part of your social events.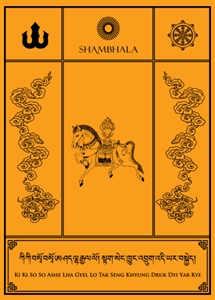 The Sakyong has encouraged us to enrich our tradition of lhasang ritual within Shambhala, and to support this, we have created beautiful new lhasang flags that can be ordered through Shambhala Media. Flags are available in sets for centers, or as individual flags for personal home use. You can order your own flags, or read more about lhasang and the flag's symbolism by clicking here.
Lhasang ceremonies help us to dispel confusion of the past and to invite awakened energy as we go forward, so this ritual is especially appropriate for Shambhala Day. Cleaning our home, office or center can also help to invite fresh energy for the new year.
A poetry contest (view more information here) is being held as part of our Shambhala New Year celebration for 2014. We are collecting poems on the theme of "Windhorse," a fitting topic since we are working with lhasang ceremonies that rouse windhorse, and also since this is the year of the Wood Horse. You can submit your 3-5 line poem here The winning poem will be read as part of the international Shambhala Day broadcast, and Shambhala Media has gifted a copy of the limited edition, brocade-bound First Thought, Best Thought valued at $108 to the winning poet.
May your Shambhala New Year celebration be a fresh start filled with the brilliance of the Great Eastern Sun vision!
~~
For more information about Shambhala Day, click here.
For more information about the Shambhala Day Poetry Contest, click here.
To order your new lhasang flags and learn more about them, click here.
Post Tags:
Shambhala Day
,
Shambhala Day 2014
,
windhorse