Wednesday
Northern Europe
A Taste for Running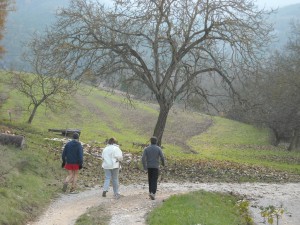 Running with the Mind of Meditation: In France
written by Eric Rugani, Elise Le Goff-Maes, and Christophe Penkerc'h
edited Ani Dawa Chotso
The idea had been in the air for some years among some rock climbers of the sangha to propose a weekend called "meditation and rock climbing", that would explore how those two activities could complement each other. A surprise then came from the Sakyong Mipham Rinpoche, who published in 2011 a book entitled Running with the Mind of Meditation.
The Sakyong, the leader of our sangha, is not only a meditation and spiritual master, but also an accomplished marathon-runner. In this book, he explores how those two activities complement each other, to have a sane mind in a sane body, and how one can also use running as a first approach to meditation.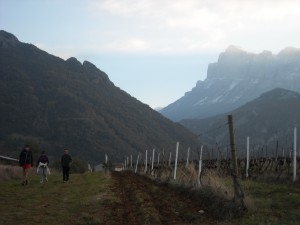 This approach is groundbreaking, and can allow sportsmen to discover a new way to envision running, with gentleness while keeping ambition. It also allows those who already meditate to take care of their body, thus helping their practice a great deal while completing it. This approach can inspire anyone who is concerned about their own body and mind well-being, and uses the practice of running, which is already widespread in our culture.
When his book was first published in English, the meditation instructors in our sangha were invited to spread those teachings around sportive circles. It took a little more time in France due to linguistic difficulties. So Christophe, Elise and I undertook the translation of the first half of the book, which would serve as a basis for the first francophone teaching program. This happened in Espenel, Drome, France, during the last weekend of November, 2013.
Since the concept was new it was a small program with just eight participants. Despite this, there was a good match between sportsmen and meditation practitioners, which allowed for rich exchanges. During the weekend, sitting and walking meditation sessions alternated with yoga practices and talks based on the Running book. We practiced running meditation — or outdoors walking meditation for those of us who were injured — for at least half an hour a day, in the middle of a marvelous landscape.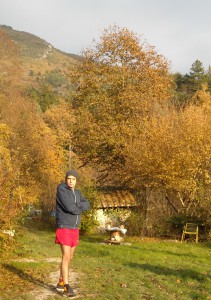 We got the impression that everyone had a good impulse to practice and that something very worthwhile was born in France.
"This weekend gave us a taste for running," said Leslie who still prefers the sitting practices of meditation she already knew to shamatha as we presented it.
Lila had questions: "How could we reconcile those practices when they seem to be opposite? How can we bring gentleness? I felt we shared our impressions, our questionings, our feelings. I also enjoyed the meal times where we exchanged stories of our paths, mentioning the possible impacts of this practice on our daily lives."
Vincent's insights: "I have had difficulties to 'just-sit-without-hoping-for-gains', to stop, to contact this terror directly, as well as this complexity, this happiness to be alive, just to be there. Running, I realized, is one of my distractions. It is another way to be busy, through action, where I use my body to get the mind tired. Through effort I forget my worries and my difficulties, or I get distracted, diluted, and forget myself, if possible, in nice landscapes. This weekend helped me discover that and helped me clarify my motivations and distinguish differences between practices."
Our plan for the future is to follow this direction if possible, while incorporating many suggestions. These include:
• We would finish translating the second half of the book and propose a weekend in September to present it. This would be open to those who attended the first weekend.
• We would again propose for the end of March a repeat of the first weekend, this time in a format more oriented towards practice than to presenting the book.
• We also plan to use this canvas and that growing experience to propose sports and meditation weekends around other types of sports: mountain walking, swimming, biking, motor biking. We have plenty of ideas…
At the same time, being faithful to our first loves, we keep the idea to propose as soon as possible a weekend on rock climbing and meditation, once this format is well established. We believe that this discipline, which is more varied than those sports above, would ask for a special adaptation in order to be harmoniously married with meditation in a teaching context. But its very nature predisposes it to this association, which is already implicit in the mind of many rock climbers. We plan to meet soon in order to work on this project.
We hope wholeheartedly that these activities will contribute to helping the vision of enlightened society expand, as well as practice in everyday life, both of which are so strongly advocated by our Sakyong. We make aspirations that these activities allow many to access authentic teachings, that will allow them to walk the path towards their innate basic goodness, and towards the goodness of society as a whole.
Post Tags:
Europe
,
France
,
meditation
,
running
,
Running with the Mind
,
running with the mind of meditation
,
sports