Friday
Mandala Projects
Launching The Arrow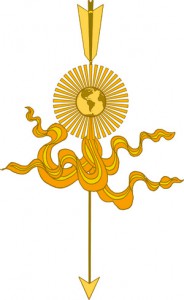 article by Jayne Sutton, Shambhala Times Regular Correspondent
illustrations by Alicia W. Brown
Shambhala Day, March 2, 2014, saw the launch of an exciting new online journal — The Arrow: A Journal of Wakeful Society, Culture & Politics. The Shambhala Times brought you a first glimpse of this nascent project in September; click here to see more. I caught up with Founding Editors Gabe Dayley and Kai Beavers and Creative Director Alicia Brown shortly after the official launch. They shared their experiences and reflections, and looked forward to The Arrow's first year.
When we connected, it was clear that Gabe and Kai had been through a whirlwind of work putting the finishing touches on their journal, but their excitement and enthusiasm were palpable. According to Gabe, "Over the past couple of weeks, we've been working around the clock — but the week before Shambhala Day, we started to see the light at the end of the tunnel."
Kai added that a friend who is very involved with astrology even advised them on the specific time the site should go live: "I actually got up early so we could have the site up at exactly 5:45 AM."
Both have been very encouraged about the initial response; traffic was good during the first week, and more than 100 people had signed up for email updates during the first day or two. They had also received some new queries about submissions.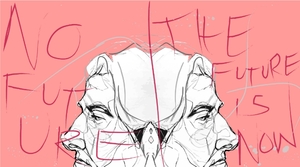 Gabe noted that the support of the community had been an enormous morale boost over the past several months. "A group of Boulder members took it upon themselves to form an Arrow Advisory Council," which has met monthly since November, providing support and guidance to the fledgling project. "We've had the benefit of so much volunteer time and expertise; there have been a lot of people stepping up to ask how they can help."
When I first spoke with Gabe and Kai about six months ago, their journal project didn't even yet have a title. In choosing the image of the arrow, they were trying to stay with something direct and simple. And, as Gabe says, the arrow "has a nice symbolism, and resonates a lot with Shambhala." The arrow conveys the notion of the bravery involved in exploring how to be of benefit to others and society.
He recounted an "awesome meeting" with the Sakyong and Sakyong Wangmo in December, when he and Kai presented their developing ideas for graphics, title, and tagline. Kai added that both the Sakyong and Sakyong Wangmo were "inspired and excited about the project, and really helpful." He shared that the Sakyong Wangmo offered valuable insights about the name and the logo design. Conversation and exploration with the Sakyong about the meaning of concepts like society, culture, and politics led to the formulation of the tagline, "A Journal of Wakeful Society, Culture & Politics."
Gabe found that this meeting helped them come to a new level of clarity, and provided a "huge burst of lungta."
Alicia, who designed the journal's logo, also feels that this meeting was a big moment, "It was such an honor to get the Sakyong's feedback. It meant a lot to get his blessing."
Alicia has known Kai since they went to high school together, and she's known Gabe for years, as they "were all dharma brats together." They started to share with her their plans for the journal while she was completing art school at the Rhode Island School of Design. They found they had similar ideas about how a vehicle like this could fit in and contribute to Shambhala culture, and draw together a wide range of thought and expression. "Their passion and drive have just continued on and on. We're all so young, you could expect that an idea like this could just fizzle out." But Alicia found a great opportunity as Creative Director as she was finishing school. "I couldn't be happier."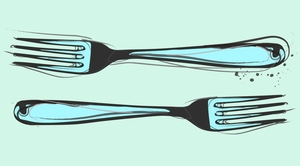 Alicia relates how she developed the journal's logo graphic — the arrow depicted echoes a traditional Tibetan style: "I wanted that graphic to hold a sense of lineage, honoring Shambhala's traditional roots as well as the direction of the Sakyong's teaching." She felt it was also important to establish a graphic feel that is distinct from the style used in the illustrations she creates for the articles. "In that way, the illustrations can be freer to communicate the content. I really appreciated the opportunity to immerse myself in the content of the articles and translate that into images that can make the concepts more understandable."
A printmaker, Alicia hopes to find a way to incorporate her medium more into future editions of the journal, with which she will be able to develop more of a tactile feel to the presentation. "The Arrow can be not only a hub for fascinating articles, but perhaps also a hub for visual arts in Shambhala. Anything is possible with this journal."
On the editorial side, the experience of working with authors has proved to be new and exciting territory for both the Founding Editors. Kai says, "Learning to be editors has been interesting — the idea of editing becoming a conversation, a shared inquiry about content." Gabe adds that it is fascinating to see how different people tie ideas and concepts together. "Having the opportunity to engage intellectually with the content, and trace the intersections of Shambhala view with other modes of thought and philosophies — it's an honor to do that."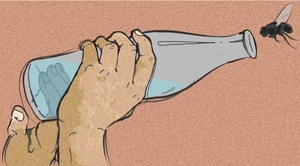 Besides the adventure of becoming editors, Kai and Gabe are now focusing on increasing their facility with Adobe InDesign© and mastering Web analytics. They view the recent launch as a "rolling start" for The Arrow, and envision publishing another collection in September, making two for 2014, which they plan to publish as an anthology in e-book form. They are exploring ways to involve readers in the conversation through letters to the editor, as well as in-person salons at local Shambhala Centers. The Arrow will appear quarterly in 2015, and e-book subscriptions will be offered.
To view the website, please click here: www.arrow-journal.org/
Post Tags:
awake
,
interview
,
Journal
,
politics
,
The Arrow