Monday
Mandala Projects
The Journey of Applied Mindfulness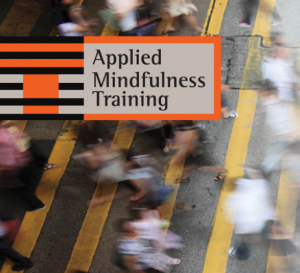 In June, Sarah Lipton, Editor-in-Chief of the Shambhala Times, had a opportunity to talk to Patton Hyman about the launch of the Applied Mindfulness website.
edited by Ani Dawa Chotso, Shambhala Times Staff Editor
What is Applied Mindfulness?
"Well, the website is part of a bigger vision of what we would like to do with mindfulness training." Patton explained. "We're an educational non-profit.
"Applied mindfulness training takes the abstract quality of mind and grounds it in real experience. So that when people actually do the communication exercises, collaboration exercises, creativity exercises, they begin to see that this is truly something, this is not just a hobby, this is something that they can use to basically enhance their life, enhance their work life, their relation to their friends, their family life.
"We present it as a totally integrated practice. It is something that once you realize how mindfulness and presence and meditation all work together, it actually makes sense to people.
"The way we look at the website is as a service. What we hope to do is attract people from a variety of traditions or from no tradition who are interested in mindfulness and who can become a part of our online community and begin to have conversations on line through the website.
"What we hope to do is to to continually be putting out useful information. People can go to the website and see something there and say I see how I can use that, I can actually bring that into my work life, or my family life."
Applied Mindfulness and Shambhala
It's occurring to me that this is extremely similar to what Shambhala is doing. So I'm curious what the intersection is for you with Shambhala. In some sense I'm wondering if you're trying to go more towards the business world? If you could say more about that?
"Our intention is definitely to reach out to professional audiences. We feel it's important for accomplished and influential people to know about mindfulness. As they see the benefits of it, they will be in a position to help us spread the trainings even further.
"Richard Reoch and I were talking about this early on. He asked how would you describe the relationship between what you're doing and Shambhala? I would call it independent but friendly.
"One of the things we have talked about doing is offering training in professional mindfulness to meditation instructors in the Shambhala community. Particularly in the larger centers, there are meditation instructors who just don't have all that much to do. We would like, at some point, to coordinate a training so that we can introduce meditation instructors to an approach that they could then start to expose to people they are connected with, and look for opportunities in business and non-profits. This is just something Richard and I have talked about. He is very interested in that.
"So, sure! We're interested in taking it into businesses and other organizations. We've done some work at American University in their office of Public Affairs which basically trains leaders in government. We've done a presentation in Newton, MA, on mindfulness in business in the Continuing Education Department of the Newton Public School system. In Atlanta, we did a training at a large law firm and had about 60 people show up. We did a public talk at the Atlanta Center on mindfulness and business, talking about the values that come out of doing this kind of practice, that are useful in applying mindfulness. I met with the Georgia Bar Association Continuing Education people, and now plan to do two more programs in Georgia in September, sponsored by the Georgia Bar. We've also done a training for Coca Cola.
"I find the in-house trainings to be very satisfying because when you do a training for a group of people who work together, you begin to see how they take what you tell them about them, and start talking among themselves about how to use it.
"The first time I really noticed this was in December – I did a program for a tech company down in Boston. By the end of the day, they were saying, after we were doing the collaboration exercise, they were saying, 'You know we could get together about such and such, using these methods.' It's truly interesting, how these people are actually seeing how they could use it. They don't need me there all the time, telling them what to do!
"We had a chance earlier this year to present a program limited to people who had done a previous program. Since they had already been exposed to applied mindfulness, we didn't have to spend as much time saying what to do and apply. So, we worked on some specific applications. We spent a good bit of time talking about mindfulness issues in decision making, and things like how to deal with risk, time management, various perspectives, communication, a lot of things like that. Very interesting to see how people actually start using it."
What is involved with growing Applied Mindfulness?
"As you know, it operated under the name of Tail of the Tiger for a number of years at Karme Choling (KCL). We no longer present trainings at KCL, so we have been looking at several pieces of what it would take for us to be self sustaining. What we have been doing, really, since the beginning of 2012, is getting the organization to a place where it can operate independently.
"One thing we have done is to expand our board and we now have a board of six individuals. There are people on the board whose names will be very familiar to people, like Richard Reoch and Bill Brauer and Michael Carroll. But there is also Reeve Lindberg, who is a talented writer and has done a lot of work with non-profits, and also Tom Wales, who is an equity and bonds trader, who has very interesting background in international non-profits. We're getting some really good help from them. It is particularly nice not to be doing it all by ourselves.
"We also changed the name of the organization. We knew we wanted to talk about applied mindfulness, but we didn't know exactly what. We didn't know: was it an institute? a society? or what? So we put out emails to people who had been teachers in Tail of the Tiger and professional programs, but also to people who we know locally like the Northeast Kingdom Chamber of Commerce and got some very interesting feed back. As a result, we decided not to worry about that last word, but to just call it Applied Mindfulness Training. We've done that, we've done all our paperwork, so now we're ready to go.
"It's starting, I really feel like it's really starting to get some traction now. It's also a lot of fun to work with professional people, I've done that all of my professional life. I just enjoy these things. That's why I just keep wanting to do more."

To learn more about Applied Mindfulness Training, visit their new website here: www.appliedmindfulnesstraining.org
Post Tags:
applied mindfulness
,
interview
,
mindfulness