Monday
Mandala Projects
Reflections on the Six Ways of Ruling
Coordinator's Corner
by Sarah Farash, Rochester, NY
"Leadership training is very important this year… It's important that we are not afraid to think that we, as a community, can be successful. Leadership can move forward in this way."
~ Sakyong Mipham Rinpoche, 2014 Shambhala Day Address
"I believe that now, as we enter into this Year of the Horse — which naturally correlates with the notion of windhorse, energy, action — that this is very much a year of doing, accomplishing. It is very much a year of the nyen, as we say in Tibetan. Nyen is very much connected with the torso. It is the mountain and hills aspect of geography. For all of us who are in various positions and roles, it has to do with leadership. In Shambhala, we are at a point where we have a sense of vision and we have personally connected, but we need to join those together. We need the nyen. We need that heart and the chest. We need to know how to move forward in that way."
~ Sakyong Mipham Rinpoche, 2014 Shambhala Day Address
Since the winter of 2012, I have been volunteering as the coordinator and facilitator of the online version of the Shambhala leadership course on The Six Ways of Ruling. In light of the Sakyong's comments about leadership training and windhorse during his 2014 Shambhala Day Address, I thought it would be useful to share information about the multiple ways that this particular leadership course can be accessed and studied.
Some of you may have already had the great fortune of exploring The Six Ways of Ruling teachings on leadership in person with President Reoch through programming at your local center or during leadership training retreats. While it is still possible to invite President Reoch to teach about the Six Ways of Ruling at your center, there are three other methods for studying the Six Ways with President Reoch through pre-recorded teaching videos that he has created. Two methods involve in-person study groups and one method is designed for individuals to engage in study together online.
What are the Six Ways of Ruling?

The Six Ways of Ruling is a powerful and accessible set of Shambhala teachings on how to work with others when you are in a position of leadership. The full description of the origin of the Six Ways of Ruling and a description of the course is located on President Reoch's blog page. Thanks to a wonderful team of translators, this information is available in three languages:
French, Spanish, English.
The course is offered to leaders, in the broad sense of the word that the Sakyong has been using for the past several years; that is, anyone who is currently in a leadership position or who aspires to be in a leadership position. For example, if you keep time for public sitting sessions, serve as a meditation instructor, have an appointed position on the Governance Council or Executive Council, serve as a Director or Assistant Director, coordinate a program, prepare ikebana arrangements, take care of the library, register or welcome folks for events, etcetera…all of these roles require working with others and involve some form of leadership. So if you are wondering whether you are a leader – you are! This course is for you!
In fact, the Sakyong asked President Reoch to help ensure that the teachings on the Six Ways of Ruling are practiced widely throughout our Shambhala communities. The online and in-person methods arose out of the President's desire to fulfill the Sakyong's request.
Three Study Methods
There are three formats for studying the material:
1) Online through the Shambhala Network study groups
2) In-person Weekend Program at a Center or Group
3) In-person 7-Week Program at a Center or Group
All three of these formats are taught by President Reoch using pre-recorded video teachings. There are specific curricula with reading assignments, discussion questions, contemplation practices, and additional tools and techniques that are presented throughout the course. The course registration links are currently accessible on President Reoch's blog page noted earlier.
Online Course Enrollment Progress and Logistics
After registering for the continuously available online course, participants respond to a survey where they are asked to choose which date they would like to start the 7-week study. Then, I set up individual private groups on the Shambhala Network once at least three people have indicated that they are interested in starting during the same 7-week period.
Each week on Sunday or Monday, I post a new pre-recorded teaching video, reading assignments, and discussion questions. Some weeks also include a short daily contemplation practice. During the first half of the week, participants study the readings and watch the video on their own time. During the second half of the week, participants post responses to all of the discussion questions. Sometimes folks also respond to one another's posts and a short virtual dialogue begins. If a group participant is interested, he or she may also host a Skype or Google Hangout session at any point during the 7-week period in order to add a live interaction component to the group discussion dynamics. When this happens, someone may offer to take notes and posts comments to the online group of the highlights of the discussion. This helps in maintaining a sense of inclusion in case any group members were not able or available to attend the videoconference discussion. All online study groups also are offered a live Q&A session with President Reoch at some point during the course, as long as President Reoch's schedule permits it.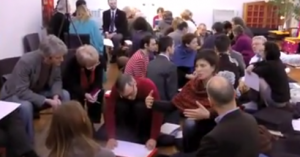 So far, six international study groups have progressed through the 7-week, online curriculum together. Each study group included participants from at least two different countries and three time different time zones. The most geographically diverse group took place in March of 2013 and included participants from France, Vietnam, Thailand, Canada, and the USA! Each study group had from three to eight people progressing through the online course material together. Overall, a total of about 35 people total have completed the course. Participants in the groups represented a diverse level of practitioners and leadership roles, including newly appointed leaders, community group facilitators, meditation instructors, time keepers, and program coordinators.
I am continuously inspired by watching international groups of participants progress through the online curriculum together. Through engaging asynchronously with one another by posting comments on discussion forums, I have observed both a culture of curiosity and a culture of kindness within each study group deepen and radiate outward in each participant's personal communities. It is beautiful to watch participants from all over the globe soften and deepen as they reflect on their own thoughts, actions, and speech in leadership roles. My felt-sense of our international Shambhala community has broadened widely through participating as the facilitator for the online program. I am greatly appreciative for how that expansion has shifted the felt sense that arises during my meditation practice, as well. At the least, this experience has helped me poke a few more holes in my cocoon! The Six Ways of Ruling and the international reach of the online container of the Shambhala Network are a truly enriching combination.
Online Course Sections for 2014
For the remainder of 2014, the online 7-week study of the Six Ways of Ruling will be offered during the following periods as long as at least 3 people are available and interested in studying during the same cycle. The start and end dates for 2014 are listed below and are in the form of (month/day):
May – (Start date: 5/5 , Final week begins: 6/14)
June – (Start date: 6/2, Final week begins: 7/14)
August – (Start date: 8/4, Final week begins: 9/15)
October – (Start date: 10/6, Final week begins: 11/17)
After reviewing the link above to the program information on President Reoch's blog page, if you have any questions about the course or how to access the in-person or online study format, please feel free to email me at [email protected]. Along with facilitating the online course, I am available to help troubleshoot any technical difficulties that might arise for participants before or during the 7-week period via email or by phone.
If you would like to take this with a group of people at your center, please talk with the leadership at your center or group to determine when a weekend or seven week course could be held. Since President Reoch has made the teachings available through pre-recorded videos and a course syllabus is available with readings and discussion questions, all you would need is a program coordinator or facilitator to help set up the teaching videos and guide people through the curriculum. If you are interested in forming a Six Ways of Ruling in-person study group at your center or group, please contact your center leadership and offer to help in whatever way you are able.
Course Participant Reflections
Here are a few thoughts from past participants about the Six Ways of Ruling online course:
"The course begins with the teachings on Benevolence. The motto for this first way of ruling is 'gentleness is the best whip'. Benevolence walks slowly and with mindfulness. In the speed and confusion of my daily life this teaching is incredibly helpful, and is a practical lesson that I try to apply all day every day, at work, home or at play. I am practicing learning to accept that it is OK just to listen, and be patient.
I was on strike while taking the course and my considerations of benevolence during that conflict helped me to clearly see the futility of it all because no one was listening to anyone. In the end the strike was a destructive exercise for everyone concerned and left behind only hurt feelings and disappointment. I have learned to respect what I hear and try to patiently listen to others in my life. This has opened up the world to me and allowed me to see more clearly. President Reoch modeled this teaching in his delivery of this course, and that gave it deep resonance." ~ Janet Burns (Saint John, New Brunswick, Canada)
"I've been amazed and deeply touched by the depth and consistency of the Six Ways of Ruling, and how powerful this online experience is. While face to face events have their own irreplaceable place and power, I would certainly recommend anyone to take this online course, as the weeks of study and practice have an effect a weekend does not have.
And here's the embarrassing part. What really touched me and stuck with me is that we go all the way with benevolence; there is no turning point at which we say 'OK, we have been sweet talking you for a long time, but if you still don't agree with us now, we will throw our Vajrayana-blessed aggression at you.' Really, I had this conception that it's friendliness and smiles until finally we trust our authentic aggression to be a blessing. The contemplation on the Six Ways of Ruling did it for me, particularly the sentence that when we feel cornered 'we don't need to be less gentle, we need to be more gentle…' It's humiliating from my traditional point of view, but so humanizing, gentle, true and genuine." ~Diederik Prakke (Ede, the Netherlands)
"One of the unexpected treasures of learning in a class situation is the wisdom and deep personal experience that is shared by your fellow classmates. There is the teacher, the teachings, your own practice and mind that works with those two things and then you get the delightful added bonus of the insight that comes from what your fellow students are thinking, noodling or struggling with. It is such a gift to have multiple experiences and approaches and shared issues and problems – and you realize that even if you are separated by countries or times zones, you are all essentially working from the same place. It is all so helpful." ~ Toby Simpkins (Milwaukee, Wisconsin, USA)
"Richard's talents as a diplomat, a leader and a teacher combine to provide both a provocative and entertaining exploration of the suggested six qualities: benevolent, true, genuine, fearlessness, artfulness and rejoicing. All Shambhala leaders find themselves in sticky situations from time to time and whilst we know a 'higher standard' (than conventional world) is expected, we often don't know how to employ the teachings in complex situations. In this course we learn that it is not about structure or even about outcome – but more about method and process. This course unpacks these seminal teachings enabling 'ordinary' people to practice Shambhala Leadership. Its also a wonderful insight into how the Sakyong leads us!" ~ Áine Marron (Melbourne, Australia)
"When we create the right conditions for success, windhorse doesn't just gallop it flies."
~ Sakyong Mipham Rinpoche, Ruling Your World.
Post Tags:
leadership
,
President Richard Reoch
,
Shambhala Network
,
Six Ways of Ruling