Wednesday
Mandala Projects
Fertile Ground for Leadership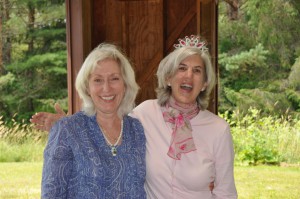 Interview with Jane Arthur
by Cara Thornley, Shambhala Times Correspondent
Jane Arthur, Karme Choling Meditation Center's former director, has found fertile ground for service in Vermont's Northeast Kingdom. In July she became president of the St. Johnsbury, VT, chapter of Rotary International, and in August she was recruited by the Snelling Center for Government to be part-time director of the Vermont Leadership Institute and Network. The new posts are in addition to her memberships on the Board of Directors for the Northeast Kingdom Youth Services, the Northeastern Vermont Regional Hospital, the Rural Edge and the Advisory Committee for the Catamount Arts Center.
Speaking about the presidency of the St. Johnsbury chapter of Rotary International, Jane said, "I feel honored to be a part of Rotary International. It's an organization to be proud of – one that makes a difference in the world."
Jane was introduced to Rotary by fellow Shambhalian, Patton Hyman in 2010. She was at a point where she wanted to start reaching out on behalf of Karme Choling and Patton encouraged her to investigate Rotary as a way to do that. She had heard of Rotary but thought that it appealed to a certain type of person. When Patton took her as his guest to a meeting her opinion changed. "I saw all kinds of people there, and right away, I liked them. There was so much good intention and good humor. People enjoyed each other. And I loved what Rotary stood for – service."
Later, she looked up Rotary International online, and realized that there were all kinds of people involved. Approximately 1.2 million Rotarians are members of 34,558 clubs around the world, which include people of all nationalities, religions, ethnicity and ages, who want to make a difference in the world.
Like Shambhala, Ms. Arthur notes that Rotary has the goal of extending to a larger world, locally and internationally. They have been doing this for over 100 years, have great experience and are savvy about making service work in the world. Knowing how to optimize the use of their funds is part of that. The Rotary Foundation, has a stellar charity rating – the highest possible for accountability and transparency, she emphasizes. Almost 89% of their money goes toward projects and programs, which is a very high percentage for a charitable institution.
"In addition," she continues, "Rotary's projects are done with a spirit of tremendous respect for people and their wisdom. So for me Rotary was easy and natural to enter." Not surprising then, that one year after joining the club Jane was invited to join their board of directors and to begin preparing for a presidential term. Preparation included serving on the St. Johnsbury board for 2 years, attending workshops conducted by Rotary International on leadership, and "President Elect Training". (Coincidentally, a fellow president-elect at the training in Boston, was Michele Boomhower from Burlington, VT, also a Shambhala member. "It would be wonderful to connect with other Shambhala Rotarians," Jane adds. Her email is: [email protected]</a>. )
On July 21st, the 'changeover' (from the outgoing to the elected president) ceremony was held at the Community Pavilion, which was a gift from the St. Johnsbury Rotary to the town several years ago. The ceremony, following a picnic lunch, was light-hearted. "Mercifully short, but genuine" thank yous from the outgoing president, Charlie Browne, were followed by Jane's expression of gratitude to him for his leadership during 2013-2014. Charlie then deferred to John McClung, Jane's sweetheart, who presented her with the current president pin.
Besides fun, what is Jane looking forward to in her one-year presidential term? "Continuing the work that was outlined in the visioning session in 2012 when the club agreed on four main points to emphasize through 2017. I particularly love," she emphasizes, "that commitment to youth and their needs" is one of them. The others are "connecting community with world needs and partnering with other organizations to maximize effectiveness." Also, "the club is fun."
From the many projects focusing on youth, the spring basketball tournament is one of Jane's favorites. Kids of all ages from Vermont and New Hampshire participate in a two week competition – evenings plus a weekend of playoffs. Rotary members staff the entire tournament, from taking tickets to refereeing, and running the clock. Kids benefit from playing the game and from the money raised. Rotary gives 50 individual scholarships to basketball summer camps, as well as donating money to local educational camps run by the high school and middle schools.
In terms of connecting the community with world needs and partnering with other organizations, a project in South Africa is being considered. Woza Moya  is a community-based NGO that serves three villages. Patricia Anderson, sponsor of this project, was introduced by South African Shambhalian Janet Shaw to Woza Moya and its founder. If the project is adopted, St. Johnsbury Rotary will partner with one or more Rotary clubs in South Africa.
"I feel so at home in Rotary," Jane concludes. "I love that anyone can feel at home – even in a small town in Vermont. And I love that when I traveled to France in the spring, I could talk to Rotarians in the towns near where I stayed, and learn about their projects. There is an instant kinship that feels very similar to Shambhala."
It's the similarity to Shambhala culture that also makes Jane feel at home in her new job with the Snelling Center for Government as part time director of their Vermont Leadership Institute (VLI) and Vermont Leadership Network. "I haven't worked anyplace but Shambhala in 17 years," she says, "and here the culture is very similar. There's goodness, wanting to be of service, humor and a lot of 'can do' which is great because the Institute's staff is very small – myself and two others."
The Snelling Center for Government was founded by the family of the pragmatic and visionary leader, Richard Snelling, to honor and continue his tradition of public service. Respected 'across the board', he was the first person to win five Vermont gubernatorial terms (1976-1982 and again in 1990). The Vermont Leadership Institute (VLI) was created by the Snelling Center in 1995 with the goal of stimulating citizen enthusiasm for and participation in public service.
Involving 8 sessions a year, a total of 18 days over the course of 9 months, September – June, the curriculum looks closely at leadership and then at issues facing Vermont including education, shaping of public policy, health care, justice and the economy, the arts, community and technology. VLI participants are nominated, after which they fill out an application, go through an interview process with two previous graduates and then meet with the selection committee. Twenty-six people are chosen annually and an effort is made to see that they are not all from one area. A graduate then becomes a member of the Vermont Leadership Network, now over 600 people.
Jane, a 2012 graduate of the Institute, is now responsible as director for organizing the Institute's yearly program, plus leading the process of leveraging the network of graduates across Vermont which includes legislators, people from various state agencies as well as people working in profit and nonprofit sectors. "It would be a mighty force if we could harness all the power and energy of those well-trained people who care deeply about their state and country – and looking at how to do that is part of my job."
Clearly, she finds it a delightful challenge!
Post Tags:
Jane Arthur
,
leadership