Tuesday
Featured Stories
Lots of Invitation
An Interview with Jane Arthur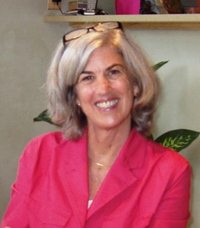 Ms. Jane Arthur was just appointed by the Sakyong as the Kalapa Envoy for Leadership Training and Mentorship. She will hold a seat on the Kalapa Council and will work with the Sakyong and Mr. Richard Reoch to develop and implement a Shambhala path of leadership training and mentorship. Dan Glenn of The Shambhala Times sat down with Ms. Arthur to talk about her pre-Shambhala professional life, her time as the Executive Director of the Boulder Shambhala Center (2000-2004) and of Karmê Chöling (2006-2014), and her two newest endeavors: a job as the Executive Director of the Vermont Leadership Institute, and her new appointment within Shambhala.

You came to Shambhala already having had a successful professional life in multiple fields. Let's just do a brief review to that point.
My first professional life was as a nurse, and I was also in the Air Force for three years. I think that's always helpful for people to know: we come [to Shambhala] from different points of view. After my career as a nurse, I wanted to stretch myself in a different direction and that's when I went off to law school. I was in private practice for a while and then joined the Public Defender's office. Then I had a series of jobs working within the criminal justice system. I went to the Northern Mariana Islands and was part of the Attorney General's office there. During that time, I began to question my life in general: "I think that I'm helping but it doesn't really feel like it's helping in the way that I feel is most helpful." At that time somebody gave me a book on Buddhism and that sort of opened the door. Once I got hooked into Shambhala and moved to Karmê Chöling [for an initial stint between 1997-2000], for whatever reason it was like a match to gasoline and I never wanted to do anything else after that. I just wanted to work for Shambhala. The social vision just spoke to me.
It's almost like you were ahead of your time in a generation when people were much more commonly choosing one profession and sticking with it.
I think it was a long journey to get there, but once I decided I didn't have to do anything I didn't feel was with purpose, then I had a lot of conviction in that. I also made a lot of personal choices, which people don't necessarily make. I chose not to have children – not that you can't serve deeply and have children – but for me personally, for whatever reason, I felt I wanted to really dedicate the large majority of my life to doing something that mattered in the societal realm and not so much in the family realm. That didn't seem to be my karma in this lifetime. I've had lots of "children" though: all the younger folks who came through Karmê Chöling who are such amazing people, and that has been the total, complete, fulfilling delight in my life, and the most satisfying part of working for Shambhala.
You became the Director of the Boulder Shambhala Center, which was your first major leadership role in Shambhala. Somehow, it wasn't your last. Why not?
I've often wondered that, because people often talk to me about burnout and the really hard nature of these jobs. I've come to believe there's really only one reason, and that is a deep sense of conviction about these teachings and a deep sense that refuge only comes in one flavor, and that is the lineage. These jobs are kind of lonely, but I always found a lot of solace in a) the Sakyong's personal journey of taking his seat – I always found that incredibly inspiring and real, and b) the depth and profundity of the teachings to touch one's heart and nourish one at that level. I also think a lot about the Druk Sakyong coming out of Tibet. Reading that story over and over again and reading about his challenges, I never wanted to give up! If they weren't going to give up, I wasn't going to give up.
That's an inspiring answer, too.
The more I saw working with people as not something to be afraid of but as people to love and care for and be interested in – the less I saw them as threats. The more I could find delight in everyone else's journey and see that as a deep part of my role – caring for people – what's not to love about that?
That is a hard one. It can be very easy to fall into seeing people as threats.
I think it's one of the hardest pieces of leadership – to get to the point where one has enough confidence to allow people in. And at some point, my own vulnerability became very, very clear when I became sick [with Chronic Lyme Disease in 2009]. I attribute a lot of my growth to being humbled by illness, and finding that the more I could depend on people and the more I was just completely genuine about what my human experience was, the more people really wanted to come along. They weren't as interested in coming along when I thought I had it all together and had figured it all out. People were much more willing and interested in coming along when I was a human being to them, and not a "leader." I think that was very potent, and necessary, for me in this lifetime, to experience that kind of humility.
That's a good segue into your second stint at Karmê Chöling. You, again, stayed in that hot seat for quite an extended period of time – over seven years! How did you leadership path and approach evolve and change over that time?
I think that it really evolved from someone who believed that I was "the leader" to someone who believed in the power of inspiring and bringing others along. At the beginning, at times, things were way too personal. I think that's a real trap for leaders – taking things way too personally, both positively and negatively. I think by the end, between my illness and some very difficult things that occurred personally, I just kept getting softened and softened and softened. By the time that I left, I was much more of a human being, and much more interested in cultivating others' recognition of their own basic goodness and inviting their wisdom. I think I was far less afraid of invitation. Lots of invitation, and I was far less afraid of other people and what they might bring – the chaos, intensity, or vividness. It became less about trying to fend those things off and protect myself. But you make a lot of mistakes, and you hurt people, and you hurt yourself – all of those things occur. You must take those to heart, in a way that's healthy, as feedback from the phenomenal world that tells you how you're doing. Everything is out there to help us learn – and it's just a question of how open we are to reading the messages.
Let's talk about the Vermont Leadership Institute – how you became involved and how it became your newest job.
I remember receiving a letter about it early in my time in Vermont, and thinking, "This looks like a really interesting program, maybe someday I could do it." And then I met someone who nominated me; I was selected and did the program in 2012, and just fell in love with it. It's a nine-month program that takes approximately twenty-six leaders from around Vermont from all different sectors – profit, non-profit, public service – and puts them together for sessions around the state. People look internally at their own leadership and also how to be a thoughtful and reflective leader working in the policy realm. We look at different issues around the state that are hot topics and bring in great people who are heavily involved in these things. I like to say we train citizen-leaders. For me, personally, with my Shambhala background, it's kind of as great as it gets. We get to work with people who care about their world and want to make a difference, and we support them in learning how to do that in way that is deeper and more thoughtful than most leadership programs these days. Interestingly, the Sakyong had told me very early on: "Stay connected to VLI."
It seems like the Sakyong has really been emphasizing mentorship over the past few years, and that's part of the title of your new role. What, in your mind, is important about mentorship in our community?
He and I haven't talked very much about that piece of my title yet, but my sense is that really, in the end, we're trying to create a culture of mentorship. That's just what you do when you have a post: you're always working with people and bringing them along. Everyone in a post has something to teach someone else. It's a way to pass on wisdom and create a kind of dignity and decency in these positions – to pass on what it is that you learn. We all stand on the shoulders of the people before us. There are so many people I've learned a lot from and who have mentored me and they have been instrumental in my learning. That's what we do: we make an offering, pass it along.
Part of your new role will be to "develop and implement a Shambhala path of leadership training and mentorship." Do you have a sense of how that might take shape?
The good news is that the Sakyong's been thinking a lot about it. I think my job is going to be landing his amazing thoughts about this. I don't really have to "make up" anything, particularly; it will be taking his ideas and making them into a real path. He's transmitted a fair amount to me. I feel like I'm helping him "make it so." A lot of it is already contained in the teachings we have. It's more about how we put it into bits that are helpful for people. Some of it will be training, some of it will be mentorship, some of it will be deep contemplation. I can imagine lots of ways this will go. But it's all about culture. It's about creating the culture of leadership. It's all there – there's nothing that I have to particularly go looking for. Between the Sakyong's teachings and his father's teachings, there is so much material.
~~
Jane Arthur is the Executive Director of the Vermont Leadership Institute. Previously she served as the Executive Director of Karmê Chöling from 2006-2014. She continues to hold the post of Director of Residential and Retreat Centres and was just appointed by the Sakyong as the Kalapa Envoy for Leadership Training and Mentorship.
Dan Glenn worked with Jane Arthur and learned from her leadership while on staff at Karmê Chöling between 2007-2011 before becoming the Executive Director of the Shambhala Center of Boston, where he served until last summer. He is now a graduate student in Counseling Psychology and looking after the Shambhala Times during Editor-in-Chief Sarah Lipton's maternity leave.
Post Tags:
Jane Arthur
,
leadership
,
mentorship