Monday
Community Articles
Microscopic: Mind and Poker
Reflections on Mindfulness, Suffering, Joy and Playing Poker
by Stacey Mitchell, New York
It was a stressful moment. Thoughts kept running through my head — should have, could have, would have, what ifs, spinning through my mind. It happens more often than I think I care to acknowledge. A few years ago when I thought my world was unraveling, it was divorce. The other night, it was just simple accelerated stress; a poker hand I was playing. And then there are the many other now-forgotten frantic moments along the way contemplating what could have gone better.
I have been told by Buddhist teachers that it can be easier to work on smaller challenges than trying to take on bigger challenges like divorce when beginning to practice mindfulness — watching my thoughts as they arise as opposed to after the fact and wondering how things could have been different. I also couldn't seem to apply notions of compassion to myself or others (primarily my ex-husband) in a break-up. I just couldn't let go of the grasping thoughts. But one day at poker shortly after the divorce, I caught myself getting angry at myself and someone else who bluffed me out of a good hand. I stopped and thought to myself, "I came here to enjoy myself and now I hate it."
I did not start playing poker to win money. It was a social activity, which I had been invited to not long after my divorce. I was out interacting with others at a time when I might not have wanted to otherwise be social. On the flip side I was losing money fast to my newfound friends and I decided if I didn't want to continue giving my money away and have any chance of at least breaking even, I needed to start studying the game, its odds, and what I find the most interesting aspect of the game — human behavior.
Initially I thought the game was based on luck, but I began to consistently lose. Friends began sharing strategies and statistics of card hands. Then there is the human element — each player plays differently based on skill and personality.
Maybe if I could start catching negative emotions in the development stages in a poker game and stop them before they manifested, it could give me hope of stopping the building up of intense negative emotions in other areas of my life that I couldn't catch until after the damage was done.
Around the time of my divorce, my negative emotions were so strong they completely took over my life. I cried myself to sleep, I dreamed crying, I woke up crying. Until my life seemed to fall apart, I thought I was a happy person — I had a wonderful husband, I had an interesting job, I lived near Yosemite National Park, and my ex-husband and I spent spare hours skiing in the winter and hiking in the summer. Then one day in November my husband announced he wanted a divorce. At that moment I forgot how to breathe. The air seemed to suck out of my lungs; with my mind accompanying my body into chaos.
In a few months I had a new job, renting a place in a new city, and for sanity, I began a regular meditation practice. Over the years new patterns were emerging as I was trying to be more patient with myself.
Should have, could have, would have, and what ifs… Was a similar pattern arising in my head with my divorce, various mistakes throughout my life, as well as how I view myself while playing poker? Sure, some of the issues were relatively more serious with more serious consequences, but the process of thoughts wasn't too dissimilar, although the intensity might be. I was chasing my own tail in my mind. From burning the cake, or wondering about not looking in the side view mirror before changing lanes, or thinking maybe he would have made me happier, or wondering if I should have kept that job and didn't, and the stories in the mind go on and on — repeat, repeat, repeat.
Motivation in playing poker can vary for each individual — social, addiction, learning strategy and statistics (like positioning on a chess board). Varying factors come into play — ability of other players, the seat relative to the dealer, style of other players, ability to read others, how well other players can read you, the number of players in a game, playing strangers vs. those you know, and the type of game (tournament or cash or style of poker).
For those who are addicted to gambling, I am not recommending using poker as a way of mindfulness — it wouldn't be helpful. It's just another example of suffering – thinking that the next game of money will be won and everything will be better. Starting out with something easy for me was helpful. In the cycle of samsara, we are addicted to our own emotions. I could see that I was addicted to my negative emotions, so starting with something that had some pleasure in it was a small stepping stone for my life. On larger things in my life, grief and anger would overtake me, but on poker I became interested and intrigued with how my mind worked and how others interacted with me on this microscopic part of my life.
We are told to live in the moment — not to focus on grasping for an end result or outcome, as life is filled with impermanence at every turn. If we are determined to focus on something externally that will bring us lasting happiness, at some point suffering returns. I couldn't remember or practice this during my divorce, but I can at poker and remember that my thoughts are not me. So it is the small steps that I take that I hope I can make more positive contributions in my life and to those around me. And what would life be like if my wish to be compassionate in this life was as strong as my wish to be a good poker player?
~~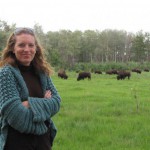 Stacey Mitchell has worked over the last few years for different Shambhala Centers (SMC, Gampo Abbey, and Dorje Denma Ling). Stacey has followed the teachings of Sakyong Mipham Rinpoche, Chogyam Trungpa Rinpoche, G.I. Gurdjieff, and Ven. Khenpo Tsewang Dongyal Rinpoche. She now resides in New York state, where she works for an international peace organization and continues to play poker.
Post Tags:
divorce
,
mindfulness
,
poker
,
reflection