Friday
Arts and Poetry
"This time, Just Enjoy!"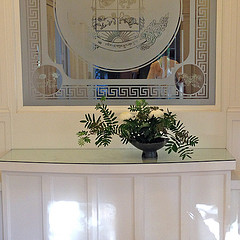 Relaxation and the Practice of Ikebana
article by Pam Rubin
photos by Liza Matthews
Watanabe Sensei turned ninety this past year, and after a four-year absence from her annual visits, Kalapa Ikebana invited her to visit Halifax again, without any expectations. Soon the good news spread: Sensei would be traveling here from Montreal! In accepting, Sensei said: "I feel good. Maybe next year I won't. So I'm coming."
In past visits, Sensei would take on a full schedule of meetings with the group, demonstrations, all-day advanced workshops, and an all-day beginner workshop. This time Kalapa Ikebana kept it low key, with only half-day workshops and no public events. And as usual, Sensei's energy far surpassed ours.
Sensei emphasized something special for us this time: relaxation. Beginning each session with sitting meditation in a circle, Sensei would start us off with a few remarks, which were quite similar each time: "You've studied a lot. You don't have to always study, study so hard. This time, just enjoy!" To our own surprise, yes, we could and we did, just relax being with friends and flowers, together at the Shambhala Center.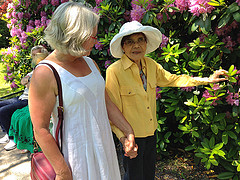 The warm summer afternoons lent an easeful atmosphere to our time together. As Sensei contentedly sat in her chair, we created arrangements. As we began to complete them, she would rise and approach the students for a word or two, a few simple corrections or even a major redo, but always with great gentleness. When we would raise a question about whether we needed to correct more, she would most often say, "No. It's OK" or "It's up to you." Under Sensei's guiding presence, we did experience less mania about having our teacher there, more friendliness toward ourselves and the materials, and perhaps touched on the quiet lifelong profundity of the ikebana path.
This visit had another important component for the group: hosting Sensei and her student and travelling companion, Ms. Heather Midori Yamada. Preparing and sharing meals, conversing and strolling: we were able to enter Sensei's world of easy appreciation, and feel oh so good. Sensei was happy to greet old friends, and meet new ones, such as Ms. Rhiannon Wells, Director of the Halifax Shambhala Center, whose sister, Ms. Jessica Von Hondorf, was also present as a Kalapa Ikebana member.
Alive to sounds, colors, tastes, shapes, smells and textures – we all smiled to rediscover such a nice way to live! Sensei explained to us the shin, soe and hikae of soup at a picnic at the Halifax Public Gardens. Later, while sitting and gazing at the ocean's horizon at Ms. Michaele Matthews' home, it was as if Sensei wouldn't need to budge again, ever.
Watanabe Sensei (recipient last year of the
Order of Shotoku Taishi
) also enjoyed a tour of the Kalapa Court, graciously hosted by Master of the Kalapa Potrang, Mr. Richard Peisinger. She was delighted to see the home of "the Boss" as she calls Sakyong Mipham Rinpoche. Mr. Peisinger showed her where all the flower arrangements would be if the Royal Family were in residence. Sensei was very taken by the Himalayan blue poppies in bloom during her visit. About Mr. Peisinger, she remarked: "He is very nice."
The last event of her visit was a supper at the home of Kalapa Ikebana Master Instructor Wendy Karr, Sensei's longtime student and the head of Kalapa Ikebana in Halifax. They were joined by Kalapa Ikebana instructors Ms. Liza Matthews and Mrs. June Crow, as well as by Mrs. Miyako Ballesteros of The Ikebana Shop on Quinpool Road, who is a Sogetsu instructor and a friend to Kalapa Ikebana and the Shambhala Community.
Reflecting back on the past week, I think I can speak for all of the group in saying we feel very nourished, cheerful and even more appreciative of our treasured master, Mrs. Mieko Watanabe Sensei, also known by her flower name, Seibi (Pure Beauty).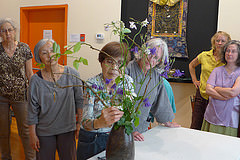 ~~
Click here for more information about Watanabe Sensei.

………………………………………………………..
Enjoy this official trailer of a movie about Watanabe Sensei's life: Celebrating the Life and Art of a Living Ikebana Master
Post Tags:
Flowers
,
Halifax
,
ikebana
,
Kalapa Ikebana
,
Watanabe Sensei