Wednesday
Arts and Poetry
Pure Beauty: The Cosmos in a Vase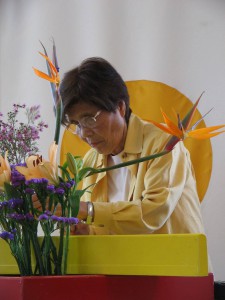 Celebrating Kalapa Ikebana teacher Seibi Watanabe Sensei on her 90th birthday
article by Pam Rubin
photos by Sarah Shima
In a modest neighborhood of Montreal, an immaculately clean, jewel box of a house shelters a treasure of the Shambhala community: Seibi Watanabe Sensei. If you find yourself in her kitchen for an ikebana lesson, the cosmos might end up in a vase. But before that, you will stop and have some tea and conversation, and bring to the ikebana a happy and open mind. For more than fifty years in Canada, Watanabe Sensei has dedicated her life to sharing the gentleness and joy of ikebana with students and the public. Her artistry has garnered many accolades and awards over her career. She has been the guide of Kalapa Ikebana in Halifax for over twenty years, and is the teacher for many Shambhala students in Quebec, Ontario, Vermont, Colorado and elsewhere.
In recognition of her service to Kalapa Ikebana, Watanabe Sensei has been awarded the Order of Shotoku Taishi of Shambhala, for outstanding achievement in teaching in community of Shambhala. This follows her award of the Order of Elegance, received in 1995, after her installation created for the enthronement of the Sakyong.
As stated in a letter on behalf of the Sakyong, Watanabe Sensei's "loyalty to Shambhala vision is an example to all." This can be seen in her gentle and pithy words and instructions:
"I do ikebana to bring joy and beauty to people, because I think people need that."
To an anxious beginner: "Flowers are to enjoy, just enjoy."
To a new instructor: "Arrangements are like people: Find the good part." And this: "Don't tell. Show."
To a seasoned ikebana artist, she says: "When you arrange, what is important is what the material has to say, not what you have to say."
"We also love flowers because they do not last long. That is why they are precious."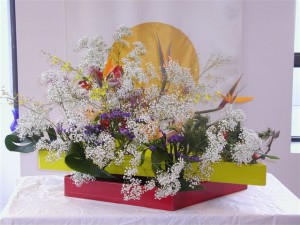 During his period of training as an ikebana instructor with Watanabe Sensei, Mr. Stephane Bedard recalls, "I did a large arrangement and when I asked for correction, Sensei looked at it and said: 'This is very good, but look what it could be as well…' Then she started to change everything and took a long time to place one or two roses that didn't seem to find their space. She invested a lot of effort into this ikebana. It was intense work. Finally, the ikebana was totally changed, expanded, so spacious. I felt like she opened my mind and my heart through this form that was inscrutable. We were silent and I bowed to her; she bowed back. I often felt that she was a feminine manifestation of Trungpa Rinpoche, because these moments were so peaceful, egoless. Pure joy. And this was happening in her kitchen, on the kitchen table, beside the sink. No big deal."
Watanabe Sensei continues to teach students in her home, and in classes, workshops and retreats. She celebrates her 90th birthday today on November 20th.
All of Watanabe Sensei's students and friends share the heartfelt wish expressed in the congratulatory letter for her award, "As a treasured master warrior of the Kingdom of Shambhala, we pray that you will continue to teach ikebana for many years to come, for the benefit of all."
In addition, the late Kyoko Kita Sensei is posthumously awarded the Order of Elegance of Shambhala. Kita Sensei was a root ikebana master for many Shambhala students, especially those in Colorado.
As well, Mr. Bedard, one of Watanabe Sensei's closest students and a longtime teacher of Shambhala Art, has been appointed a Master Kalapa Ikebana Instructor by the Kalapa Court, along with Mrs. Wendy Karr of Halifax and Mrs. Alexandra Shenpen of Boulder. These Artists to the Kalapa Court join Ms. Marcia Shibata, who was appointed Master Shambhala Kado Instructor last year for her work with Shambhala Kado in Europe. Mrs. Karr, another of Watanabe Sensei's students, has been the leader of Kalapa Ikebana in Halifax since 2007. Mrs. Shenpen, the widow of Lama Ugyen Shenpen, has studied within the Sogetsu program in Japan, and attained the level of Riji.
View a trailer of "Pure Beauty," a film about Watanabe Sensei:

Post Tags:
Award
,
birthday
,
Flowers
,
ikebana
,
Kalapa Ikebana
,
Watanabe Sensei