Monday
Scene and Heard
Kado – A milestone on the Way of Flowers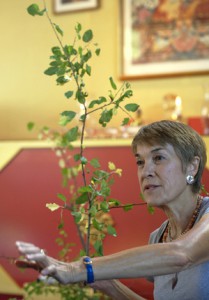 by Dagmar Waldau and May Isler
The First Milestone: Kado Assemblies
At the start, there were only a few people on the "Way of Flowers." Over the years, these few created a trail and the trail became a little path. As a path has milestones, we can say that the "Way of Flowers" also has milestones, the first of which was the "Kado Assemblies," now called "Kado Instructor Training." We were not yet talking about a highway…
The Kado Instructor Training is the highlight in every Kado Year. This is the time to deepen the practice and study of Kado, to get training in assistantship or training/deepening being an instructor. It is also a great opportunity to collect material in the wild, directly from nature, which Kado practitioners really love.

"Kado, the Path of Flowers, is and will always be a part of Dechen Choling," said Director Simon La Haye in his welcome words at the beginning of the Shambhala Kado Instructor Training 2012. This past year's topic was the classical form "slanted," both basic and with variations. Everybody was very happy to have made it to Dechen Choling and have the opportunity to practice Kado and share time. It was precious.
The Kado family was also extremely delighted and honored that Acharya Mathias Pongracz was able to accept our invitation and share time with us. He is our spiritual guide and good friend in the world of flowers.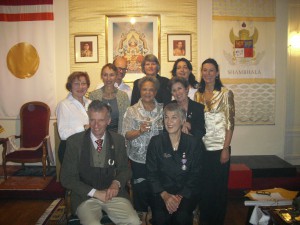 The Newest Milestone: Master Shambhala Kado Instructor
It is now almost 10 years since Sakyong Mipham Rinpoche named the school "Shambhala Kado" and it grew from Dechen Choling to include all of Europe. The school continues to grow and we have had friends from New York and Philadelphia coming to practice flowers and share this precious time together.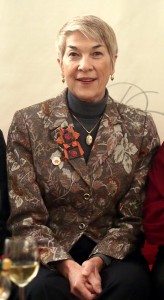 Recently, in a special ceremony, Sakyong Mipham Rinpoche went further, in his wise and compassionate way. He bestowed on Marcia Wang Shibata, our beloved Kado teacher, the title of "Master Shambhala Kado Instructor." This is now the title of the seat holder of the flower school named Shambhala Kado. Everyone was delighted, very happy, and grateful to Sakyong Mipham for his blessings.
The Kado Instructors took the instructors oath, to seal the commitment to the Sakyong, the Sakyong Wangmo, the vision of the Great Eastern Sun and Shambhala Kado. This was followed by a Kado Name Ceremony, at which all instructors received a flower name, written on a wonderful Japanese Shikishi board, by Hiromi Masui, our Kado friend in Kyoto, Japan. If you ask the instructors, they might tell you their names.
Happiness, tears, irritation and big smiles were all mixed in the oath water. We realized that we have known each other for a long time, are still practicing together and celebrating another milestone in Shambhala Kado.
It was a gathering full of practice, working together, exchanges, looking and seeing, humor, joy and cleaning up after yourself, just like in everyday life.
We would all like to thank Marcia Wang Shibata for her carefulness, gentleness, humor and insight while bringing basic goodness through the practice of flowers to all. We love her!
Post Tags:
Dechen Choling
,
Flowers
,
ikebana
,
kado
,
Marcia Shibata