Saturday
Arts and Poetry
The Path of Flowers
This March, Shambhala Times will be celebrating Shambhala and the Arts in honor of Shambhala Art Day, which is coming up on March 21st.
In the coming month, we will be focusing on the various forms of art, artistic expression, and Shambhala Art teachings. If you are involved in some way with the arts and are a practitioner of meditation, or if you bring your meditation practice into your creative expression, or if you have had experience with the Shambhala Art teachings, we want to hear from you! If you have something you would like to contribute, please send it in: [email protected]


~~
A Week of Inspiration Through Kado, The Path of Flowers
article and photos by Karen Iglehart
edited by Ani Dawa Chotso
Never having been to Dechen Choling or to a Kado Instructor Training, I didn't know what to expect.
When I was invited by Marcia Shibata, I was honored, but all the practical reasons for not going arose in my mind..too complicated, expensive travel, am I ready to take this on, etc. Then Jane, at a retreat in June, said "This is such an honor that you have to go!" and I thought, "Yes, of course!"
I am very grateful I did! It was such a full, inspiring and truly uplifting experience. There is enlightened society happening in a quiet, part of our sangha in Europe. Kado in Europe has a group of about 30 students who have been studying and training with Marcia Shibata for quite a few years, some as many as 20. They come from Germany, France, Austria, Switzerland, Holland, Spain, England, and Czech Republic and recently the United States. I was thrilled to be part of this international sangha, and I was totally welcomed in, even though I was a newcomer and most of the participants have known each other for many years.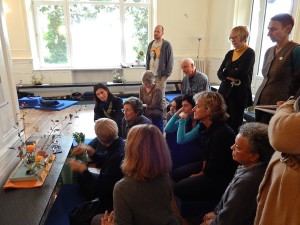 Most students spoke English, since classes are taught in English, but they were willing to speak English at meals when it would have been easier to speak in their native languages. It was such an act of generosity. I used my French with Dechen Choling staff, but they also spoke English well.
As to the class itself, this is not just Ikebana. There is the Ikebana work, but it is steeped in Shambhala practice and principles. Sitting and chants were part of every day. People had various levels of experience within the Shambhala path, but we all practiced together for the week. The viewpoint, that Marcia works from and exemplifies, is one of respect and appreciation for each other. This becomes true friendliness and genuine warmth towards each other. This was a big part of the practice, including the branch and flower materials. Whatever was still alive and usable would be carefully put back into large buckets for the next practice session. What had died or wilted and was not usable would be cut into small pieces and kept in large boxes to go into compost. Almost all of our materials were cut on the land.
Impermanence of the flower world is a metaphor for life. Mindfulness of mind and action, clarity, impermanence, seeing attachments, respect, being totally in the moment and willing to see clearly what is happening… all this is necessary when creating an Ikebana arrangement. Working on an arrangement during the morning and taking it apart before lunch was part of the practice of letting go of attachment to our work.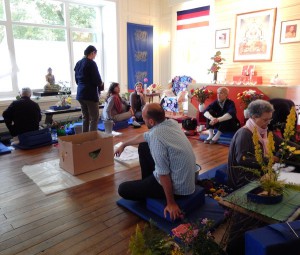 Another level of our week was learning more about classical Ikebana, a practice that has been handed down for hundreds of years. It was evident, and sometimes very dramatic how subtle, small changes in a composition could change the entire relationship of an arrangement. The training is to be able to see these relationships and possibilities.
The aspect of working as a society was quite a strong part of the week. We worked in groups of various sizes with different people, in silence and talking. This gave us opportunities to get to know each other, and to experience cooperation and frustration, which is all part of being human.
The week ended with a glorious banquet with singing, humor, sharing, and much laughter. I feel so fortunate to have been part of this small enlightened society. The warmth and genuine friendliness of all, under Marcia Shibata's guidance, makes the Kado Instructor group a precious jewel in our mandala.
~~
To learn more about Kalapa Ikebana and Kado, please click here.
Post Tags:
Dechen Choling
,
Flowers
,
ikebana
,
kado
,
Kalapa Ikebana