Saturday
Arts and Poetry
Making Music Mindfully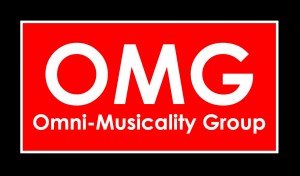 COLUMN: Celebrating the Arts
Intercultural Improvisation with the OMG
by Alex W. Rodriguez, Los Angeles
Since taking up the trumpet at age ten — and the trombone two years later — my life as a musician has taken some interesting turns. None of them, however, has been as exciting nor as bizarre as my most recent stint as the co-founder and co-director of the Omni-Musicality Group (also known as the OMG).
Just over a year ago, in the spring of 2013, I was completing my second year of doctoral coursework in ethnomusicology at UCLA, which included playing gong in the Balinese Gamelan Ensemble. The Department of Ethnomusicology hosts a myriad of world music ensembles, and my experience in the gamelan opened my ears to fascinating new ways of hearing and listening. As we began making preparations for our final gamelan concert, a thought occurred to me: could it be possible to gather musicians from these different ensembles to make music together?
It seemed like a tall order — after all, each musical tradition operates within its own complex codes of sound and meaning. Historically, world music ensembles operated as self-sufficient units offset from a separate jazz studies program; mainstream Western music operated in a separate department altogether. At the same time, it seemed clear to me that the precedent had already been set for this sort of project by improvising musicians such as Anthony Brown, David Borgo, Ed Sarath, George Lewis, and Hafez Modirzadeh. Drawing inspiration from their examples, I proposed an "Intercultural Improvisation Ensemble" to my advisor, the prolific ethnomusicologist, composer, and trumpeter Dr. Steven Loza. He offered his full support, and thanks to his advocacy, a new world music ensemble billed as "Intercultural Improvisation" was slated to begin the following January.
When things finally got off the ground eight months ago, I had no idea what to expect. I knew that a couple of my talented fellow musicians from my PhD cohort would be there, but no sense of who would share my desire to "incorporate different world approaches and experimentation" through improvisation, as the course description put it. I was reminded of Chogyam Trungpa's famous aphorism, which could also serve as a potent mantra for improvising musicians: "The bad news is you're falling through the air, nothing to hang on to, no parachute. The good news is there's no ground."
Indeed, I had Shambhala on my mind during much of that first month, having just returned from a two-week meditation retreat at the Shambhala Mountain Center. During a moment when I was supposed to be meditating, my mind had been busy thinking about what to call the group. "Intercultural Improvisation Ensemble" was just too much of a mouthful, and it didn't speak to the group's unique place within the UCLA Ethnomusicology Department, which was created under founder Mantle Hood's vision of "Bi-Musicality." This is the idea — radical at the time of its introduction in 1960 — that American musicians and scholars should develop fluency in more than one musical language in order to truly understand what it means to be musical. Then it hit me: OMG! The Omni-Musicality Group would be a space for musicians to delve into the challenge of bi-musicality in the musical moment itself. "Omni-Musicality," then, would be an expansive riff on the concept, an open-ended question to which we're still searching for answers.
Still, at that first rehearsal, we had to figure out what this question would sound like. The handful of musicians who showed up brought with them an astounding variety of instruments between them — accordion, flute, trombone,
setar
, violin,
santour
,
dumbek
, and tuba, just to name a few. Rehearsals would begin with a five minute mindfulness practice focused on tuning into our surrounding soundscape, and "Breathing Gym" body exercises developed by Sam Pilafian and Patrick Stewart. From there, each rehearsal would evolve differently, and by the end of our first quarter together, we were earnestly cultivating a space where, "There are no wrong notes, only wrong connections," as the great jazzman Eddie Harris put it.
Still, there were plenty of wrong connections! No matter how fervently we believed in our collective goal to explore whatever arose in our rehearsal space, some things definitely sounded better than others. Oftentimes we were met with a collective chaos, with everyone trying to make something happen at once. I remember one vivid result of one of these free-form episodes that strayed far from any sense of groove or consistent pulse: our exasperated percussionist, somewhat apologetically, confessed that he simply had no idea how to make sense of what he was hearing. Despite the common challenge of making musical meaning out of our disparate backgrounds, moments of collective inspiration did emerge, often when we did not expect them: surprising consonances, witty juxtapositions, or unexpected left turns that led to new musical territory. At the end of March, two small groups of OMG musicians gave improvised performances as part of The Center for the Art of Performance at UCLA's Tune-In Festival LA.
In early April, the beginning of our spring quarter, I received word that our first performance as a full group had been confirmed for mid-May. When I reported this exciting news back to the ensemble, the tenor of our rehearsals changed — from then on, our rehearsals continued with our imagined audience in mind. A consensus emerged that we would use our final concert as an opportunity to challenge our listeners to reconsider their role as "the audience," and also that our performance would feature both abstract, anything-goes free improvisations as well as some adaptations of improvised musical performance practice from specific traditions, such as jazz and the Persian radif.
May 16th, the day of our final concert, rolled around in no time. I remember entering the spacious Schoenberg Hall that evening full of eager uncertainty; just like at our first rehearsal, I had no idea what would happen next. Sure enough, our plan faced a major challenge when the vocal microphone died before our third piece, but we managed to adjust accordingly. I tend to be a very harsh critic of my own music-making, but the enthusiastic and genuine energy of the performance, capped off by our second-line-style cover of the Britney Spears hit Toxic, left me both elated and exhausted.
Thankfully, the OMG will continue as a world music ensemble next year, and I will continue to work with these thoughtful experimentalists for another year, combining our collective musicality with a mindful approach to listening. If I've learned anything from the experience of working with this unpredictable outfit so far, it's this: even though I don't know what the music that emerges will sound like, I can't wait to be there when it does.
~~
Have a story to share? Send to us at: [email protected]
Post Tags:
arts
,
Los Angeles
,
music