Saturday
Featured Stories
Opening to What Scares You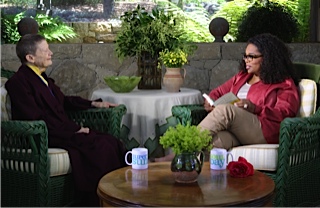 "Just allow yourselves to be fully human!"
~ Pema Chodron
For more than three decades, Pema Chodron has been teaching and writing about Buddhist principles, which she believes are universal because we are all seeking enlightenment and an end to suffering.
Difficult times, however, can be an opportunity for growth and change if you're willing to embrace the situation and the feelings that come with it. "Just allow yourself to be fully human," she says. "The richness of life includes the whole tapestry of good and bad and happy and sad."
It's when these uncomfortable feelings are pushed aside, Pema says, that we get into trouble. She says too many people do terrible things in an attempt to feel good.
After a divorce brought her to her knees, Deirdre Blomfield-Brown, a mother of two, began exploring different spiritual paths of healing. It wasn't until she found Buddhism that she discovered something that spoke directly to her pain and suffering. In 1981, after years of study with a Buddhist master, she became one of the first Western women to be fully ordained as a nun in the Tibetan tradition. She changed her name to Pema Chodron, which is loosely translated to mean "lamp of the truth."
When it comes to seeking truth, Pema says, there's a telltale sign that you're getting close. "Fear is a natural reaction to moving closer to the truth," she says. It turns out that a little fear can be useful and furthermore, change is constant. "Things are going to keep changing," she says. "And if you're invested in security and certainty, then … you're not going to feel good a lot of the time." Pema says we should all approach change as if we were rivers, not rocks.
The journey of awakening happens just at the place where we can't get comfortable. Opening to discomfort is the basis of transmuting our so-called "negative" feelings. We somehow want to get rid of our uncomfortable feelings either by justifying them or by squelching them, but it turns out that this is like throwing the baby out with the bath water.
Tune in October 19 at 11 a.m. ET/PT. You can also join the worldwide simulcast on Oprah.com/supersoulsunday or Facebook.com/supersoulsunday
View a preview of the conversation here..
Post Tags:
in the news
,
Oprah
,
Pema Chodron