Friday
Community Articles
Soil's Perfect Color
COLUMN: Kitchen Wisdom

Interview with Peter Volz

by Judy Sachs-Sullivan, Column Co-Host
Peter Volz has a long, and loyal history of serving the three jewels, the Vidyadhara, Vajradhatu and Shambhala. I was inspired to interview Peter because of his lifelong service and also because of his love and work as a farmer in Boulder County.
Q: Peter, can you give a brief history of your connection and service to Vajradhatu/Shambhala over the years?
Peter: I was originally a Zen student in California until one morning. I was late for the 4:30am practice at the Zen Center, so I furiously rode my bicycle to get there on time. On the way, I ran into a shopping cart and had a terrible fall. I realized I was not a good Zen student, it was too early.
Later, I met the Vidyadhara Chogyam Trungpa Rinpoche in May of 1973 at the Unitarian Church in San Francisco where he was giving a talk. He gave a seminar called the "9 Yanas," and I immediately connected with him, became his student and took refuge. In 1974 I was asked to help run a meditation center in Mendocino called Padma Jong, a Vajradhatu dharma center with an arts flavor. It ran for a couple of years, and I served as caretaker, helped run dathuns, and worked a ½ acre garden.
I moved to Boulder in 1976 and in 1979 I was asked to help out with the Dalai Lama's first visit to the U.S. in the capacity of Dorje Kasung. At that time the U.S. government had no involvement with his visits and it was even difficult to get police to help out. The Dorje Kasung served as major security for that visit. I moved to Karme Choling in 1979 for 13 months, but I spent much of that time facilitating the U.S. tour of His Holiness, the 16th Karmapa. In late 1980 I started to work for Vajradhatu in the External Affairs office, which was later called Office of International Affairs. I worked there for 20 years, starting as administrative support and spending the last 8 years as the Director. I then worked for Naropa University for nine years as Director of International Education. After serving nine years I decided it was time to turn my hobby of gardening into a business of farming.
Q: When did you first have an interest in gardening?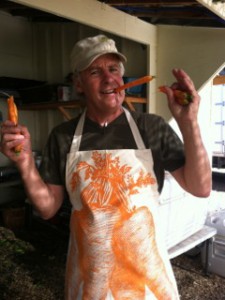 Peter: I grew up in Ohio, where my grandmother was a big gardener. My first memories of her are sitting on her driveway working on her irises. My next door neighbor at the time had a gigantic tomato patch and as a child we used to make forts inside of this patch, and to this day when I harvest tomatoes I still think of that neighbor. When I was 10 years old, my family moved to Laguna Beach, California and our yard had grapefruit, tangerines, avocados, and year-round vegetables. My mom was in charge of that garden. I ate chard 3 times a week from our garden and I still love chard. So my mom's interest in gardening furthered my own interest and I just got "the bug." When I came to Boulder in 1977 I had the passion for gardening, but I looked at the climate and saw that it was too hot and dry, and that the soil was really poor for gardening.
Q: When did you begin to garden in Colorado?
Peter: I had been here a couple of years and someone encouraged me to garden, telling me that the soil can always be made better, and to give it a try. I then joined the Boulder Community Gardens and got a plot, figured out the climate and had a great time. It was successful and got a second plot. I looked over my gardens and felt that they were tiny and that I needed something larger. This is when I left Naropa and moved from home gardening to commercial farming.
Q: That is a huge leap, how did you accomplish this?
Peter: I took the transition slowly and started with ½ acre and grew lettuce, chard, kale, squash, and cucumbers which are easy to grow. I worked with a woman who taught me a lot and who knew what she was doing. Moving from home gardening to commercial gardening was like going from kindergarten to the University of Colorado. There were vast amounts of information that I didn't know! Today I help teach a class on farming through the CSU extension program and one of the things we tell people is to apprentice for 2 or 3 years before you even think about starting a farm.
Q: Why didn't you do an apprenticeship?
Peter: I thought I was too old, and I was also a little too arrogant. Over the last 8 years of farming I have been humbled. Farming is more complicated and harder than anything I have ever done, physically or mentally.
Q:
How did you come up with the name of "Oxford Gardens" for your farm?
Peter: There are two reasons for this name, first is that the land is situated off of Oxford Road in Niwot, and secondly I wanted to choose a name that had some connection with Trungpa Rinpoche. Rinpoche had attended Oxford University.
Q: Is your farm all organic?
Peter: We use organic methods, but we are not certified.
Q: How much land do you work?
Peter: I have 4 acres now, and 4 full-time employees, some half-time workers and some volunteers. I don't do field work anymore. Recently I had that same feeling that the farm is too small, so I am in the process of signing onto a new place that is bigger, about 6 acres.
Q: Who buys your produce?
Peter: Restaurants are 2/3 of my business, and I service about 30 restaurants in the Lafayette, Boulder, Denver and Louisville areas. On any given day we supply 15-20 orders from restaurants. The rest of the produce gets sold at the Farmers Market, donated to Food banks, and sold to Community Supported Agriculture.
Q: What is your connection between your livelihood and dharma practice?
Peter: We have a lot of young people working my farm, and I try to be kind and nurturing to my team. At times I feel like a high school teacher and try to find ways to get through to the students. I once met Suzuki Roshi, who was an avid gardener. He loved rocks and gardening and talks a lot about this in his teachings. He said that he likes to see soil before you put anything in it. I feel the same way; it has to do with seeing potential.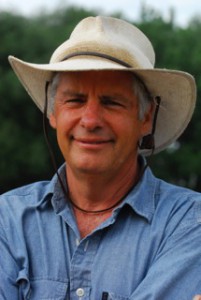 Sometimes we do beds with tractor pulls, when the soil is moist enough, but not too moist. Once that is done, you can see that the soil is very rich, it's the perfect color. When I look at that, I see pure potential. Some scholars call this shunyata. One could say that "nothing whatever, but everything arises from it." Gampopa has a wonderful statement about the notion of nurturing a seed, the ground is openness, alaya, dharmakaya, and in the ground a seed of awakening is planted. How is it nurtured? Through compassion, meditation and insight. You don't have to do anything after that.
At the farmers market people say, "these are beautiful vegetables, did you grow them?" I always pretended to be humble, but inside I was quite arrogant and replied "yes". After some years I started thinking that it was strange to take credit for the vegetables growing, it is like a midwife that takes credit for making a baby. The midwife facilitates the birth, but has nothing to do with making the baby. So when people asked if I grew the vegetables, I would then say, "No, God grew them". Later I thought it was probably more appropriate in Boulder to say, "mother nature grew them", and that is what I tell people now. As a farmer, we create conditions for the plants to grow, and this is similar to what spiritual practice is about.
Q: What do you love about farming?
Peter: I appreciate the sensual nature of it, the colors, textures and the weather. The connectedness and interdependence of farming with nature is wonderful. I get a view of the mountains and alfalfa fields, what better office is there?
In an effort to share the wisdom that many of us experience in our daily lives, meals, and our own kitchens, this column will be including voices from around the sangha, Please continue to join us as we expand our view and hear the many voices of Kitchen Wisdom.

To read other entries in this column, please see: Kitchen Wisdom.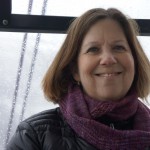 ~~
Judy Sachs Sullivan hopes to write articles that honor and bring to light the accomplishments of "the old dogs" and "forgotten warriors", especially those that are related to food, cooking, gardening, and farming. Sarva Mangalam!
Post Tags:
Boulder
,
garden
,
gardening
,
Kitchen Wisdom