Wednesday
Scene and Heard
Receiving the Order of Nova Scotia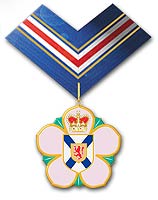 The Shambhala Times is delighted to congratulate Ruth Holmes Whitehead on her receipt of the Order of Nova Scotia!
interview by Sarah Lipton, Shambhala Times Editor-in-Chief
edited by Chris Schuman, Shambhala Times Intern
The Order of Nova Scotia is the province's highest honor. Presented by Her Majesty the Queen's representative in Nova Scotia, it encourages excellence by recognizing Nova Scotians for outstanding contributions or achievements. Five people every year are accepted into the Order, and in December 2014, one of these will be Shambhalian Ruth Holmes Whitehead.
Ruth is recognized worldwide as a scholar, researcher, author, historian and mentor. For 40 years, as staff ethnologist and assistant curator at the Nova Scotia Museum, she has worked to ensure that histories of the Mi'kmaw of eastern Canada and the Black Loyalists of Nova Scotia were brought back into mainstream awareness and understanding. The research for her most recent book, Black Loyalists: Southern Settlers of Nova Scotia's First Free Black Communities, took eighteen years to accomplish.
Ruth Whitehead moved to Nova Scotia from South Carolina in 1972. "I have always considered it gave me sanctuary. I arrived before encountering Shambhala Buddhism, but such good karma! Just sitting here and Shambhala manifests!"
It truly was a sanctuary as, before moving to Nova Scotia, Whitehead had already lived quite the remarkable life. "I had been a Civil Rights worker on and off in 1968 and it was extraordinarily horrific. Finally I just couldn't cope with it any longer; I thought the whole place was going to implode. I was in Atlanta, and I actually marched in Martin Luther King's funeral," a seminal event in Ruth's life.
Ruth found a new passion when she moved to Nova Scotia. "In 1973 I was asked to take the museum's ethnology collection out of storage, for the first time since 1940." The day after she unpacked the quillwork boxes and laid them out on the floor, she had a phone call saying there was a Mi'kmaw man downstairs who wanted to see these boxes because his mother had made some of them.
"We sat on the floor together and he pointed at various ones, saying, 'My mother made that, and my grandmother made that and my aunt made that one,' and he was never wrong. Pointing to the last box, he said, 'My mother made this right before she died.' He started crying and so did I." Ruth made tea for the two of them and Max Basque started explaining this art, telling her stories which she wound up writing down. "He became my mentor."
"I moved from studying things to learning about people. I had the advantage of museum training, but I knew that I didn't know a thing about Mi'kmaw culture, so I had no preconceived notions. Max Basque became my father-by-respect, and through him I met others. They all began to teach me."
However, in the 1990s, her passion for civil rights resurfaced. "In 1991," she says, "I was asked to do the same sort of thing for the Black community – to create a reference database of information that they could access as they took charge of their own history." Ruth was able to facilitate this process and says, "People were so kind to me. The more they shared their experience, the deeper my respect for them grew."
"People would sometimes say to us, 'We know we came here on a ship but that's all we know; please help us discover our past.'" After 18 years of research, she published a history of people who escaped slavery via the British army or navy during the American Revolution, people who would later found Nova Scotia's first free black communities. Now their descendants are establishing a museum presenting their own past, and she has turned over all her research to its library.
"I've had the most amazing career," Ruth says, "from building wigwams to butchering a moose with stone tools, to cataloguing Mi'kmaw material in European museums. But the happiest day of my life really was the day I took the bodhisattva vow. The Buddhadharma has been the most important part of my life."
Ruth Holmes Whitehead says, "I feel that in receiving the Order, I am merely accepting it on behalf of all the Mi'kmaw and Black communities. They taught me their history. Everything I know, I learned from them."
After being inducted into the prestigious Order, what's next for her? "I hope to practice, practice, practice! I haven't done enough shamatha, and I want to re-do my ngondro. It was more about numbers before, so now I just want to sit. I want to be useful on a deep level, not just intellectually. Khandro Rinpoche told me just to listen, listen to people and the world, and to be of benefit that way. I hope that I can."
Post Tags:
Award
,
interview
,
Nova Scotia
,
Scene and Heard