Monday
Community Articles
Looking at the Mind of Winter
by Caroline DeMaio
As the weather forecast for northeastern Vermont predicted temperatures near zero degrees, I continued to prepare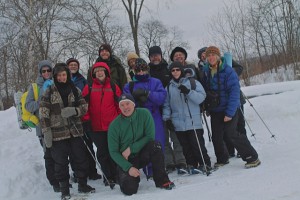 for our two-day program at the St. Johnsbury Shambhala Center titled Extending Our Senses into the Winter: Rendezvous with the Unseen. Our leader, Bob Taylor, had given us a thorough list of supplies and clothing needs for this winter trek, but I was having my doubts about how warm I could stay while being outside in this freezing weather. Many of us had participated in the first of our adventures with Mr. Taylor in the fall and were eager to follow him once again onto new trails, freezing weather and all. 
As we gathered together on Friday night at the Shambhala center for the beginning of the program we were relieved that the temps had risen into the teens. Bob introduced the program by talking about opening up to our environment. To quote from the flyer, "The pristine minimalism of winter wilderness is a natural venue for extending our perception. What happens when we mix the inner contemplative and outer elemental intensity of winter?"
He gave us some contemplations which we would revisit throughout the weekend, and he made sure that we were all well-equipped for our adventure, the experienced Kasung that he is. After our talk we gathered at the start of the trail leading into the St. Johnsbury Forest. Although night had fallen, the reflected light on the snow provided ample illumination.  We hiked silently along a snowy path, under huge pine trees. As we walked a light, sparkly snow started falling. At a certain point Bob stopped and asked us each to find a spot by one of the magnificent trees to sit on our insulated pads. Cozy and warm, magic surrounded us. Fear fell away.
The next morning after a practice session at the center, we carpooled to Victory Bog, a boreal bog which is part of Victory Basin Wildlife Management Area, only twenty minutes from downtown St. Johnsbury. Victory is part of a 4970-acre wetland and forest complex owned by the State of Vermont. It is rich in flora and fauna.
We spent the day exploring this gem of an ecosystem. Bob and Tune Faulkner, our coordinator, had scoped out the trails the previous day so, although the snow was thigh deep, we had paths to follow. Bob showed us how to make a "grouse nest" in the snow so that we could sit with comfort and ease to contemplate the landscape. Crossing a footbridge over the aptly named Moose River, Bob and Tune pointed out moose troughs where moose had recently crossed the snow-covered river. We trekked to a lovely clearing higher up in the forest where we built a fire.
It was a group effort to collect wood and kindling and Bob demonstrated a spot-on technique for starting a fire with a flint. After warming ourselves by the fire and eating lunch we once again wandered into the deep snow on our own to find a spot to sit and contemplate as dusk gathered. From my snow nest I could feel the cold surrounding me but knew that I could sit with it for awhile. Sensing each of us in our separate spots I felt that we were all connected to each other, to the earth below, the trees surrounding us, and the sky above, where light snow fell once again on everything. Once the group returned
to St. Johnsbury we reconvened at a local pub for some local beer and food and an opportunity to read the doha we had written together and to bask in the warmth of our shared community.  We all agreed that we would gather again in the spring to soak our senses in that budding season.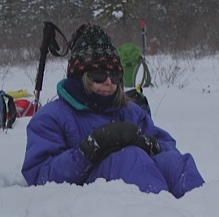 Caroline DeMaio is a Co-Director of the St. Johnsbury Shambhala Center in St. Johnsbury, Vermont. She works as a school Librarian at the Danville School.  Caroline lives in Barnet, Vermont, with her husband, Sal and their dog, Pepper. She spends as much time as she can outdoors,  in all seasons! Caroline is a devoted student of Sakyong Mipham Rinpoche.
Post Tags:
community
,
outdoors
,
winter