Wednesday
Sakyong and Family, Shambhala News Service
Sakyong and Sakyong Wangmo Bless Kalapa Centre Offices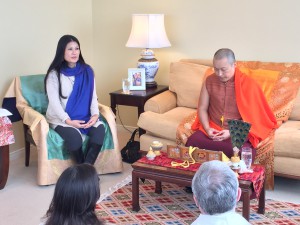 On 16 March, the Sakyong and Sakyong Wangmo conducted ceremonies to purify and bless the new Kalapa Centre offices in Halifax. In the Sakyong's new office at Sovereign Place overlooking Halifax Harbour — surrounded by the staff of the Sakyong Potrang, Shambhala, the Kalapa Court, Centre East Media, and Kalapa Media — the Sakyong and Sakyong Wangmo led a lhasang which was then carried to offices throughout two floors of the building.
Following the ceremony, all re-gathered in the Sakyong's office where the Sakyong Wangmo presented him with a magnificent Gesar thangka she had carried from Nepal, to protect and gather energy for the expansion of Shambhala everywhere. Then all enjoyed sparkling wine, toasts and warm conversation.
The Sakyong spoke of the importance of this new space to Shambhala with its vast views, how it would energize the expansion of not only the international offices it houses, but the Halifax Shambhala Centre and all our centres throughout the world. All present were reminded of his encouragement to us in his recent Shambhala Day address:
As we take this moment globally, letting the sun of Shambhala extend out, let us make an aspiration to be of benefit: to strengthen those who need to be strengthened, to help those who are suffering, and to create a culture based on the principles of strength, kindness, and intelligence.
To view some video highlights of this event, please visit this site. Please note that Shambhala is now at the following address:
Shambhala
Sovereign Place
5121 Sackville Street Suite 601
Halifax, N.S. B3J 1K1
Canada
(902) 425-4275
email: [email protected]
Post Tags:
Sakyong Mipham
,
Sakyong Wangmo