Saturday
Featured Stories
Global corporations helping rebuild Tibet ….. really!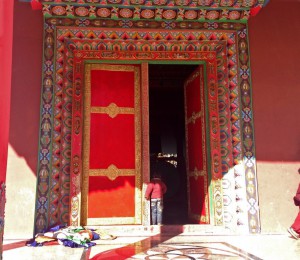 by Mark Curtin
Being a Shambhalian employed by a corporation is not always easy. It is almost predictable in meeting new people within the sangha to receive suspicious or somewhat appalling looks when answering the question, "So what do you do as a career?" This is not surprising with all that corporations have historically done to foster materialism and income inequality. I must admit there have been times I have been embarrassed to admit that I was part of such a machine.
But in recent years, I have come to realize some bright spots and am seeing changes within the corporate world which give rise to optimism. A few years back, our CEO chose to hold the annual Global Management Conference in Mumbai, India as we were about to launch a major new venture in that country. Dozens of top executives were flown to India for this event. Included in the weeklong itinerary for each of them was "field trip" out into the slums of Mumbai to selected local non-profit charities working with the array of social problems stemming from India's wide-spread poverty. The message the CEO wanted these executives to leave India with is, "We can no longer go into a country looking only to take something out without giving back." The CEO's goal was "to make them uncomfortable" in coming face-to-face with the realities of life in the so-called Third World. Well, this was an eye-opening and heart-opening experience for our top leaders. This was also the moment we launched the "Heart of Our Company" initiative.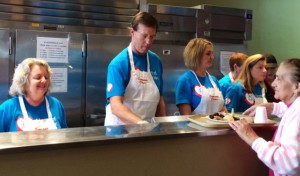 Today as part of "Heart of Our Company," my entire department takes the afternoon off to volunteer at a local soup kitchen twice a year. (See photo on right.) Employees are also encouraged to participate in company-sponsored charity events along with frequent "collection drives" gathering such things as books, school supplies, canned goods and blood donations.
Last year a notice came out announcing that the company would start matching employee charitable donations to "approved" non-profits. I immediately saw an opportunity here to boost the impact of my favorite cause, the rebuilding of Tibet. For years now I have made regular donations to the Konchok Foundation, whose primary focus has been building a shedra at Surmang Dutsi Til, the original monastery and seat of Chögyam Trungpa Rinpoche.
A shedra is essentially a school to educate both children and adults, both monastics and lay people. The shedra at Surmang, which is nearing completion and already running an Children's Education Program, is playing a vital part in maintaining the unique cultural and linguistic traditions of Tibet. The Surmang Shedra will also provide housing for both monks and nuns who receive support from the Konchok Foundation. Also, the Twelfth Trungpa Rinpoche who lives in the Surmang valley receives support through Konchok.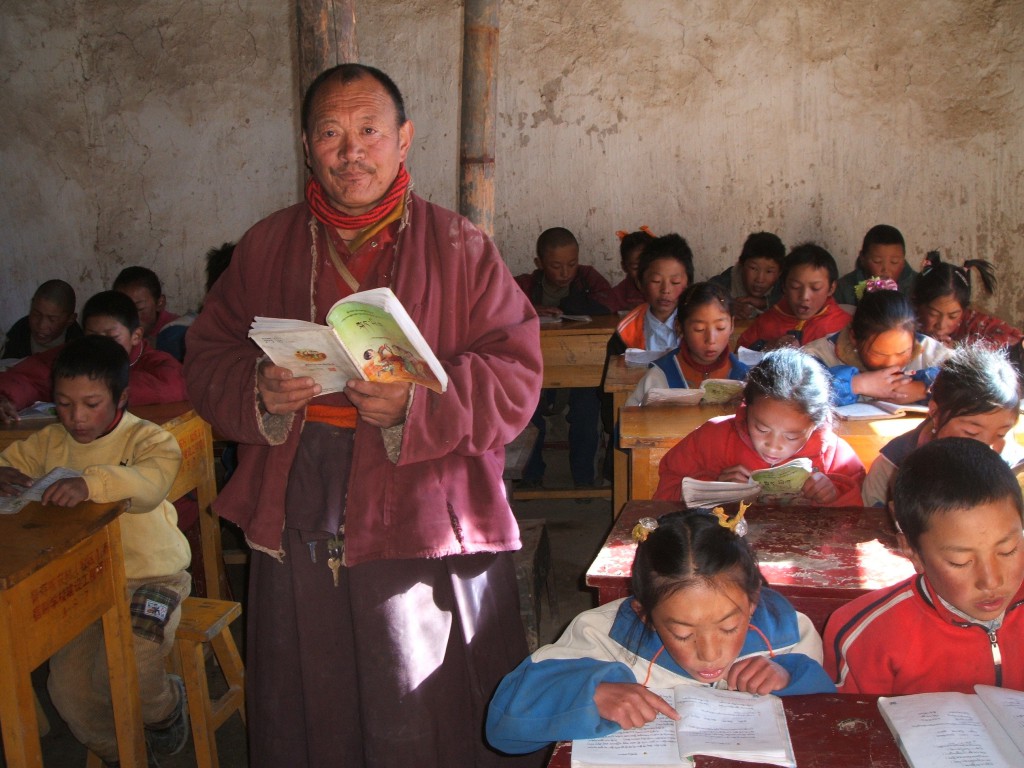 When I first submitted the Konchok Foundation for company-matching funds, my concern was that it would not pass the screening criteria and be classified as a religious-affiliated charity. To my surprise and delight, I received notice that Konchok had been approved. Now I submit monthly scans of my donations to Konchok to a third-party administered website and about a week later receive an email from the accounting department letting me know a check matching my donation has been sent to Ginny Lipson, the Konchok Administrator.
When I reflect on this, it strikes me as both amusing and amazing that my own company, a seriously competitive proponent of global capitalism, is helping to fund the rebuilding and revitalization of rural and nomadic eastern Tibet.
More and more companies are embracing some form of social responsibility and community involvement, and it is possible that your organization may also have some form of matching funds program. My recommendation is check within your organization for someone whose role is Community Relations, Public Relations, Corporate Responsibility or Social Responsibility. The department names and administrator titles vary, but it is becoming common for companies to embrace some form of community involvement and social responsibility. If you locate such an administrator, ask about whether your organization matches employee's charitable donations.
If you have an affinity for Tibet or Chögyam Trungpa Rinpoche or preserving Tibetan heritage, culture and language, you might consider submitting Konchok Foundation for matching donations. I had a successful experience in doing so, and it still makes me smile. A certain irony strikes me when I think that corporate funds are directly helping to preserve the precious wisdom traditions of Tibet.
It turns out that Amazon has begun an initiative where you can opt to donate .5% of your purchases to your favorite charity. So, even if you don't work for a corporation, you can harness the growing corporate interest in social responsibility to help the people of the Surmang Valley.
Sign up at: smile.amazon.com. Simply enter: Konchok Foundation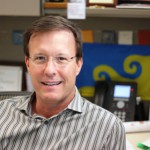 ~~
Mark Curtin manages process improvement projects for a global "big data" company. He is a devoted student of Sakyong Mipham Rinpoche and loyal member of the Dorje Kasung. He is currently the Rusung in Albuquerque, New Mexico and a Konchok Foundation Board Member.
Read more about the Konchok Foundation's new Board Members at: www.konchok.org.
Post Tags:
Konchok Foundation
,
Surmang
,
Tibet