Friday
Community Articles
Appreciation Agenda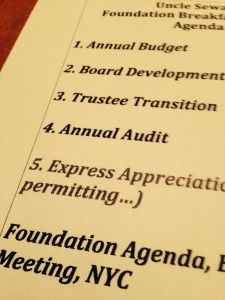 COLUMN: In Everyday Life
guest article by Acharya Michael Greenleaf
originally published on Samadhi Cushions
"Oh, I know, Uncle Seward, there is one other thing…"
We were finishing a late breakfast in the Gallery, the small, upholstered room at the Hotel Carlyle, on Manhattan's upper east side. We were the only ones there. A successful artist and heir of a wealthy family, Uncle Seward calls the hotel home when he's in the city, which he was this weekend. Ordering his eggs, he also ordered a rye whiskey on the rocks.
"…There was something else I wanted to tell you, to share with you…"
The hesitation in my voice surprised me. Uncle Seward has a nonprofit that supports the arts. With my background in accounting, many years ago he asked me to join his board. While still busy and vital, at 83 he is now interested in a transfer of responsibility to his son John, my younger cousin. I've been helping them facilitate this generational shift. Our meeting, over breakfast, was about to end.
"I'm all ears," Uncle Seward replied with his usual mixture of openness, restlessness and readiness to engage.
My Uncle and I aren't related by blood, but after my parents divorced, he and my Aunt were a reference point of stability. They've been like second parents to my younger brother and me.
"It's not about the foundation, it's something else…"
The 'something else' was the result of another conversation a month earlier, back home in Vermont. The poet and teacher Frank Ryan and I were in the kitchen, finishing lunch. We've been friends for a long time. He's met my family. Frank was listening to me describe the evolving nature of work with my cousin and uncle.
"So, I wonder…" he interjected, sharing something that seemed to have been on his mind. "Your uncle has meant so much to you over the years, have you ever told him how much you appreciate him?"
"Well, sort of. Yes, hmm, kind of, all the time — I DO appreciate him," I replied defensively. With his endless projects, my uncle has managed to keep me pretty busy in support of his nonprofit work. Wasn't the willingness to be busy evidence enough of appreciation?
"Yeah, yeah," Frank continued, "I know you appreciate him, but in my experience it's important to tell people." He paused for impact. I knew he had lost loved ones – unexpectedly. His words carried weight, which is why, perhaps, they returned to me now. That and the fact that I enjoy my uncle's company and was looking for a way to extend our time together.
The waiter, in a white coat, like a chef's uniform, brought the bill. Soon, a lunchtime clientele would be arriving. Through a marble hallway, light from a hazy fall afternoon filtered in from the street. The room, all reds and browns, seemed to brighten.
"OK, not about the foundation," my uncle was asking, "what else? How's the Buddhist business?"
Wary of religion, over the years, Uncle Seward has grown to appreciate the impact of meditation on my life and outlook. Mindfulness practice, while waking me up to his shortcomings, has also helped me to understand and appreciate him. His childhood was one of privilege, it was also wracked with loneliness and trauma. Only later in life did my Uncle find a sense of worth. He grew, but never lost his soft spot, his ability to be touched.
Uncle Seward is my example of what it means to be magnanimous, to be expansive. He taught me that giving, like taking, could be a habit. Yes, wealth is about power. But power comes from knowing and being yourself. When you know yourself, you can afford to be vulnerable, to listen, to be hurt. Lacking embarrassment, Uncle Seward celebrates life with humor and style. He isn't flashy, but he's always been an artful and original dresser. At 80 he is somehow even more stylish. As a youngster, I tried to emulate his elegance. There was no doubt about my appreciation. I just had to find my words.
"I wanted to tell you…" I stopped. A sudden tightness in my throat had made it impossible to swallow. My stomach was warm and tense. Breathing was difficult. Trying to speak, nothing came. I literally couldn't get a word out of my mouth.
After what seemed like an eternity I tried again, "I wanted to t-t-tell you…" My eyes started to tear up. "Sorry" I stammered, unable to finish. Embarrassed by this unexpected overwhelm of emotion, I hung my head, biting my lip.
"Michael, I'm so sorry, what's the matter? Is everything OK?"
"Yes, yes, OK…" was all I could get out.
Placing his hand on my arm, Uncle Seward patted it tenderly. True to his generous nature, he waited quietly, giving me time to collect myself.
A couple had sat down facing us in one of the upholstered couches nearby. They studied the menu. I felt exposed and self-conscious. After a long silence, and with great effort, "Uncle Seward, I don't know…I don't know if you know how much I appreciate you." Tears were running down my cheeks.
"Well, I appreciate YOU," my Uncle responded with urgency, perhaps to give me the chance to find my breath. "You and your brother came into my life before I had my own children. In relating to you both, I learned something. Along with the romantic love I found with your Aunt, I realized that I could love and care for others, that I could be a decent person. When I was younger, I had doubted this."
His words acknowledged our bond, formed a long time ago. We had taken this journey of life together. I was moved, but couldn't respond. He put his hand back on my arm, patting it quietly. The waiter collected the bill with my uncle's signature. It was time to go. Getting up to say goodbye, Uncle Seward reached out to hug me. "You know," he said, "I'm so glad we had this meeting today."
"Me too."
Still tongue-tied, I left the hotel and walked outside into a mild fall afternoon. Turning south toward the subway, I looked around. Above the tops of the brick and stone buildings, behind a haze of cloud cover, there was sunshine. The sidewalks, shops, and pedestrians on Madison Avenue were somehow transformed, as if everything were made of light. My chest felt warm and soft.
I headed down the steps to the subway, and made a mental note to myself.
"Next time you see Mr. Ryan, it would be important to tell him how much you appreciate him."
~~


Acharya Michael Greenleaf is a volunteer at Samadhi Cushions who works on marketing and internet issues. He is also a meditation teacher with many years of experience in the Shambhala community. Michael is a member of the core faculty for Mukpo Institute at Karme Choling. His professional training includes a CPA as well as an MBA in finance. Michael credits his Buddhist practice with helping him see the dreamlike nature of financial information.
Post Tags:
Acharya Michael Greenleaf
,
In Everyday Life
,
samadhi cushions blog