Tuesday
Sakyong and Family
Princess Jetsun Drukmo to start Kindergarten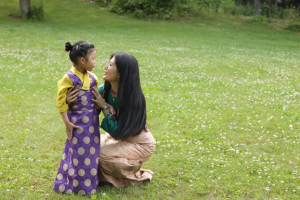 article by Kelly MacLean
photo by BHH Studios
Our beloved Sakyong and Sakyong Wangmo are overjoyed to announce that their eldest daughter, Princess Jetsun Drukmo will begin kindergarten this very month of August.
Just days after the Princess's fifth birthday she will attend her first lessons at Ziji Early Elementary in Boulder, Colorado. The parents are thrilled (and a tad nervous) for their treasured daughter to make this great transition.
Entering her new classroom will be one small step for Jetsun Drukmo and one big step for Shambhala kind, marking the beginning of a significant new phase for the Shambhala Lineage.
Ziji is the beginning of an educational process which will include many different components. It is a petite elementary school with twenty children aged 4 to 9 years, run by Norah Murray and Marti Holley who both have extensive backgrounds in Shambhala education and met while serving together on the board of Shotoku Children's Center at Shambhala Mountain Center. They state that "Ziji's mission is to create a rich, meaningful and embodied educational journey. Our teaching practice cuts conventional speed and nurtures an appreciation for the simple joy, wonder and limitless possibility inherent in each and every school day."
Ziji is thrilled and honored to shepherd Jetsun Drukmo along the rewarding and, (let's face it, probably very long), path of education that lies ahead for her, since her education will reflect her heritage both in the east and the west.
Jetsun Drukmo is personally very excited, too! Cheers to her step forward for the Shambhala lineage. LHA GYAL LO!
Post Tags:
Jetsun Drukmo