Wednesday
Scene and Heard
Shambhala Meets the Pope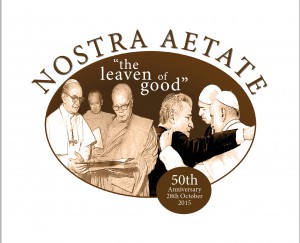 Representing Sakyong Mipham Rinpoche at the Vatican
article by Acharya Fleet Maull
At the direction of His Holiness Pope Francis, the Pontifical Council for Interreligious Dialogue convened a Buddhist – Catholic Dialogue in Rome in collaboration with the United States Conference of Catholic Bishops. Approximately 40 Buddhist and Catholic leaders involved in social justice work were invited from five major US cities – Chicago, Los Angeles, New York, San Francisco and Washington DC.
The event was called Suffering, Liberation and Fraternity and was organized by Professor Don Mitchell, a Catholic scholar of Asian philosophy at Purdue University. Professor Mitchell first identified Catholic leaders in these five US cities and then asked those invitees which Buddhist leaders they felt would be most appropriate to invite. The Catholic leaders in both Chicago and San Francisco encouraged Professor Mitchell to invite Sakyong Mipham Rinpoche because of the work the Sakyong has been doing with the Chicago and San Francisco Bay Area Shambhala Centers, the Imaging Peace work in Chicago and the Creating Enlightened Society events in the SF Bay Area.
The Sakyong was unable to attend and requested one of the acharyas involved in the Imagining Peace work in Chicago – Arawana Hayashi, Gaylon Ferguson, or me – to attend the Vatican meeting as his representative. I was able to go, and we later arranged for Aarti Tejuja to also attend representing the Chicago Shambhala Center.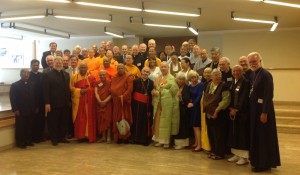 We all gathered for an opening dinner, 40 Buddhist and Catholic leaders, at the Mariapolis Center in Castel Gandolfo about 45 minutes south of Rome on June 22nd. This classically picturesque Italian hill town is the location of the Pope's summer residence. Centro Mariapolis, which abuts the Vatican property, is the headquarters for the international lay Catholic Focolare Movement.
The highlight of the four-day program was certainly our group audience with Pope Francis. We were bussed back to the Vatican in Rome early on the 2nd day of the conference and ushered into a relatively small audience hall where we awaited the Pope's arrival. For both Aarti and me, it felt just like being in a group awaiting the arrival of the Sakyong, the same electric atmosphere of anticipation, the Swiss Guards (read Kasung), the Pope's senior staff and so on.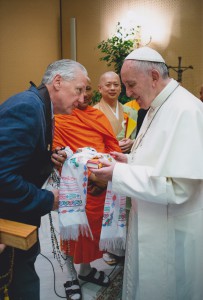 The Pope arrived, beaming and waiving to everyone. He took his seat on a throne chair and offered a few welcoming and appreciation remarks in Italian that were translated into English. The Pope then arose from his chair and went around the circle personally greeting each of us. I was able to present Pope Francis with a copy of The Shambhala Principle inscribed with a greeting from Sakyong Mipham Rinpoche. I was also able to have a number or rosaries blessed that my Catholic brother and sisters had sent with me hoping there might be the opportunity to have them blessed.
After greeting each of us, Pope Francis again sat down and several more gifts were presented by some of the Sri Lankan-American Theravada and Chinese-American monks. At that moment, Aarti, who was holding a kata, indicated to the Pope's senior aide – the head of the Vatican household – that she would like to present the kata to Pope Francis. He was resistant at first and there was a hushed conversation among the attendants and a whispered question to Pope Francis. The Pope nodded yes, and Aarti was invited forward to present the kata. Of course the usual protocol with a Tibetan Buddhist luminary would be to offer the kata and then have it placed over one's own head by the lama. In this case, Aarti, boldly going where no one had gone before, placed the kata over Pope Francis's bowed head.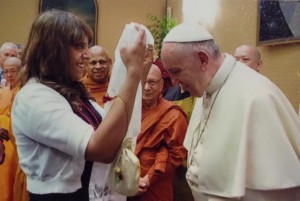 I wasn't sure whether I was witnessing an incredible faux pas, an international incident in the making, or simply a courageous and innocent gesture. The Pope's attendants rather quickly removed the kata, but Pope Francis was all smiles. In discussions later amongst a number of the participants, Buddhist and Catholic alike, we speculated that this could go any of several ways. In the end, the Vatican actually included Aarti's brave and beautiful gesture in the video clip from the audience released the next day on the Vatican news service, describing the moment as Pope Francis receiving a Buddhist blessing… international incident averted… yaaaay Aarti!
Pope Francis made a few closing remarks and then headed off to his public audience in St. Peter's Square where many thousands awaited the Pope's blessing. Our group went for a very celebratory lunch at a nearby restaurant. On the way out of the Vatican, Aarti coined a new phrase, which everyone took up in unison… Pope glow… describing the way we were all beaming, smiling and even glowing after our encounter with Pope Francis. Personally, I found Pope Francis to have a very strong, gentle and genuine presence. I felt somewhat haunted, in a good way, by his presence for several days. That afternoon we toured the Vatican museum, which was both fascinating and exhausting, leaving us all with very tired feet by day's end.
The Dialogue conference itself was a wonderful exchange that focused on the considerable commonality within the shared Buddhist and Catholic commitment to peace, justice, compassion, service and attending to the needs of the poor and marginalized in our communities. Each morning began with a half hour chanting and meditation session lead by different Buddhist tradition representatives. Aarti and I lead the chanting and meditation on the final morning of the conference.
Following this Buddhist service each morning, we all walked in unison to the Catholic chapel where the Catholic Mass was offered each morning by priest from different Catholic traditions, including a Greek Orthodox sect that is part of the Roman Catholic church. We had wonderful meals together three times a day provided by Centro Mariapolis. Our dialogue sessions were mostly panels, combining Catholic and Buddhist speakers. The first day focused on the theme of suffering, the second on compassion and the final day on community.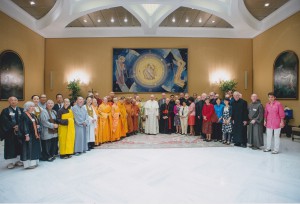 The Buddhist representatives from the five US cities were primarily Asian American monastics or priests along with two lay people representing Theravada and Mahayana (Pure Land and Zen) Buddhist traditions from Sri Lanka, Cambodia, Viet Nam, China, Korea and Japan. Aarti and I were not only representing the Sakyong and Shambhala, but ostensibly representing Tibetan Buddhism as well. There were only four of us who identified as so called "Western Buddhists," Aarti and myself from Shambhala, Alan Senauke from the Berkeley Zen Center and Mushim Ikeda, who is Japanese American, from the East Bay Dharma Center in Oakland, CA. The Catholics were a mix of diocesan priests, nuns, scholars, church administrators and lay volunteers from Catholic Charities and St. Vincent DePaul Society.
It was a week of very rich dialogue between Buddhists and Catholics dedicated to creating a better society. It was clear that continuing this dialogue and relationship building at the grass roots level will be great value, offering many possibilities for neighborhood collaborations among Buddhist communities and Catholic parishes and organizations.
The Buddhist and Catholic delegation from Chicago set a date for their first meeting back home in Chicago, and there are efforts being made to connect the delegations from the other four US cities with our Shambhala Centers in those cities. It was also clear to me after spending four days with this eminent group of Asian American Buddhist leaders that there would be great value in establishing closer ties and communication between so-called ethnic Asian American Buddhist communities and so-called Western convert Buddhist communities in the US.
Post Tags:
in the news
,
Interfaith
,
Interspiritual Conference
,
Pope Francis