Saturday
Scene and Heard
Explorers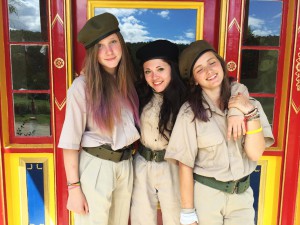 Family Camp and Rites of Passage held at Karme Choling
During the 2015 Family Camp at Karme Choling the young teens group, "Explorers" were introduced into the heart of Kasung dharma. Dapon Will Ryken guided the Explorers through the teachings by cultivating the spirit of camaraderie and the understanding of container principal within a platoon formation and the body/mind practice of drill.
While Pablo Coddou and others instructed the teens in the details of marching as a unit, Anne-Marie Keppel introduced the principals of tightwire as an individual mindfulness practice. Living in tents, walking the land and sitting by the fire, the Explorers learned a new definition of clan and esprit de corps.
During the concluding ceremony of Rites of Passage Dapon Ryken led a color guard with three Explorer teens who presented the flags of Shambhala to the community.
Pictured here are Elsa Keppel, Melina McGaw, and Maitreya Suchocki.
Post Tags:
Dorje Kasung
,
Family Camp
,
Karme Choling
,
Rights of Passage