Friday
Sakyong and Family
Formally Celebrating Jetsun Dzedron's Birth
article by Sarah Sutherland, Private Secretary to the Sakyong Wangmo
photos by Mike Levy
Princess Jetsun Dzedron Okar Yangchen Ziji Mukpo was formally welcomed into the Shambhala community during a lovely outdoor evening celebration at the Kalapa Court last week.
On behalf of the worldwide community, Acharya Judith Simmer-Brown warmly welcomed Jetsun Dzedron and congratulated the Sakyong and Sakyong Wangmo on the birth of their third child. She also noted the strong female lineage within Shambhala. "Jetsun Dzedron's grandfather brought male heirs to the dung-gyu — family lineage — and Sakyong Mipham has shifted that with three beautiful daughters. Now there is much more balance!" she said with a smile.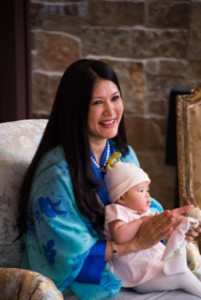 Cody McGough, Continuity Kusung, read the Song of Praise for Jetsun Dzedron written by the Sakyong. In the Song of Praise, the Sakyong comments that Jetsun Dzedron chose to take birth to a unique melding of lineages. "You are the inheritor of the confluence of two families that have upheld the teachings of the victorious one."
Mr. McGough also read a letter to the Sakyong and Sakyong Wangmo from the Minister of Nova Scotia's Legislative Assembly. "As the kingdom of Shambhala is known for its encouragement of wisdom and compassion unto others," wrote Mr. Labi Kousoulis, "I know your three princesses will carry on that very important legacy and become strong community leaders for both the Shambhala Buddhist community and our province." In the fall, Mr. Kousoulis will submit a letter of resolution honoring the birth of Jetsun Dzedron as well as the Shambhala Buddhist community in Halifax.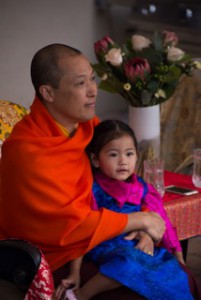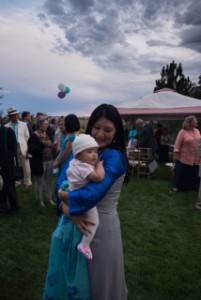 Joyfully acknowledging that his three children are all daughters, the Sakyong remarked "it must be what is needed now." He continued, "The dharma and the lineage of Shambhala are in their hands."
On behalf of Lady Konchok and Lama Pegyal, Lama Gyurme Dorje presented Jetsun Dzedron with a long life Buddha Amitayus rupa – statue. The Sakyong Wangmo's sister, Semo Sonam, presented a beautiful Green Tara rupa on behalf of the Ripa family. Sangha members happily presented khatas and offered greetings, smiles and good wishes to the Royal Family.
Then the Color Party lowered the flags, family and friends sang the Shambhala anthem and the Sakyong's aspiration for Jetsun Dzedron silently echoed: "May the Ashe remain strong in your heart, and may the Rigdens always watch over you."
Post Tags:
Jetsun Dzedron
,
Royal Family
,
Sakyong Mipham
,
Sakyong Wangmo