Sunday
Sakyong and Family
Jetsun Dzedron Turns Two!
The Princess and her family enjoy birthday cake and a visit to the zoo.
by Amanda Betzen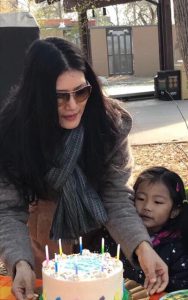 April 10 marked Princess Jetsun Dzedron Okar Yangchen Ziji Mukpo's second birthday. The morning began with the Sakyong giving a long life blessing to Jetsun Dzedron. That afternoon, the celebration continued with a family trip to the Denver Zoo. The Sakyong, Sakyong Wangmo, and all three Jetsunmas strolled through the zoo seeing animals, including two llamas that the Jetsunmas affectionately named Jorge and Fernanado. The family also enjoyed riding the carousel and train. Older sister Jetsun Drukmo showed her sisterly love by wanting to sit next to Jetsun Dzedron during much of the outing.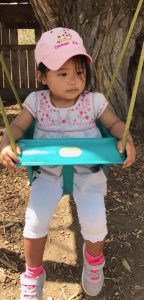 As the family continued along, they came across a large dinosaur statue that was quite frightening to the princesses! Luckily, Jetsun Yudra had been learning about dinosaurs in school and reassured her sisters that it was nothing to be afraid of since dinosaurs are extinct. The zoo adventure passed the dinosaur and carried on.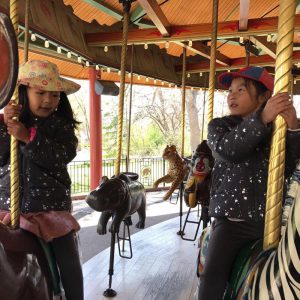 After soaking in the sights at the zoo, the family relaxed with a picnic of momos. When the birthday cake was presented, Jetsun Dzedron didn't mind a bit that the wind kept blowing out the candles, as this gave her plenty of time to sneak bites of frosting from the cake! To the delight of the Jestunmas, an emu curiously joined the festivities for the singing of "Happy Birthday."
Jetsun Dzedron has joyfully celebrated another birthday. May our community share this joy as the Shambhala Princesses continue to grow!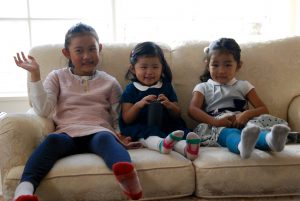 ---
Amanda Betzen serves as Regional Secretary to the Jetsunmas.
Post Tags:
birthday
,
Jetsun Dzedron
,
Sakyong and Family
,
Sakyong Wangmo