Thursday
Sakyong and Family
Birthday Tenshuk for the Sakyong
The Sakyong Wangmo hosts a birthday tenshuk for the Kongma Sakyong
by Sarah Sutherland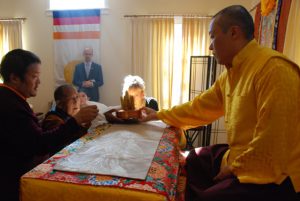 On Sunday the 22nd of November, the Sakyong Wangmo hosted and offered a warm and powerful tenshuk ceremony at the Kalapa Court for the Kongma Sakyong, in honor of his birthday.
More than 80 people joined the Sakyong Wangmo, Jetsunma Princesses, Lady Konchok Palden, Lama Pema Gyaltsen and Lama Gyurme Dorje to practice and supplicate Sakyong Mipham Rinpoche to live long and for his enlightened compassionate activity to be unhindered.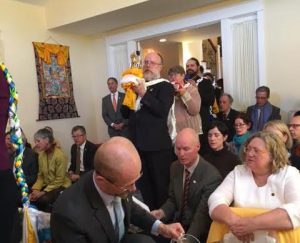 The tenshuk ceremony is an extended long-life offering and request to the teacher. Ten means secure, stable, or firm, and shuk means to remain or live. This birthday tenshuk, or request for longevity, was a special opportunity for students to demonstrate their love and loyalty and thereby gain merit and lungta.
Guests attending the ceremony included local and regional leaders, patrons, visiting dignitaries and members of the Kalapa Court.
The date of this tenshuk was particularly auspicious because it was Lhabab Duchen—the anniversary of the Buddha's descent back to earth after teaching his mother in the heavenly realm. It is considered an extremely auspicious and powerful time to practice and make offerings.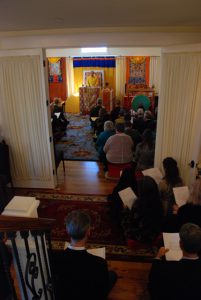 With that in mind, the morning began with a long-life puja led by Lama Pegyal and Lama Gyurme Dorje, followed by Dharmaraja Guru Yoga practice. The Sakyong Wangmo then made the first of three mandala offerings, with the Jetsunma Princesses helping to present the symbolic offerings of body, speech, mind, quality and action. Lady Konchok and family next made tenshuk offerings for the longevity of the Sakyong. Melanie Klein, Glenn Austin and Sheila Cataford followed with a mandala offering on behalf of the Front Range Boulder sangha.
As is traditional in a tenshuk, the request for the Sakyong to remain was accompanied by a procession of auspicious objects. These included the eight auspicious symbols of enlightened leadership plus abundant grains, fruits, and other delightful offerings.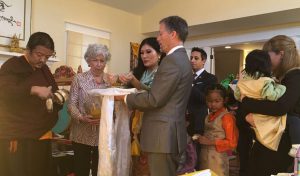 Many people felt a special warmth in this ceremony, which was truly a gift of love and appreciation from the Sakyong Wangmo.
"This morning was truly delightful," said Kalapa Envoy Josh Weinstein, who was visiting Boulder from Santa Barbara. "What an amazing opportunity to express our love for this path and our amazing Sakyong. I left the Court as inspired and uplifted as I ever have."
---

Sarah Sutherland serves as private secretary to the Sakyong Wangmo. She lives in Niwot, Colorado with her husband and two daughters.
Post Tags:
birthday
,
Sakyong Mipham Rinpoche
,
Sakyong Wangmo