Friday
Sakyong and Family, Shambhala News Service
Renewed Invitation to Healing and Enrichment Pujas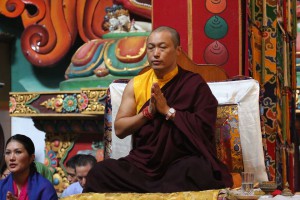 The Sakyong will be performing two pujas, or intensive practices, for the benefit of Shambhala on November 21 -22 during his fall retreat in Nepal. These practices are opportunities for community members to request the Sakyong to specifically dedicate his personal practice to assist us, our households, loved ones, friends, and endeavors throughout the year.
The first practice will be a Healing Puja to increase health and dispel obstacles to well being. During this time, the Sakyong will practice for the vitality and healing of everyone in Shambhala, our families, and friends. Practice during this puja will focus on strengthening all aspects of physical and emotional health, as well as assisting in overcoming physical illness and more subtle obstacles like depression.
The second intensive practice is a Wealth and Enrichment Puja. Wealth pujas have the aim of enriching and enlivening all of our aspirations in order to have a more meaningful life and impact on the world. Our aspirations may be related to enlivening creative endeavors in our livelihood, business, education, households or more generally whatever we wish to enrich in our lives.
These pujas are for all of Shambhala. We can also request the Sakyong to specifically help a friend, loved one, or ourselves through these practices. If we wish ourselves or a friend to be included, it is traditional to offer their name along with an offering to the teacher. These names are read to the Sakyong as part of the puja itself. We can also include a short description of the situation surrounding the request, however the most important connection is the name of the person. The names and descriptions are kept confidential and burned at the conclusion of the puja.
To include someone in either puja, please fill out the information at this site: https://sakyonglineage.org/offering/.
Post Tags:
Sakyong Mipham
,
Shambhala News Service