Saturday
Featured Stories
Local Harvest at Casa Werma
A day of practice and celebration brings together expatriates with Mexican nationals 
by Reina/Ryn Armstrong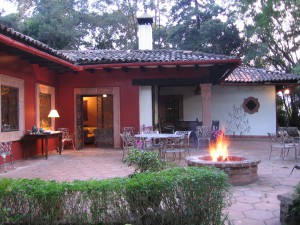 Kai and I hosted our second Harvest of Peace here at Casa Werma this year; it was a delightful evening with wonderful people, full of open-heartedness, humor, mutual appreciation, good food, and shared practice. And it marked an important first for Casa Werma. Since our arrival in November 2013, we have been developing our Spanish as we reach out into the Pátzcuaro community of expatriates and Mexican nationals, which includes local people as well as many transplants from Mexico City and other big metropolitan areas. Every week that we are not busy with programs, we offer Open Meditation and Tea and a yoga class. In the last month or so, we've seen a shift in the folks coming to these open, public offerings.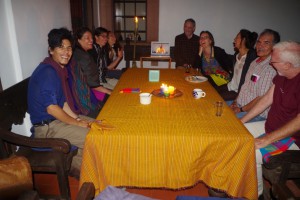 We've been thrilled to notice that more and more nationals are coming (some friends of ours from the community), many of whom are not conversant in English, so we're offering more and more instruction in meditation and yoga in our grammatically-challenged Spanish. Given the traditional, conservative nature of the region of Pátzcuaro, the assumption has been that local people are not seeking, as a rule, meditation or spiritual opportunities outside their own communities, families, and the Catholic faith, which is prevalent everywhere, particularly among the Purhépecha people (the indigenous people of the area). We've not known how to make our offerings known outside an English-language online yahoo group and calendar, other than simple word of mouth.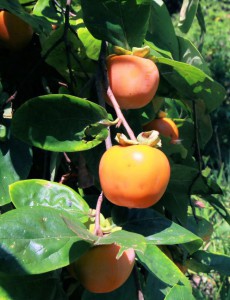 For our Harvest of Peace Gathering this week, there were a total of 11 of us gathered (a good-sized group for these events at Casa Werma); six were nationals, three from the state of Michoacán, two of whom are Purhépecha. It is the first time that nationals outnumbered expatriates at an open, public event. The weather was divine, sunny and warm. We practiced shamatha together in our solarium shrine room, contemplated the vibrant gardens, and practiced the Shambhala Sadhana with the text in English but the opening chants and mantras in Spanish. Spanish speakers read the text silently in Spanish. Everyone commented on how touched and enchanted they were by the sadhana. Afterward, we shared a potluck dinner at what is known as the "werma table" on the wide terraza facing the gardens — where the sangha-famous photo of Trungpa Rinpoche composing the Werma Sadhana was taken. While enjoying September-harvest winter squash pie, we watched the Sakyong's address from Berlin by candlelight. All attendees went home with our harvest from the Casa Werma gardens, including limes, avocados, persimmons, chiles perones, and oranges.
Reina/Ryn Armstrong and Kai Fulker serve as the Co-Directors of Casa Werma.
Post Tags:
Casa Werma
,
Harvest of Peace