Wednesday
Featured Stories
The Warriors Who Are Joyful
A Gampo Abbey Reflection: Lodro's Story
by Tharpa Lodro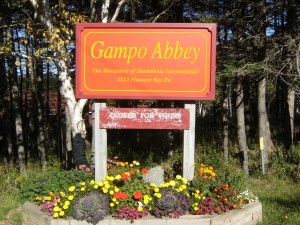 My given name at birth was Daniel McCoy Baker. I was born October 26th, 1989 in Cheverly, Maryland, not too far from Washington D.C., the area where I have spent the greater part of my life. I grew up about a mile outside of the city. My town was called Brentwood, and it was in quite a poor neighborhood where violent incidents were common: gunshots and sirens, muggings and rape. Brentwood was home to lower-income black families with sprinkling of a few white families. As rough as it was there, my town was quiet compared to a lot of other nearby communities.
My family struggled with depression, addiction, aggression and poverty. As a small child I saw shotgun pellets fired through floors into the ceiling above me during arguments between family members. I watched my uncle pin my father down, holding a knife to his throat. It's kind of a family tradition to be kicked out of the house at least a couple of times. I scrounged food from dumpsters, or simply didn't eat for days. The house I lived in was sometimes a base for prostitution, and sometimes for dealing drugs. I lived in a hotel for years. It's hard to fully express the environment and experiences of my adolescence, though I still very strongly identify with the suffering of those times.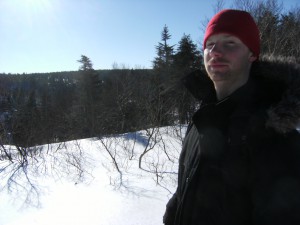 The struggles I witnessed growing up made me question life and the nature of the mind. That questioning led to investigation of varied religions, along with a desire for hermitage and seclusion, and eventually led to studying Buddhism in high school. I vaguely remember reading about emptiness and spending quality time with the mantra Om Gate Gate Paragate Parasamgate Bodhi Svaha during my many months of being grounded. Eventually, I read a book on warriorship in which Shambhala was mentioned.  This piqued my curiosity, though it would still be a long time before I acted on this interest. I had to go through many challenging experiences: joining the military and realizing I didn't want to kill anyone, the depths of suicidal depression, and episodes of explosive and maniacal rage. I also entered into a deep relationship, and found that I couldn't express the love I felt for that person. At last, I recognized the need to engage with the dharma.
From the moment of entering my first Shambhala Center, I felt cautious yet at home. It was a new experience to be around so many white people I didn't know. These people were older, seemingly middle-income, and without the kind of suspicion, paranoia or aggression I had learned to expect from others. I was rather out of my element, so to speak. I went to a few book groups, and liked being there. I really enjoyed talking about dharma and contemplating it with others, even though I found it hard to trust that experience at first. That led to attending a Level 1, which wasn't so bad. I felt transformed afterwards, which encouraged me. Then I attended a Level 2, and that was pretty intense. It was an entire weekend of feeling as if I were on fire, simply burning up from the inside. That made me a little hesitant to continue, but eventually life led me back to attend a Level 3, where the vastness of space gave me the momentum to dive in. I have been diving deeper ever since.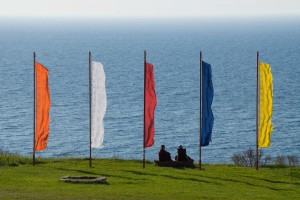 My life eventually untied itself. A job of four years ended quite happily, a six-year relationship ended quite unhappily, and my apartment lease ended too.  This came as a sigh of relief, but at the same time all these endings left me quite bereft. I knew I wanted to live in a community of practitioners, I knew I wanted to study and learn about the Dharma in a deeper way, and yet I vacillated among many possibilities. I spoke with a teacher I dearly value, and her wise enthusiasm encouraged me to explore the Abbey as an option. The Abbey graciously accepted me and supported me in my path, to attend the Year of the Meek.
I now live in a pressure cooker, which is sometimes double-stocked during intensive retreats like Yarne. During the summer when we have tourists, it is also like "living in a fishbowl," as another ordained member of the Sangha has called it. I live with a varying group of eight to sixteen members, made up of people I didn't get to choose, and have no choice but to interact with them. I've seen the Sakyong four times while living at the Abbey. I have been present over four months of time with Gampo Acharya Pema Chodron. I enjoy weekly classes on Shambhala teachings, as well as groups on sutra-related topics. I participate in group practice for hours every day. I have the most functional family that I've ever related to, though I'm not certain they would be so functional if we were all together anywhere else. I have received so much support from the Sangha, financially and emotionally. I've met and engaged with people who I would most likely never have approached or connected with in any other way.  All this has happened through being in a position of no escape and staying there.  I have experienced profound transformation through association with these people and this interplay.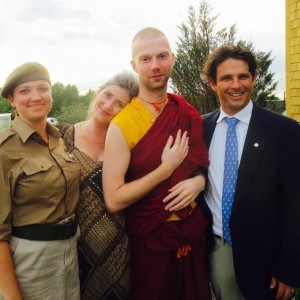 I have experienced what I can only describe as the best year of my life so far. It's been very tough. My grandmother, who was my strongest supporter, died while I was here at the Abbey. Also, I was very sick for quite a while. Yet I have never known myself so well, never had a better understanding of how mind works. My relationship to mind and true self is an ever deepening reality due to the time spent at the Abbey. I no longer question Basic Goodness in myself or others. I may fear it at times, and shy away from it, but I know for certain what it is. I know how to find Basic Goodness, and I know that relating to it is possible and healthy and human.
While at a recent Assembly, I was speaking with a friend, discussing my thoughts on staying at the Abbey. I explained all of this to him, and expressed my hesitation about staying longer.  He told me he was having a really hard time finding a reason for my not staying. I have no certainty about becoming a fully ordained bhikku, and yet I definitely feel that what's being offered at Gampo Abbey isn't being offered anywhere else in the world. I am in a singular situation within our time and realm, and I have every intention of continuing to steep myself thoroughly in practice, lineage and transmission. Assuming I can raise the funds to afford another year at the Abbey, that the Abbey has a place for me to stay and that I'm still alive to be present, I will gladly be participating in the Year of the Warriors who are Joyful.
Ki Ki So So Ashe Lha Gyal Lo Tak Seng Khyung Druk Di Yar Kye!
Post Tags:
Gampo Abbey
,
reflection