Wednesday
Featured Stories
Vulnerability and Humor
Exploring Life at Gampo Abbey
by Emma Cataford, Shambhala Times Regional Correspondant
with assistance from Loden Nyima, Head of Education at Gampo Abbey
photos by Emma Cataford
Part Two
Enlightened Society
How the process of inner transformation is held and supported by the community is part of how we put into practice the vision of enlightened society at Gampo Abbey. The monastery is by design going to bring up core habitual patterns in our minds and at the same time give us the space and tools to transform them in a positive or even liberating way. That's a rare combination and an intensely vulnerable process. The key element in terms of community practice is how we work with that vulnerability. Vulnerability isn't something we have to hide; rather, it's what allows us to connect as people. It's what shows us our common humanity and our common sense of path.
On an individual level, it's what cuts through our slickness and makes the dharma real. One example of how we work with this is that every two weeks we formally meet with our peers to share our deep self-reflections on our process, laying aside our mistakes, and reconnecting with our aspirations. It's a safe space where one person at a time speaks and the others just listen, showing up for each other without judgment. "Over the years we know each other's struggles, know each other's breakthroughs, know each other's secrets – and it's all allowed," says Loden Nyima, Head of Education, "It's all regarded as the path of liberation and the whole point altogether."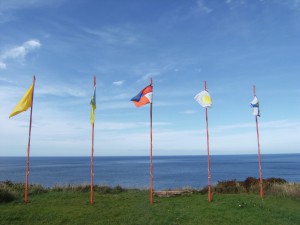 Ultimately, the practice container is defined by the people in it. How we react to other people's behavior can be as clear a mirror of our state of mind as sitting meditation. Our fellow practitioners, just as most people have discovered in every sangha, can be our greatest teachers. Depending on our frame of mind, we can experience this environment as a "cool clay pot, a pressure cooker, or a hermetically sealed Tupperware," as one of our householders, Adrian Thalasinos, describes it. All the uncomfortable aspects of community life are still present here, but it's the commitment to no escape that makes the monastery unique.
Another element of this container is the practice of silence, which in similar fashion to the five precepts, makes us more clearly aware of our mind patterns. At Gampo Abbey, silence is observed from 8pm to lunch time and it provides an open space for practitioners to work with habitual tendencies that revolve around speech. One can then more easily see the motivations behind the urge to communicate. Just like with the precepts, looking into our motivations can provide insight into how our mindless actions lead us to unnecessary suffering.
Regarding how to relate to silence, Adrian says: "It is our refuge, a place to notice thoughts and emotions. Within it there is room to cultivate an awareness. Some days it's a reminder to look out the window during breakfast, the space to appreciate the outer world. Other times it's the stark sound of our agitated mind that takes the stage. Within a vacuum can rush in the cacophonous chatter of our minds. To me silence at the Abbey is as golden as a shining seated Buddha."
Sense of Humor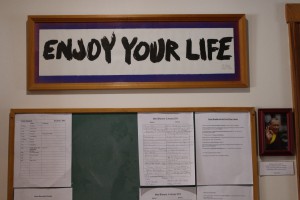 In a context defined by such a structure, it can be easy to become rigid in following all the rules. That uptightness is resolved by keeping a sense of humor. Lightheartedness is often a gateway to gentleness and discovering an open space where the joy of discipline can flourish.
"Trungpa Rinpoche, my teacher for fourteen years, said laughter is very close to shunyata," recalls Ani Migme, "and the reason for that is that you're going along and there's a break. Laughter means something is surprising, something is absolutely new at that moment. That brings laughter. Shunyata is not empty, ultimately shunyata is the fullness of possibilities."
One might wonder about the effects of living in such a container where the forms, the discipline, and the practice are so repetitive and constant. Often residents over time describe a process of softening, opening, coming into themselves, releasing entrapping patterns, and kneading the dharma into their minds at a deeper level.
"Sometimes people look at monastics and think we must be seeking some profound spiritual realization", says Loden, "in the long run that's definitely what we wish for everyone, but at the same time, when I honestly self-reflect after five years in the monastery I'd say it's been a process of slowly becoming a dharmic person. It's been about getting up in the morning and being happy to practice because it becomes a source of strength and joy. It's been about the teachings becoming guiding principles for life. Other people become more and more important, especially their paths. In fact, supporting other people's paths is pretty much the vocation of our life monastics and the motivation for going further in our own. There's little if any realization for me to speak of and it's only a very basic level of taming that I've worked with. But at the same time, the dharma becomes a way of life and the problem is that it works."
~~
Read more about Gampo Abbey on Gampo Abbey's Blog by clicking here.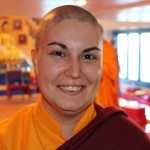 Emma Cataford grew up in Italy and studied Journalism in London, UK. She has been in Shambhala for about three years, is a bartender by trade, and loves dogs and diving. She is currently residing at Gampo Abbey for a year of monastic training.
Post Tags:
Gampo Abbey
,
reflection