Sunday
Featured Stories
A Campaign for Windhorse
Shambhala's Midwest retreat center celebrates its 15th birthday with a major capital campaign
by Susan Firer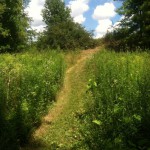 Windhorse Retreat Center started out as the Midwest Shambhala Retreat Center back in 2001. The seed was planted in 1997 when Sakyong Mipham Rinpoche came to visit the region and suggested that a regional retreat center would be of benefit to the Midwest. Through the devotion, discipline and exertion of many in the region, MSRC was born! Alan Anderson and myself were the first co-directors. I am embarrassed to say now that I think we actually appointed ourselves; not having ever done anything like this before we were naïve to the protocols, but our devotion, motivation and intention were pure.
We started out with 3 acres and a building which served us well. An opportunity arose in 2005 to purchase another 33 acres of the surrounding property owned by Belden and Lisa Paulson, founders of the High Wind Association. Once again the devotion and commitment of the sangha kicked in and this effort was a success! The 33 acres are owned by Shambhala International. The blessings of the lineage continued and the Sakyong accepted our invitation to visit and bless the land. He came on July 4th of 2005 and shortly thereafter gave us our new name: Windhorse Retreat Center. We've been working very hard to live up to our name, to establish a proper seat up here for the Sakyong and Sakyong Wangmo, and to let the Shambhala teachings spread in the Midwest.
Currently we are wrapping up a successful Capital Campaign to raise money to buy the original building and 3 acres surrounding it; the mortgage has been held by an individual sangha member since 2002. Windhorse has been renting it at just the cost of paying that mortgage. This campaign is truly a monumental moment for all of us. It will legally and energetically establish Windhorse within the family of Shambhala retreat centers world wide. We have always been part of the mandala, but with the purchase of the building on behalf of Shambhala we will properly set the ground for our further expansion onto the 33 acres. What we plan to do on the 33 acres is a topic for another day, so look for another Shambhala Times story in the future! We've had good counsel about expansion from Eva Wong when she visited in 2004, and she asked that we invite her back when we are ready to make things happen.
These days, those of us involved with Windhorse on a day-to-day basis are working to further establish a proper working mandala. There is a lot to still be done on that front. We would like to have a structure that is conducive to promoting a sane workload with lots of attention to the health and well being of all sentient beings.
Supporters are welcome to visit our website, and to follow our blog postings to track the ongoing growth and development of this Center.
Susan Firer is a co-founder of Windhorse Retreat Center, and currently serves as its manager
Editor's note: readers interested in learning more can click here to see the Windhorse Retreat Center video, and here to contribute to the capital campaign.
Post Tags:
midwest
,
retreat & contemplative center
,
windhorse
,
Windhorse Retreat Center