Monday
Featured Stories
Transformation is Possible
With his execution date now set for April 27, practitioner Jampa Pawo sends this letter to his brothers and sisters in Shambhala
by Jampa Pawo
Hello! My name is Jampa Pawo. I am 37 years old and have been incarcerated for eighteen years for the crime of murder. I have been practicing dharma for several years. I met the teachings of Buddha, in this life, during a period of intense mental and physical suffering. Despite using the previous decade to educate myself and create art, I felt like my efforts were superficial and meaningless. I was depressed, filled with remorse for my harmful actions, and utterly heartbroken. This mental despair manifested as physical pain throughout my body. I was dying inside.
Around this time references to Buddhism appeared around me like never before: on TV, in books, in magazines, and conversations. Their occurrence became so frequent that I sensed a purpose behind these seemingly random events, like they were guides leading me in the right direction. In hindsight I view these messages as the buddhas and bodhisattvas helping me when my mind, karma, and ideal conditions aligned. Inspired by these auspicious connections, I became curious and decided to explore Buddhism. I asked my friend Elizabeth to send me the book Tibetan Meditation by Dagsay Tulku Rinpoche. I discovered this book in a catalog selling books about aliens and unexplained phenomena. I've always found this humorous, the placement of a book on Tibetan meditation among the UFO's and stories about Atlantis, like the universe playing a funny joke.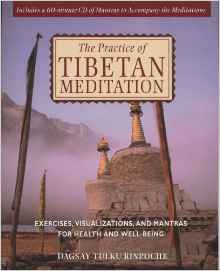 Tibetan Meditation was my introduction to Buddhism. It explained all the basic meditations from the Tibetan tradition in concise language. From this book I learned about healing meditations, impermanence, suffering, love, compassion, emptiness, and mantra recitation. I immediately began to practice the healing meditations every day, visualizing brilliant white light radiating throughout my nervous system – purifying my body and mind of all negativities. I started with one meditation a day for five minutes and gradually increased the number and length of sessions. After three months my body and mind felt rejuvenated, which motivated me to learn more about Buddhism.
The dharma was calling and I couldn't resist. Through constant study, contemplation, and meditation, I fully embraced the teachings with all my heart. The Dharma resonated with me in a powerful and profound way. I was magnetized to the teachings and pulled by their gravity to a practice beyond me and outside of my control. I didn't have a choice. The Dharma answered all of my questions about life and all of the pieces of the cosmic puzzle came together, revealing a universal richness, a network of interdependent causes and conditions in which I could make life meaningful by benefitting others. Everything I'd ever felt but couldn't articulate was alive in the Dharma. It all made sense to me!
For some time I didn't know how to structure a traditional practice. I just practiced from the heart every day, improvising with the books I read and practicing with diligence. During this time I received an art book with a painting of Avalokiteshvara in it, which I hung on the cabinet in my cell. I didn't know much about Avalokiteshvara, but I sat in front of his image daily and recited a verse from Shantideva's The Guide to the Boddhisattva's Way of Life. I learned this verse from a book by His Holiness the Dalai Lama: "As long as space remains and sentient beings endure, may I also remain to dispel the misery of the world." I also made prayers to receive the Refuge and Boddhisattva Vows, which were later fulfilled by the Shambhala sangha. Looking back, I find it very auspicious to have made these requests to Avelokiteshvara using a prayer recommended by His Holiness, who is the Buddha of compassion.
My practice really ignited when I met a lady named Judy through my attorney. Judy was a former practitioner; and after learning about my interest in Buddhism, she sent me a collection of Dharma books and a mala blessed by the Dalai Lama. The books Judy sent were the exact teachings I needed at that time, answering my questions and giving me a step-by-step guide to traditional practice. Included among them were instructions on mind training and the stages of the path, which became the lifeblood of practice to me because it helped me work with the painful emotions of my past actions.
I practiced with Ani Pema Chodron's commentary and tonglen instructions every day, taking upon myself the sufferings of all victims of violence in the universe and giving them love, peace, happiness, and compassion. I also practiced tonglen for all the perpetrators of violence, including myself. These meditations were extremely moving, often bringing me to tears. But they strengthened my compassion and gave me the courage to write a letter to my victims' family. I always wanted to express my remorse to them but was afraid. When I tried to convey my heartbreak, sadness, and remorse, my body and mind became paralyzed with fear. Ani Pema's teachings helped me to open and helped me to acknowledge the unimaginable suffering I'd caused by my actions. It was the beginning of a healing process which continues today.
Because Start Where You Are was so beneficial, I wrote to Ani Pema at Gampo Abbey to thank her. I didn't get a response from Ani Pema at that time, but I did receive a letter from Les and Louise Ste. Marie, members of the Gampo Abbey sangha, who became dear friends and sources of inspiration. Les and Louise have been incredibly supportive of my practice, always offering me guidance and Dharma materials. With their help I had the great fortune of receiving the Refuge and Boddhisattva Vows from Acharya Richard John and establishing a connection with the Atlanta Shambhala Center and my teacher Norma Harris. All of this is a blessing from the guru!
Even here on death row, I have the freedom to make life meaningful by practicing Dharma. I am grateful for this opportunity and thankful for the kindness of others, who give me every happiness in life. I am mindful not to waste this precious gift because it is impermanent. So I practice as an offering to those I've hurt, to repay the kindness of all beings, and to heal myself in order to heal others.
The entire Shambhala Sangha has become an integral part of this practice, providing me with guidance, inspiration, love, and support. The community embraced me whole-heartedly, without hesitation, and has become my family. Sadly, I do not know much about Shambhala teachings and I haven't trained in the Levels like other practitioners. My foundation and training is in traditional Tibetan Buddhism; mainly the lamrim (the stages of the path), mind-training, and Vajrasattva practice. However, I have a strong connection to the Shambhala lineage and feel like a Shambhala warrior at heart. I raise windhorse, proclaim basic goodness, and cultivate the principles of warriorship in life.
As my execution date approaches, I'm not afraid because I have faith in Dharma and confidence in my practice. I know that the Shambhala Sangha will be practicing with me at the time of death and that your love will guide me to a fortunate rebirth in my next life. Until then, I practice like my hair is on fire, seeking liberation from the self-made prison of samsara and enlightenment for all beings.
Earlier today, eight members from the Atlanta Shambhala Sangha visited this prison as part of a tour group. For me their presence transformed a dehumanizing experience into an experience of basic goodness. The sangha members recognized our humanity. They didn't fear us. They didn't try to intimidate us. They acknowledged our basic goodness and humanity just by being here to bear witness. It was an uplifting experience for me, a blessing on the environment, and a perfect teaching to receive on the eve of my taking the Shambhala Vow.
The main message I wish to convey to the Shambhala family is that transformation is possible, even in the worst conditions where things seem hopeless. All we have to do is practice and results will follow. We will receive the blessings of the lineage gurus, buddhas, and boddhisattvas. Therefore, I offer these words to you as inspiration, as you are an inspiration to me. I encourage all of us to dissolve doubt in the light of primordial confidence and wakefulness. May we practice with courage, dignity, and joy! May basic goodness illuminate the world! KI KI SO SO! Lha Gyal LO!
Note from Norma Harris: About four weeks ago I asked Jampa Pawo to begin writing to the Shambhala Sangha. Here is one of several letters and poems that he has written. At the time of this letter we did not know the date of his proposed execution. We have now gotten word that his execution by lethal injection is projected to occur on Wednesday, April 27th. In the next weeks we hope to put out other writings. I hope you will get a sense of who this man is and the connection he feels for us. I hope you will feel connected too.
Editor's Note: donations are welcomed to cover costs of a Sukhavati ceremony. You can make a donation to the Atlanta Shambhala Center by clicking here; please add "Jampa Pawo Sukhavati" in the comments field to designate the purpose of your contribution. Any funds gathered beyond the actual Sukhavati expenses will be set aside for the support of future prison dharma ministry.
Post Tags:
Jampa Pawo
,
prison dharma