Thursday
Arts and Poetry
Piercing the Heart of Mara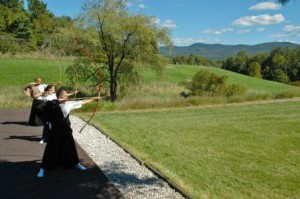 A poem by Jampa Pawo, dedicated to his dharma friend Grace
Bull's Eye: An Arrow Piercing the Heart of Mara
Listen, brave warrior of Shambhala.
In your battle against the delusions,
Raise the longbow of unborn shunyata
In your left hand of primordial wisdom
And draw the arrow of bodhichitta
With your right hand of vajra-compassion.
Rest your mind in concentration and thusness
On the union of bliss and emptiness
Aim for the heart of great dharmakaya
And release from form into formlessness
The arrow of bodhisattva actions.
Propelled by the enlightened energy
Of spontaneous nondual activity,
The warrior's aim always remains true
And your sharp arrow penetrates wrong views.
Thus, the courageous warrior triumphs
Over the six realms of Yama's kingdom
And establishes Shambhala on earth.
I, Jampa Pawo, received this Dharma
From my wisdom mother, Vajrayogini,
When she taught me the art of archery.
Now I transmit her words to you, dear friend.
This poem is dedicated to Grace, a Dharma friend who shot an arrow for me at the sacred place of Karme Choling. These words sprang from your kindness. Thank you! Love, Jampa Pawo.

Post Tags:
Jampa Pawo
,
Kyudo
,
poetry