Saturday
Featured Stories
The Queer Feminist Rigden
Cutting through embedded patriarchy
Column: Critical Intent
By Alex Vlasic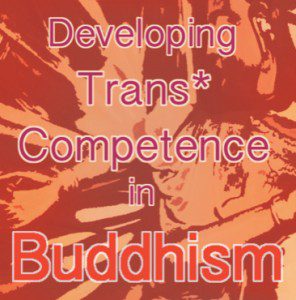 In my first couple of years working with the Shambhala teachings and community, gender didn't arise as an issue for me. I heard "basic goodness" and it all felt very inclusive. Luckily, basic goodness is all-inclusive. As I have gotten further along the path and more involved in the community, however, the vestiges of cis-gender, heteronormative, male dominance within Shambhala have become more and more apparent. This shouldn't come as a surprise to anyone. We are steeped in cultures and histories of oppression (not just in regard to gender) and the stench follows us into our centers. This oppression expresses itself both structurally in our community and interpersonally in our relationships. The aim of this article is to point out some of these structural problems, in the hope of expanding our community's awareness and promoting further discussion. 
What initially caught my attention were the remnants of binary, gendered language within the Shambhala teachings and chants. Binary, gendered language is the construction of feminine and masculine; she and he; her and him. The power of language to reinforce power dynamics can be subtle, for example: here I have put the feminine first, while usually these binaries are presented the other way around.
The use of language is not neutral. It has inherent power. I am concerned by the use of this language because 1) it excludes people who do not identify as masculine or feminine: i.e. genderqueer and gender non-conforming people, and 2) masculine language such as "He" is still used to refer to ultimate principles such as the Rigden, perpetuating a male-dominated culture.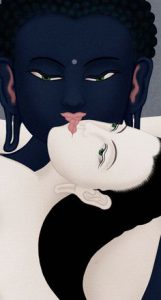 I have been grappling with why Shambhala uses this language. What is its purpose? In an effort to deepen my understanding, I approached a dear senior teacher in this lineage with my questions and she told me something that I found both simple and clarifying. She said that we use the concepts of the feminine and masculine principles to illustrate how through duality and the unification of these principles we come to understand the primordial, or ultimate. It is through the relative, the THIS and THAT of our every day experience as represented by masculine and feminine, that we come to know the ultimate. She also emphasized that the face of the Primordial Rigden is not androgynous, but rather represents the perfect integration of the feminine and masculine.
As a side note, but an important one, a friend of mine confided to me that while attending a Shambhala program, the teacher claimed that although the Primoridal Rigden is displayed as both feminine and masculine, it is actually a King (facepalm! heartbreak!). Why would the INTEGRATION of masculine and feminine manifest as a King? Can you imagine for a moment how that might affect someone who doesn't identify as male? How sad or devastating that might feel? I'm under the impression that even our senior teachers are not all on exactly the same page.
Let's return to the purpose of this feminine and masculine language as it relates to Shambhala dharma. We are using duality to understand the ultimate. What's interesting is that it seems that these dual principles don't totally merge into oneness. The feminine and masculine integrate. They unite, but in their union, they do not disappear. Within the ultimate we have the relative, and within the relative, the ultimate.
I would like to bring in an ally, Sera Beak, who in writing about the interplay of feminine and masculine divinity between Jesus and Mary Magdalene states:
"This spiritual Love Story isn't a high-five to heterosexuality or a kudos to Christianity. It represents the spiritual relationship between the Divine Masculine and the Divine Feminine that struggles to flourish and integrate within every single one of us, no matter what religion or sex or gender or sexual orientation we are." (Beak, 2013, Red Hot & Holy: 188)
THIS is what we should be emphasizing within our teachings and community: that divine feminine and masculine is within each of us and is not attached to some gendered hierarchy. We can all help elucidate this truth and wisdom regardless of how we identify. We can be allies for each other, and help bring this understanding forward instead of getting stuck in an antiquated notion of a masculine King.
This notion of the divine masculine and feminine in each of us, which struggles to "flourish and integrate," can explain the use of gendered language to some extent. It offers us a way to present the teachings in ways that can be inclusive. We still have to be careful, however, with how we use this language, as well as how we present its meaning. Gendered language is triggering to many people, especially those who experience gender as a spectrum. People who do not conform to the feminine/masculine binary experience a lot of hardship, judgment, and oppression in our culture today. Just look at the recent bathroom legislation in North Carolina.
There are A LOT of other ways to express duality, and if gendered language is triggering or not helpful to you, I say go for the other options. We have the sun and the moon, space and form, emptiness and skillful means. How can we as a community support people in using the language that works best for them? And what language do we really want to use as a community if our goal is to be inclusive?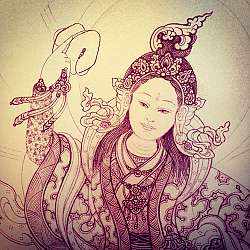 Our use of language in Shambhala not only affects genderqueer folk, but those who identify as female as well.
In my experience, the masculine principle is emphasized over the feminine in the teachings and the way the teachings are taught. I don't think that this is a static fact, but rather a fluctuating dynamic. My senior teacher friend described the movement of this dynamic as "glacial." So while it may be changing, it is changing very slowly. I think that it's safe to say that this imbalance is due in large part to the inherited patriarchy of Tibetan culture and of our own cultures in the West.
One of my most recent experiences of this imbalance was the unveiling of the Shambhala lineage thangka. It is exquisite and sacred, and took 10 years to paint. I truly appreciate it. However, the Rigden King is front-and-center while the Rigden Queen, who is less than half his size, is off to the side. There are many ways to explain that, and you can remind me that these are representations of principles rather than people, but in my eyes there is still an imbalance. Visual representations hold meaning and express value. I see this image valuing the masculine over the feminine, holding it as more central and important. I see it and feel it as a continuation and reproduction of oppressive power relations within a patriarchal culture and society.
Visual representations are important and so are the subtle and sometimes obvious ways that we emphasize the masculine over the feminine within Shambhala. When I watched the recent teachings on Shambhala Meditation for Shambhala guides and instructors, the opening chants included "The Supplication to the Rigden Father" and did not include "The Supplication to the Mother Lineage." This might not seem like a big deal, but it sends a message, and the accumulation of these little messages creates our culture.
Alex Vlasic is a white, cisgender, woman and a student of Shambhala Buddhism. She currently lives in central Vermont where she studies medicinal herbalism.
Post Tags:
Critical Intent
,
gender roles
,
identity
,
Queer Dharma