Wednesday
Featured Stories
Shambhala Goes Mobile
Thanks to the Shambhala Trust and a great team, we are very excited to announce that the new Shambhala meditation app is now available for iOS and (finally) Android. The app is available for free, with the option of subscribing for additional teaching content. Project manager Gordon Shotwell talks about where the app came from, what it does, and the vision going forward.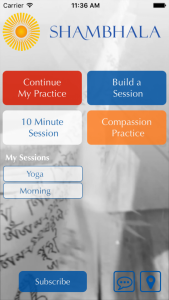 ST: Why build a mobile app at all?
Gordon Shotwell: I first became interested in mobile meditation technology when the Sakyong started talking about Shambhala reaching 12 million people. I thought, "Assuming that 12 million people out there want to do an introductory Shambhala Training class, would that be logistically possible, as things currently are?" After doing a bit of math I determined that, in the short term, it probably wasn't. 12 million meditation students per year would require 230,000 Shambhala centers offering introductory courses every single weekend, almost a million Shambhala training directors, and 5 million meditation instructors. The basic problem is that even if that many people were interested in our meditation programs, the structure of how we offer them can't scale to accommodate them. So I started to think about approaches which could.
Meditation apps are becoming a more and more common way for people to learn to meditate; most Shambhala centers have noticed new people coming to courses who have been trained using a product like Headspace or Buddhify. These products are great because they scale—if a million people download Headspace tomorrow, the only challenge would be ensuring that the servers can handle the load. No new teachers need to be trained, no new buildings need to be purchased. This is basically why these platforms are succeeding: it's not that an app is a particularly effective way to master meditation, it's just that it's an extremely cheap and easy way to get started. We created the app so that we would have a scalable platform to complement all of the great in-person offerings which are already available in Shambhala.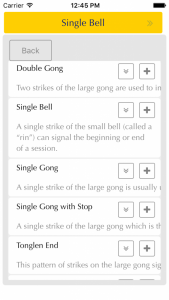 ST: Why did we do it this way?
GS: As we researched the other meditation apps, they all seemed to have two major problems, which we wanted to solve with the Shambhala app. First, they often push the user to meditate by listening to a guided meditation recording. There's nothing particularly wrong with this approach, but the problem is that people can become dependent on listening to someone else's voice while they meditate. This can lead to difficulties meditating on your own.
While the Shambhala app does have guided meditations and audio contemplations, we also wanted to empower users to take control of their own practice – so we designed the Shambhala app around building a timer. The timer allows you to stack time intervals, gong, sounds and audio contemplations together to create a customized timer that can accommodate whatever practice you are doing. New users have the option to meditate without instruction, while seasoned practitioners can build sessions around more complex practices.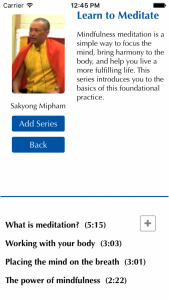 The second major problem with other meditation apps is that they don't provide access to a meditation community. Traditionally, and in my experience, practicing with other people is the best way to deepen your meditation practice. If you meditate only using an app, you never get to relate with the wisdom and challenges of a meditation community. The other apps are catching on to this, and many of them are now trying to build virtual communities or reverse-engineer practice groups made up of app users.
Shambhala is lucky in this regard in that we have more than 220 centers where people can go to deepen their practice, take in-person courses, and meet other meditators. The individual practice support and teachings that the app offers can complement (rather than replace) what people find when they visit a local centre or group. To help them connect to our community, we included an interactive map that displays every Shambhala center and group in the world, which people can use to find an in-person class or event nearby, wherever they might be.
ST: What's next for the app?
GS: We have big plans for the future of the Shambhala App. Now that the free iOS and Android apps are available in English, we want to release similar products in other languages including Spanish, German, and Mandarin. We also want to release specialized meditation apps for healthcare professionals, police officers and military personnel, and people experiencing serious illness.
ST: What can Shambhala Times readers do to help?
Download the app on your iPhone or Android mobile device: http://app.shambhala.org/
Subscribe. The app is entirely funded through monthly and annual subscriptions. If you want us to add features, content, and develop new products, please support us by subscribing.
Leave us a positive review on iTunes or Google Play. Good ratings and reviews help push our app to the top of the search, helping more potential meditators find it.
Spread the word by following us on Facebook, Twitter, or by introducing people to the app at your local center.
Send us an email at

[email protected]

with your thoughts about how we can improve the app.
Post Tags:
guided meditation
,
meditation
,
technology