Friday
Mandala Projects
Shambhala Monastic Order
Good news about the order, and an invitation to learn more about this unique opportunity
by David Brown and Loden Nima
The Shambhala Monastic Order is experiencing a fruitful time since Sakyong Mipham Rinpoche established it in 2013, bringing together the lineage of monastic ordination from the Buddha with the Shambhala teachings and vision of enlightened society.  As the Sakyong said:
"The Shambhala Monastic Order provides a deep training ground of bravery by leaning into the world, not withdrawing. This path will be a noble pursuit, and those who wish to follow it should be welcomed and supported in this profound intention"
In this recent video Acharya Pema Chodron and Shastri Loden Nyima share more about this vision, answer a few FAQs, and especially describes the current offerings of 9-12 month monastic residencies themed around the Four Dignities of the Shambhala path, offering precisely the kind of deep training ground the Sakyong envisioned for those seeking to spend a period of their lives temporarily ordained and immersed in the dharma.
The Shambhala Monastic Order is currently midway through the second of such residencies and the next will begin in January 2017.  Applications are now being accepted for a limited number of spaces.  This link provides detailed information as well as prerequisites, cost, and an application: http://gampoabbey.org/the-warriors-who-are-fearless/
If you are inspired to help manifest this vision, there is also a very special opportunity to serve as the next Director or the next General Manager of Gampo Abbey.  Here is more information and how to apply: http://gampoabbey.org/volunteer-and-staff-positions-open-at-gampo-abbey/
If you would like to learn more about the view and practice of the temporary monastic ordination involved in these residencies or about the longer path to lifelong ordination, you may also enjoy these articles: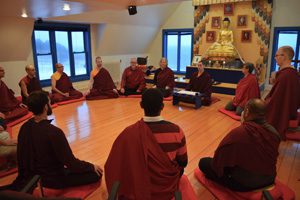 On temporary ordination: http://gampoabbey.org/2016/05/24/once-for-a-lifetime/
On temporary ordination and the path to lifelong ordination: http://gampoabbey.org/monastic-ordination/
If you'd like to read personal reflections from past and current residents undergoing these trainings, you may enjoy this blog: http://gampoabbey.org/blog/
If you have questions or would like to correspond further for any reason, please contact Shastri Loden Nyima, Monastic Secretary to Sakyong Mipham Rinpoche at [email protected]
Post Tags:
Gampo Abbey
,
Shambhala Monastic Order