Saturday
Featured Stories
Sharing Midsummer Delights
appreciating the many joys of Midsummer Day celebrations
by Carol Henderson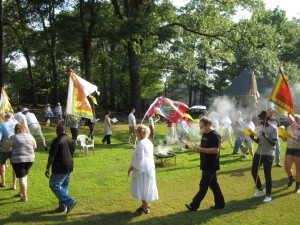 Ah, Midsummer Day — a time for Shambhalians to gather together, to enjoy one another's company, and to sample the many delights of this favorite holiday: a celebratory lhasang, delicious summer foods, games and laughter on the lawn, music with dancing, wearing bright colors and exchanging brilliant smiles.
I hope you enjoy these images of Midsummers past:
As you celebrate this year, think of sharing the joy. Whatever the tradition at your center (poetry slam? costume party? face painting? potato race?), write it up, take some pictures, and send your delight out into the wider world through the Shambhala Times. We look forward to hearing from you!
Carol Henderson serves as Editor-in-Chief of the Shambhala Times, and is currently celebrating Midsummer with her new Greek family members on the island of Rhodos. Share your Midsummer stories by sending her an email: [email protected] .
Post Tags:
Celebrating Community
,
Midsummer Day